7 Of History's Forgotten Female Outlaws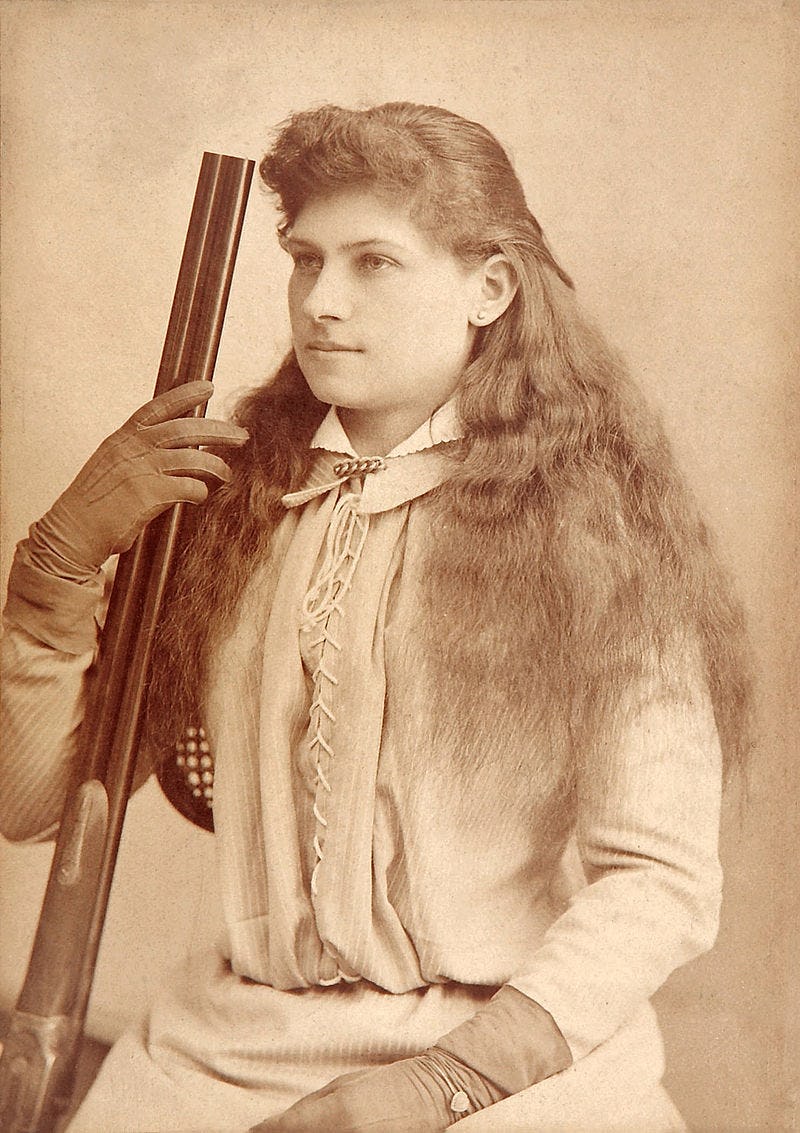 Growing up, children's imaginations are filled with stories of bandits and sheriffs, and everyone knows the name of some of history's most infamous outlaw cowboys — but what about all the female outlaws you never heard about? Contrary to popular belief, they existed. And some of them were just as infamous as their male counterparts.
If you think about it, it made sense that the American frontier provided an opportunity for women to turn to life of crimes. Free from the conventions of proper city life, women experienced a lot more social and economic freedom. They could run businesses, own land, and engage in politics or crime if they wanted. Often the two were somewhat related.
Many of the women taking advantage of this freedom found their livelihoods through gambling or prostitution, two professions that brought them in close contact with gangs that roamed the frontier. Other women owned homesteads and worked with cattle. But what these women all had in common was a need to survive in an extremely trying environment. Some turned to crime or other "unladylike" ventures — but most are forgotten.
Sure, we remember Annie Oakley, the shotgun shooting star of Buffalo Bill Cody's Wild West Show, or Belle Starr, the "bandit queen" who stole horses and sold bootlegged liquor. But there are probably more than a few of their associates that history has forgotten.
Laura Bullion
From a young age, Laura Bullion was destined to be an outlaw. Her father was a Native American bank robber, and while working as a prostitute in Texas she joined the Wild Bunch gang, where she ran with outlaws like Butch Cassidy and the Sundance Kid. Bullion helped the gang with their robberies, and came to be known as "Rose of the Wild Bunch." Bullion would help sell the stolen items, forge checks, and is suspected to have disguised herself as a man to help with heists. In 1901 she was arrested for robbing a train. After serving a three-year sentence, she appears to have retired from her life of crime.
Rose Dunn
Rose Dunn fell into a life of crime when she fell in love with George "Bittercreek" Newcomb. Newcomb was one of the members of the Doolin Gang, which robbed banks and trains in the Indian Territory for two years. Dunn was a full member of the gang for the most part, and though she didn't take part in the heists, she provided them with ammunition, helped Newcomb escape from authorities, and nursed him back to health. Newcomb was later killed after Dunn's brothers (also outlaws) turned him in for a bounty. After that, the appeal of crime seemed to wear off for Dunn, who went on to marry a politician and settle down.
Mary Fields
While Mary Fields, often called "Stagecoach Mary," wasn't an outlaw, she was definitely way tougher than most of the women on this list. Fields was born into slavery around 1832, and after being emancipated at the age of 30, made her way west to Montana. Fields, who was very tall and extremely strong, worked as a general handyman and laborer at a school for Native American girls. She had a reputation for being strong, blunt, and more than willing to get in fights with people who annoyed her. At one point the local medical examiner claimed, she had "broken more noses than any other person in central Montana."
One popular story cites a time that Fields got stranded on a supply run and fought off wild wolves at gun point. Given her penchant for fighting and refusal to put up with bullshit, Fields was fired from her position after having a shoot out behind the school (during which she literally shot her opponent in the butt). At age 60, Fields went on to work for the U.S. Postal Service, becoming the first black woman to work for the service. After 10 years of driving coaches and traveling hundreds of miles, Fields retired and started a cleaning service. But she didn't stop fighting.
Lillian Smith
Lillian Smith was the only woman with the potential to eclipse Annie Oakley, but instead she's an often forgotten figure from the Wild West. Smith gained popularity after she joined Buffalo Bill Cody's Wild West Show at age 15. Like Oakley, she was an incredible shot — but she favored the rifle, instead of Oakley's preferred shotgun. Because of her young age, colorful clothes, and penchant for swearing, Smith was substantially younger than Oakley, and the two were rivals. But while touring in London, Smith shot so badly that she was ridiculed. Soon after, her career ended.
Big Nose Kate
Big Nose Kate, whose real name was Mary Katharine Haroney, had an unfortunate nickname. While working as a prostitute in Kansas in the 1870s, she adopted the name as a way to differentiate herself from another prostitute named Kate. But while in Kansas she met Wyatt Earp and Doc Holliday. She would go on to be in a relationship with Holliday. On at least one occasion Kate helped Holliday escape custody by setting the jail on fire and threatening a guard at gunpoint. She stayed with Holliday until his death several years later.
Pearl Hart
Although Pearl Hart may have been inspired by Annie Oakley, the two women were very different. While Oakley shot for show and entertainment, Hart used her skills for crime. Hart was Canadian, but found herself in Arizona after her second husband went to fight in the Spanish-American war. After hooking up with a man named Joe Boot, she also disguised herself as a man, and she and Boot robbed a stagecoach. But they weren't very good at it, and were promptly caught. During her sentencing, Hart delivered the wonderfully feminist statement, "I shall not consent to be tried under a law in which my sex had no voice in making." Unfortunately, the law didn't care. After serving some of her sentence, Hart became pregnant while in prison and was quickly pardoned by the governor. Her life after prison is a relative mystery.
Eleanor Dumont
First and foremost, Eleanor Dumont was a businesswoman. Although her background is unclear, when she showed up in Nevada City with a French accent and a plan to open a casino, she was an instant success. She was a hit among the gamblers, and her business was so profitable that she opened a second casino as well. But over time she grew tired of the life, bought a ranch, and fell in love with a man named Jack McKnight. But as it turns out, McKnight was a conman, who sold her ranch and ran away. Not one to let that stand, Dumont tracked him down and shot him dead. Broke, but free of charges, Dumont went back to gambling, and created an even larger name for herself. There were (largely unsubstantiated) stories of her foiling robbers, or threatening steamboats at gunpoint. She eventually killed herself when her gambling debts became too large, but her reputation lived on.
Images: Wikimedia Commons (4); onceuponatown, deathnskulls, damsellover/Tumblr