10 Books You Should Really Reread in Your 20s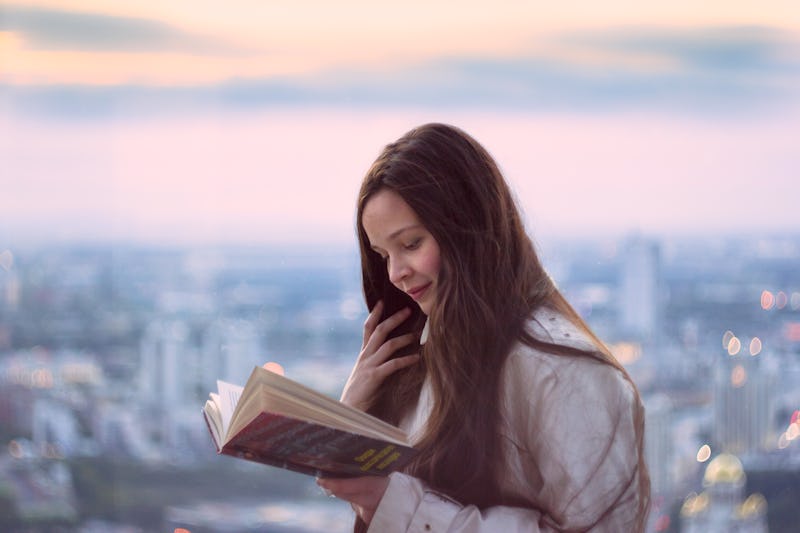 Growing up I read absolutely everywhere: in the car, even though I ended up carsick and puking by the side of the road; under the table at restaurants, to the consternation of waiters who screamed when I popped out to order; and in bed late into the night, despite persistent warnings from my parents that straining my eyes in the semi-darkness would eventually lead to migraines, which it did. Books were my constant companions throughout the confusion of childhood, the angst of those young adult years, and the horrors of high school. I still think back with fondness on my favorite tales from way back then.
But memory has a funny way of playing tricks on you, and with the passage of time what was once familiar and fully known can become strange, and new again in all the very best ways. Like pizza on the morning after or a great pair of jeans, some things are just better the second time around. So, now that you've made it to your 20s, take a break from college reading lists and new releases to do a little rereading — these 10 books will more than make it worth your while.
To Kill a Mockingbird by Harper Lee
The first time around, To Kill a Mockingbird is practically a partner in crime. The indomitable Scout learns empathy and integrity through curiosity, courage, and exceptional parenting, and as a young reader it's nothing short of inspirational to follow along in Scout's footsteps. Reading Harper Lee's classic novel in your 20s is a whole different kettle of fish, raising vital questions about the place of principles, the value of candor, and the complicity of those who stay quiet. For a novel with the literary prowess of near-perfect prose and the emotional resonance of personal history, grab To Kill a Mockingbird.
The Scarlet Letter by Nathaniel Hawthorne
Unless by some miracle of luck and circumstance you've managed to avoid shame, heartbreak, and ostracism on the road from young adulthood through high school and beyond, chances are by the time you make it to your 20s you'll be far better positioned to empathize with Hester Prynne than you were in those anxious teenage years. Experience brings entirely new meaning to an early American masterpiece that serves as both morality tale and feminist manifesto.
Maus by Art Spiegelman
Graphic novels aren't just for growing girls and boys, especially in the hands of a master like Art Spiegelman. In a world rich with visual noise, MAUS harnesses the power of the image for a solemn, poignant purpose. Traveling through time into the unmitigated horrors of the holocaust and returning again and again into the present moment and a troubled relationship between father and son, MAUS offers a perspective on the unique interaction between past and present that becomes all the more relevant as you grow into your own future and look back on a longer past.
The Bell Jar by Sylvia Plath
If you thought angst was only for teenagers, boy are your 20s going to be a disappointment. With newfound freedom comes newfound fears. It can be tough managing the metamorphosis from child to adult, and no one delves into the pain and anguish of growing up quite like Sylvia Plath. Trust me, in your 20s The Bell Jar takes on all new meaning.
Alice's Adventures in Wonderland by Lewis Carroll
Although you might do well to pick up your copy in bed before the lights go out, in your 20s Alice in Wonderland is so much more than a simple bedtime story. Ripe with double meanings and delicate wordplays, Lewis Carroll's children's classic is a complex and curious tale made all the more captivating by the broad ageless appeal of Alice.
Little Women by Louisa May Alcott
When you've finally left home and the horrors of sharing a bedroom fade away into longings for the siblings you've left behind, pick up a copy of Little Women and experience an entirely new take on the March family. The classic New England tale of sorority, sacrifice, and the struggle for identity takes on all new meaning outside the family home, amidst the challenges of college or the thrilling isolation of your very own apartment.
The Catcher in the Rye by J.D. Salinger
Reading J.D. Salinger's Catcher in the Rye in your 20s can feel a little like spying on your former self. With each turn of the page you will find yourself awkwardly navigating the minefield of your teenage misdeeds, shaking your head at teenage-you, and swearing to do better by friends, colleagues, and parents. For those days when you want to spur yourself forward with a quick visit from the ghost of teenage years gone by, nothing will do the job quite like Catcher in the Rye.
Are You There God? It's Me, Margaret by Judy Blume
You're never too old to start turning to a higher power for advice, and on those days when you feel lost, scared, and totally alone, a little time with Are You There God, It's Me Margaret might be just what the doctor ordered. You're never to old for a hot bath, a grilled cheese, or a quiet afternoon with Judy Blume.
The Member of the Wedding by Carson McCullers
Just because you've aged your way into adulthood doesn't mean you're done growing, and where there's a road ahead there are bound to be twists, turns, and unexpected potholes. Stay sensitive to the trials and tribulations of growing up with Carson McCullers' awkward, honest representation of girlhood in all its glories.
1984 by George Orwell
With the NSA tapping your phone and the Google caching your search data, there has never been a better time to re-read George Orwell's dystopian classic 1984. What may have felt like a horror story when you were growing up has become all too relevant to the present day, making this exceptional tale of a society under constant surveillance ripe for reexamination.
Image: Pawel Maryanov / Flickr