Drake Channels Ross Geller In "Hotline Bling" Vid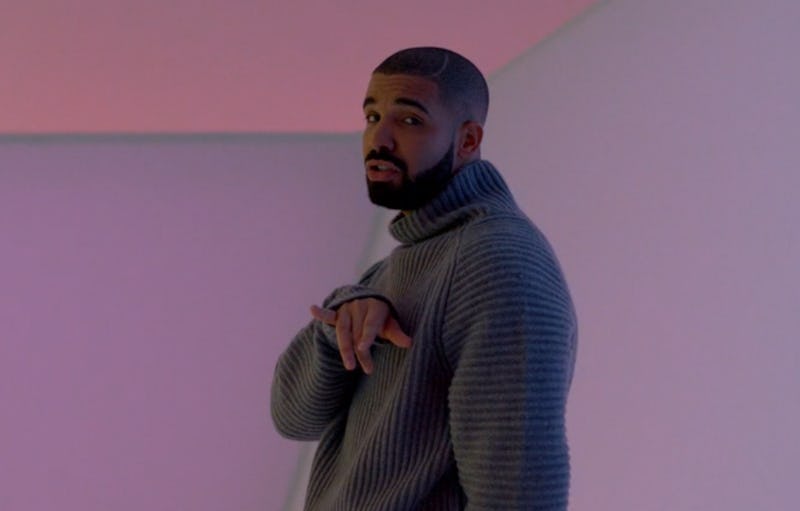 Yet another celebrity has broken the internet, but this time it's for a very covered-up outfit, rather than a revealing one. Drake released his highly-anticipated video for Hotline Bling on Monday and caused an even bigger commotion than Kim K did with her infamous Paper mag cover. People went absolutely bananas over the rapper's adorably awkward dance moves, which include some side-to-side head bobbing, quirky shimmying, and what appear to be some cha cha-inspired steps. But fans have really gone gaga for Drizzy's ensemble in the video.
The 28-year-old breaks it down in a gray ribbed turtleneck sweater, baggy sweatpants, and a pair of Timberlands. Seems pretty standard right? Once I took a closer look at the rather interesting getup, however, I couldn't help but notice how much it looks like Ross Geller's signature style in Friends. I mean, if anyone started the turtleneck trend back in the day it was Ross, right?! It's pretty obvious that Drake is tapping into the '90s nostalgia wave with this look, seeing as he himself was a '90s kid. This only makes me love him even more.
Check out the old school look.
So '90s it hurts.
Here is a closer look at the sweater:
Slay.
Now here it is on Ross:
The resemblance is uncanny, no?
You see it, right?
Drake's fans clearly see it.
If you're still not convinced that Ross Geller is Drake's true style icon, here are some other times where the rapper dressed just like the Friends character.
Exhibit A: Leather Pants
Drake:
Work it.
Ross:
He is so wearing those leather pants.
Exhibit B: Hats
Drake:
Bucket hats are so '90s.
Ross:
Drake totally stole this look from Ross.
Exhibit C: Deep V-Neck
Drake:
This is very low-cut.
Ross:
Drake might as well have been wearing this pink v-neck Ross rocked on the show.
Ross and Drake are clearly the same person, both in style and in dance moves.
I knew I've see that weird head-bobbing before...
Check out the full video for "Hotline Bling" below.
Images: NBC (5), Giphy (2)