Get The Easiest Zombie Makeup In 4 Steps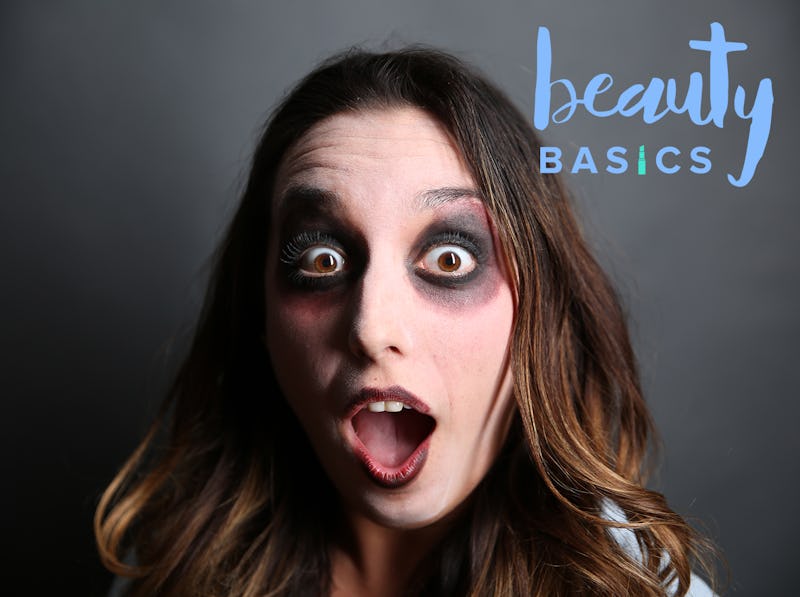 Halloween is creeping up on us — and fast. But if you're anything like me, the task of finding a costume has slowly creeped down to the bottom of your to-do list. While everyone's busy dreaming up their brilliant ensembles, I'm trying to figure out the quickest and easiest Halloween costume I can possible create on the morning of Oct. 31. Which is why I usually end up rotating between leopard print, devil ears, and zombie makeup. Got a PJ animal onesie? I'll take it.
But just because my costume skill level falls around a -1 doesn't mean my makeup suffers as well. As a beauty girl, Halloween is the one night that I can take advantage of traveling (very) far outside my comfort zone, and put that special effects makeup class I took in college to use.
Then there's (every single one of) my friends' faces that need to be taken care of, and my planned hourlong routine falls on the back burner. So, in hopes of not running late, I've managed to cut my go-to Halloween looks down so they take no longer than five minutes. Because if you're a last-minute kind of gal, no one needs to know. Below, learn how to score zombie makeup that everyone will be freaking out over — with just three products.
Step 1: Get Pale
Brush a white setting powder all over your face (or use an opaque matte white eyeshadow, like we did).
Step 2: Blacken Your Eyes
Using a black cream eyeshadow (you can also use cream eyeliner) and your finger, create a harsh black rim around your eyes, blending it out at the edges.
Step 3: Add Some Red
Dab matte red lipstick around the rim of your eye where the black fades, and smudge it towards the center. The best part? It doesn't have to be perfect — make a mess!
Step 4: Finish With Your Lips
Apply the same red lipstick to your lips — it probably has some black shadow on it now from your eyes — that's perfect. If not, dab your black shadow around the edges of your lips and smudge.
Now go scare your friends!
Images: Kenny Suleimanagich/Bustle