Why CBS Needs to Air Footage of 'Big Brother' Racism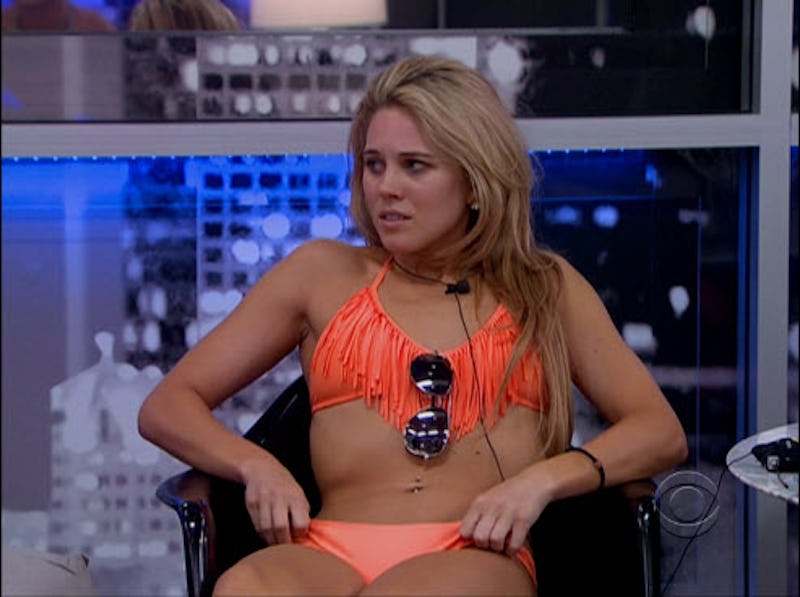 UPDATE: The slurs are even worse than we thought. According to Reality Blurred, Big Brother 15's contestants have been regularly unleashing derogatory language. Among the new finds: GinaMarie used the n-word to describe the type of insurance she gets at her income level; Aaryn has told houseguests to "Be careful what you say in the dark" with Candice in the house; Spencer called Andy "Kermit the f*g"; Amanda called Andy "f*ggoty Ann"; Spencer has called the female players "c**ts"; and Jeremy said about Kaitlin, "I did touch her vagina today.. she didn't act like she was happy.. I like to feel around see what's she's working with.. see if it's a nice meat wallet … I know she's on her period."
Ragan Fox, a houseguest on Big Brother 12, wrote an open letter to producers asking them to air the footage: "If you really want to provide a groundbreaking twist, SHOW CBS VIEWERS HOW SOME STRAIGHT, WHITE PEOPLE talk about gays, Asian Americans, and African Americans."
EARLIER: Watching Big Brother 15 at home, it's easy to fall for houseguest Aaryn. Not only is she twice as pretty and half as terrible as some of her other Season 15 cohorts, but she seems to be the only woman in the competition that could compete with the all-man power alliance The Moving Company. Which means, during a season when viewers at home are voting for the all-powerful MVP, Aaryn is poised to have a great season ahead of her.
But she really shouldn't. Because she's a horrible, horrible racist. And not the only one — Big Brother superfans watching the live feed would have noticed Aaryn, GinaMarie, and Kaitlin brazenly lobbing derogatory comments while talking about the other houseguests. Including the Asian-American Helen, who Aaryn said should shut up and "go make some rice." And the African-American Candice and Howard, who, according to the group are "blacks [that] stick together ... they're the tokens." (Especially obvious to them, evidently, when Candice lets her "blackness" out.) Pair those with yet another derogatory comment directed at the homosexual Andy ("everyone loves the queers"), and you have a recipe for one of the most prejudiced Big Brother casts in recent memory.
Now, I don't blame CBS — the whole concept of Big Brother is to observe the flaws of a group of a dozen individuals from different walks of life. But this season, more than ever, CBS does have a responsibility to air the footage. (The network has yet to respond to Bustle.com's request for comment.)
It seems odd to request — why wouldn't the network want to air a moment that will get people buzzing about Big Brother? Because it might not fit into this season's storyline. Just see Big Brother 11 and 13 contestant Jeff Schroeder, who twice was heard on the live feeds making homophobic remarks. (During Big Brother 11, Schroeder used a gay slur against another contestant; during Big Brother 13, he critiqued the Harry Potter series for making Dumbledore gay: "He's in a school with little kids — you can't make that guy gay!")
Viewers, however, continued to love Schroeder — mostly because they never saw these moments. After all, Schroeder, on a season with maligned contestants like Big Brother 11's Natalie and Russell and Big Brother 13's Rachel and Brendon, was being set up as a hero, and airing his words would threaten that storyline. In the same way that airing Aaryn's racist comments would threaten her underdog storyline.
But it should be threatened. Video of the conversation (embedded above) is jarring — it's disturbing to watch the trio so happily hurl their racial prejudice so early in the competition and so far into this progressive era. And the thought of Aaryn being set up for MVP, with voters having no idea that their favorite contestant is actually capable of saying such detestable things, is even more disturbing. We just spent weeks admonishing Paula Deen for her derogatory language — a CBS that doesn't air the footage is just as bad as a QVC that doesn't drop its racist star. (Especially considering 2 Broke Girls already brings enough borderline racism to the network.)
So, please, CBS, let's not reward Aaryn for her behavior. Let's shift the storyline and make someone more deserving the hero — the non-racist redneck, the pizza guy, or, hell, even Rachel Reilly's sister.
Image: CBS