7 Things You Didn't Know About 'Star Wars'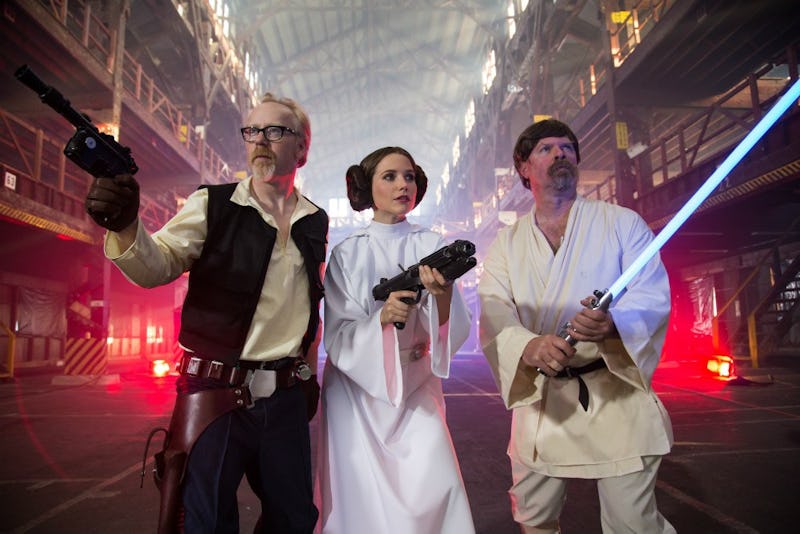 One of the most popular franchises in the history of cinema left a lot of questions to be answered. Like, Can you really stay warm inside a sliced-open Tauntaun? Could Luke have actually swung across that chasm while holding Princess Leia? Lucky for us, the Mythbusters are back and they're tackling Star Wars myths. Well the Mythbusters set out to answer those questions and more on last night's season premiere. I won't spoil the show for you, I'll just let you know that if you were hoping for a lightsaber myth you won't be getting one. Mythbuster Grant Imahara said, "Unfortunately, making what is essentially a laser sword falls into the deadly category." So while lightsabers may still be out of the realm of our real-life knowledge, this Mythbusters show made me curious, what else about the series can we find out?
1. THE MILLENNIUM FALCON IS INSPIRED BY A HAMBURGER
George Lucas draws inspiration from the strangest of places, and when it came time to designing the Millennium Falcon he looked no further than his dinner plate. The shape of the space craft was taken from that of a hamburger with an olive-on-the-side cockpit.
2. LUKE WASN'T ALWAYS LUKE
Originally Luke's character was a girl names Starkiller. Later it was changed to Luke Starkiller before George Lucas finally landed on Luke Skywalker, and doesn't that just sound so much more peaceful? It's also a lot more peaceful than a 65-year-old military general because apparently Skywalker was supposed to be that at some point too. I can't help but feel like that would have been a totally different movie and probably a part more worthy for Arnold Schwarzenegger.
3. YODA WAS GOING TO BE A MONKEY
A puppet hadn't been passed off as a living creature before, so Star Wars' people were reluctant to use one, speculating that "maybe if [they] trained a monkey, in an outfit, and then animated the lips" that would work. In the end the puppet did win out though, and good thing too.
4. THE MOVIE EXECS THOUGHT CHEWBACCA WAS TOO NAKED
"I remember the memos from 20th Century Fox," Mark Hamill who played Luke Skywalker said. "'Can you put a pair of lederhosen on the Wookiee? ... This character has no pants on!' This went back and forth. They did sketches of him in culottes and baggy shorts." Yes, because 1800s-style knee-breeches and Wookiees clearly go hand in hand.
5. INSTEAD OF A LARGE SALARY, LUCAS ASKED FOR THE MERCHANDISING RIGHTS
And they gave them to him. In what may have been one of the most foolish mistakes in movie history, 20th Century Fox allowed George Lucas the merchandising rights for the Star Wars films because at the time there wasn't a huge market for movie toys. Fast forward to "$20 billion and counting of licensed goods ... on top of the $4.4 billion in tickets and $3.8 billion in home entertainment products" and Lucas is one rich man. Guess his 1977 gamble paid off.
6. THE SAME LINE IS USED SEVEN TIMES THROUGHOUT THE SERIES
The worried phrase "I have a bad feeling about this" crosses decades of the movies and is spoken by several characters.
7. JAMES EARL JONES WASN'T ORIGINALLY CREDITED FOR PLAYING DARTH VADER'S VOICE
He refused the credit because he felt providing a sound effect didn't warrant a credit. Asked about it years later he said, "I still feel that way. I didn't take credit until the episode where they showed his demise. Not only did I refuse credit, I told everyone it wasn't me." Imagine not wanting to associate yourself with Star Wars.
Images: Discovery Channel; inikoline/Tumblr; purple-lightsaber/Tumblr; scamanders/Tumblr; chuckshurlys/Tumblr; birdyland/Tumblr; keepmeiny0urskin/Tumblr