The Lyons Are Officially At War On 'Empire'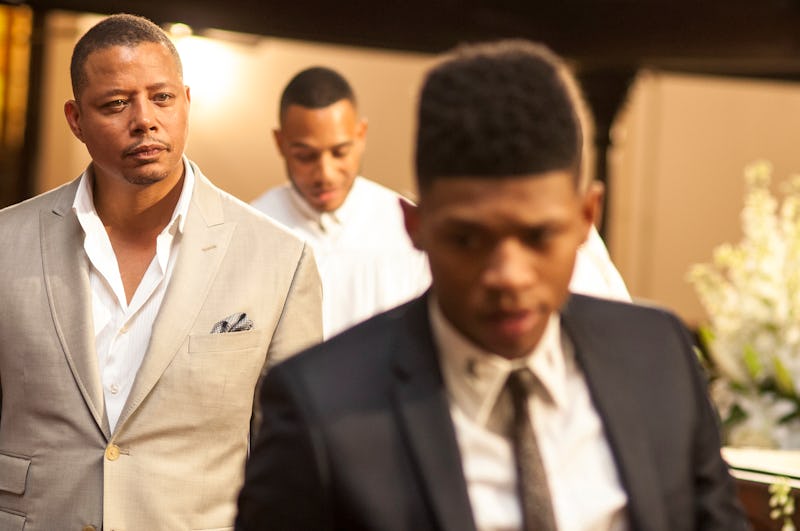 OK, I thought I couldn't handle last Wednesday's episode of Empire, but now THIS? It's one thing to prop up Uncle Vernon's dead body in Roxanne's car, but, clearly, that's the least of our problems. In the final moments of Wednesday night's episode, Hakeem got kidnapped in broad daylight and in the middle of a glorious, SHIRTLESS, jogging moment, leaving my wondering why Lee Daniels is trying to ruin my life. Fine, that's not all I'm wondering — because the seriously important question here is who kidnapped Hakeem on Empire and is there really someone out there that's more evil than Lucious Lyon? Forget the Lyon Dynasty-versus-Empire feud, the royal family of hip hop has bigger fish to fry. And, apparently, it's personal.
I probably could be less surprised by this, especially since this week's episode had not one, but two robberies at Lyon Dynasty's new office. Sure, one of them was actually orchestrated by Lucious — and put into play by Thirsty, who is apparently his new henchman — but there may be a connection between Tiana getting robbed and Hakeem's kidnapping. When Tiana's assailants were going through the contents of the purse they'd stolen from her, they made threats against Cookie setting up shop in the neighborhood. But, now that we've seen the promo for the next episode of Empire, that almost seems like child's play.
No one can blame Cookie for not really taking the threats of Tiana's assailants — made during a YouTube video, while wearing masks (ugh) — seriously. She's Cookie Lyon, who would actually be bold enough to mess with her? Aside from Lucious, of course. But, apparently, there's someone out there that's willing to take on the devil himself and the rest of the Lyon family. But why? This can't just be about Cookie opening up Lyon Dynasty on someone else's turf, can it? Laz did warn her that, once success began, there would be more and more threats trying to take that away.
So, who would dare kidnap Empire Season 2's best character? It'd be easy to blame it on Lucious attacking Frank in prison — maybe someone on the outside found out and wants their revenge? His daughter did seem pretty broken up about the fact that her dad wasn't around to see her become a successful rapper. But, judging by the men who picked Hakeem up, mid-run, it seems like this is a war that might run much deeper than that. Are they connected to the group that robbed Tiana? Probably — and we're going to have to wait TWO, painful weeks to find out. Now, if you don't mind, I'll be in the corner crying until then.
Images: Matt Dinerstein/FOX