How To Find The Perfect iPhone Accessory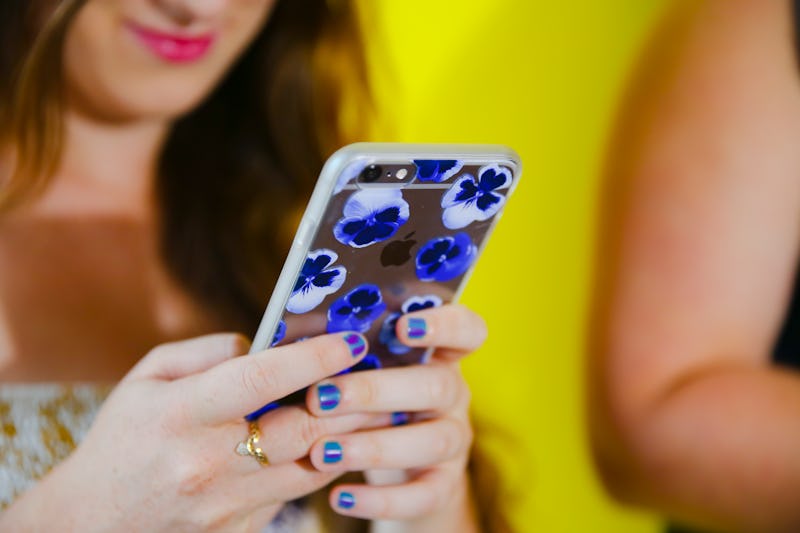 We're not even going to pretend that we're not completely attached to and obsessed with our iPhones. With all apologies to Android users, the iPhone has essentially taken over the world — and our lives. Everyone from middle-schoolers to grandparents can personalize an iPhone with apps and accessories, which are plentiful and very, very varied. Whether you're a party animal in need of high-quality speakers, a beach bum hoping to snap some underwater shots, or a gym rat pumped up by your workout playlists, you can find a ton of iPhone accessories that will improve your phone's functionality, usefulness, and design. When it comes to iPhone accessories, if you can think of it, you're just a purchase away from making it a reality.
But with such a wide variety of accessories, it can be a bit difficult to determine when you should actually pull out your wallet. To help you get started on improving – and customizing – your iPhone experience, we've selected the 10 most essential types of accessories along with our favorite picks in each category. From selfie sticks to drop-proof cases (hey, it happens), these must-buys will help you make the most out of your smartphone experience.
A Case To Suit Your Personality
First things first: You'll need a case to both protect your phone and show off your personality. Whether you're a hopeless romantic or kid at heart, there's an iPhone case ready and willing to be the modern version of wearing your "heart on your sleeve." And what better way to choose a case that fits your personality than to design it yourself?!
iZERCASE Personalized Custom Picture Phone Case, $17.99, Check It Out
An Accident-Proof Case
Until Apple comes up with a completely indestructible iPhone model, it's worth it to invest in a tough case. OtterBox is one of the most popular brands for weatherproof (and drop-proof) cases, and this one comes in tons of fun colors.
OtterBox Defender Series Case For Iphone 6, $41.39, Check It Out
A Case With A Built-In Battery Pack
If you feel like your phone is constantly in the red, under-20 percent zone, then this accessory will change your life. The case itself houses a battery pack, but the sleek design ensures that it doesn't feel bulky.
Mophie Juice Pack Air for iPhone 6, $99.95, Check It Out
A Pocket Charger
If you've ever been at a music festival, on a long day of sightseeing, or away from a power source for a long period of time for any other reason, then it's about time you bought a portable charger. They come in a wide range of prices, styles, and brands, but we especially like this budget-friendly model from Innogie.
Innogie Portable Charger, $10.99, Check It Out
A Bluetooth Speaker
When it comes to speakers, it doesn't get much better than the Jambox series from Jawbone. We like the Mini model because it's compact enough to bring with you wherever you go, yet still has a 10-hour battery life, Bluetooth connection, and surprisingly powerful sound.
MINI JAMBOX by Jawbone, $129.99, Check It Out
Clip-On Camera Lenses
One of the coolest consequences of the iPhone's high-quality camera and Instagram's photo-sharing capabilities is that you hardly need an expensive camera to take high-quality photos. We love that this top-rated kit includes fisheye, macro, and wide clip-on lenses.
GoGo Robots Camera Lens Kit, $14.95, Check It Out
A Set Of Headphones
Thanks to uber-trendy Beats By Dre, on-ear headphones have made a serious comeback in recent years. Their sound quality, comfortable design, and customizable fit have ensured that this brand's model will remain at the top of the headphone game for years to come.
Beats Solo2 Wired On-Ear Headphones, $148, Check It Out
A Selfie Stick
Whether you like them or not, selfie sticks are here and here to stay. And, OK, we can't lie... we don't hate the photos they're able to capture. This inexpensive package includes everything you need for your adjustable, Bluetooth, remote-controlled stick.
Extendable Selfie Stick Kit, $17.99, Check It Out
A Workout Armband
Is it even possible to hit the gym without your exercise playlist? To avoid stuffing your phone into your waistband or risk ruining it through exposure to boob sweat, use this armband to keep your workout well-soundtracked and hands-free.
Workout Armband Case, $8.99, Check It Out
A Waterproof Case
For vacationers, surfers, swimmers, or pretty much anyone living by the coast, a waterproof case is a complete necessity. Think old-school underwater photos, but with far better quality. There are quite a few different brands and models, but the cases from Watershot, like the one below, are some of the highest-rated available.
Watershot Splash Housing Kit, $129.99, Check It Out
Bustle may receive a portion of sales from products purchased from this article, which was created independently from Bustle's editorial and sales departments.
Image: Kenny S./Bustle