Saying These 2 Words Can Save Your Relationship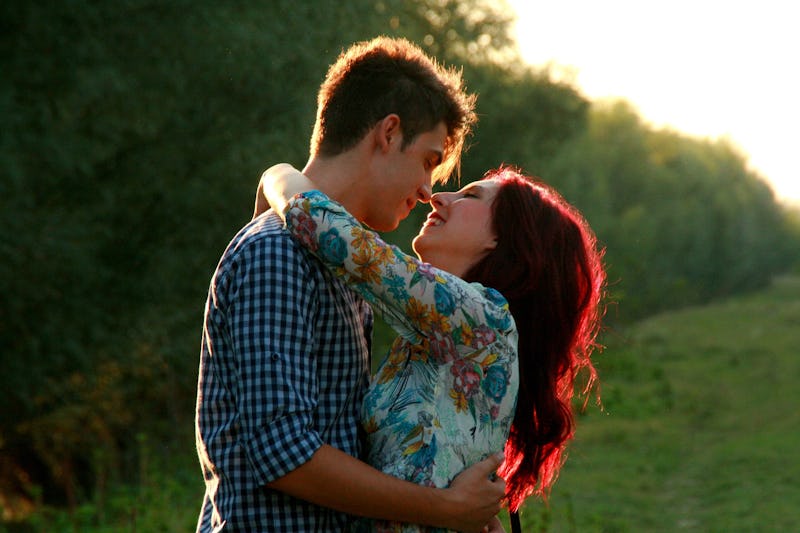 It seems like every other day, another study comes out promising to give us the key to a successful marriage. Why not? After all, those of us who want to be married want to stay married. In fact, a 2011 Pew Research survey found that 36 percent of adults believe that having a successful marriage is "one of the most important things" in life. While I don't really believe that relationship success is dependent on one major "key," and that it's more of the right combination of the little things, a new study shows saying two small words can actually strengthen your marriage. Ready for them?
"Thank you."
According to a new study published in the journal Personal Relationships, the key to improving a marriage is to show a little gratitude. Researchers from the University of Georgia conducted a telephone survey of 468 married individuals and asked them questions about their finances, their communication tactics, and how they express gratitude to their spouses. As the study found, expressions of spousal gratitude were a significant predictor of marital quality.
"It goes to show the power of 'thank you,'" said Allen Barton, a postdoctoral research associate at UGA's Center for Family Research and lead author of the study. "Even if a couple is experiencing distress and difficulty in other areas, gratitude in the relationship can help promote positive marital outcomes."
The study also found that couples who showed higher levels of spousal gratitude were less prone to seek divorce. When couples express gratitude or show appreciation for each other, it can counteract or buffer the negative effects of conflicts. According to researchers, feeling appreciated and believing that your partner values you have a great impact on how you feel about your marriage and your commitment to making it last.
"All couples have disagreements and argue," the study's co-author Ted Futris said. "What distinguishes the marriages that last from those that don't is not how often they argue, but how they argue and how they treat each other on a daily basis."
In short, it's the little things that matter.
Saying those two small words can do your relationship a bunch of good. But sometimes, expressing gratitude can go beyond a simple "Thank you." Because of that, I talked to Dr. Ramani Durvasula, a licensed clinical psychologist and author of Should I Stay or Should I Go: Surviving a Relationship With a Narcissist, on how you can express gratitude to your partner each and every day.
1. Reach Out
Set aside time each day to reach out to your partner and listen to them talk about their day. As Dr. Ramani tells Bustle, "They may not be able to respond, but it becomes a touchstone, and lets them feel heard."
2. Take Initiative
"Do something for them that they do not like to do without asking," Dr. Ramani says. "But do it without making lots of noise about it. For example, take the car in for an oil change, clean the toilets, or weed the garden."
3. Surprise Them
"This does not need to be big. It can be dinner on the table, making the plans and just whisking them away to something you know they like. Even try giving them a small gift that shows up in a briefcase at work," Dr. Ramani says.
4. Compliment Them
"I know it seems small, and likely should be happening every day. But we often forget that those little words about your partner's work, a new dress, or their smile put a swing in our step when we get them from strangers," Dr. Ramani says. "But they can be profoundly impactful from our partners."
5. Ask About Stuff
Don't just listen, but engage in conversation. If your partner tells you something that happened at work, ask a follow up question the next day (i.e. "Whatever happened with that guy at work you told me about yesterday?").
As Dr. Ramani says, "It shows not only that you were listening initially but that it is sustained. Few of us are heard any more in such a distracted world. To hear someone listening to us is a fantastic way to show gratitude."
6. Again, The Little Things Count
Don't be afraid to say "Thank you" or "I'm grateful" or "I noticed what you did." According to Dr. Ramani, while those words are simple enough, they show that we notice the effort that our partner puts into the relationship and that we're grateful for them.
Want more of Bustle's Sex and Relationships coverage? Check out our new podcast, I Want It That Way, which delves into the difficult and downright dirty parts of a relationship, and find more on our SoundCloud page.
Images: AdinaVoicu/Pixabay; Giphy(7)