This Art Project Will Inspire You To Be Creative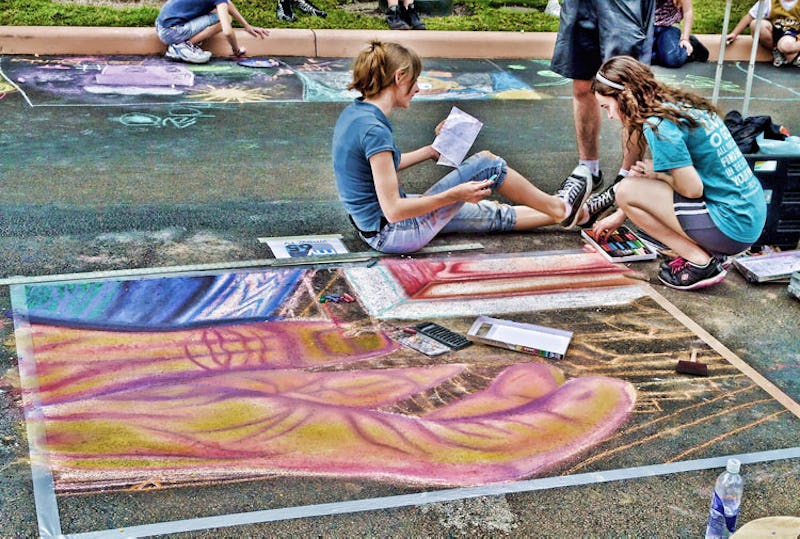 Being an artist is hard. I mean, it's not, like, coal miner hard (let's be real) — but still, you have to deal with frequent rejection, anxiety, creative block, and, of course, the constant companion of imposter syndrome. It can be emotionally really rough, especially when it's hard to tell the difference between critical friends or family and your own inner monologue. You hear, "You need a real job," or, "How are you going to make any money doing that?" often enough, and sooner or later every time you fail at something, you think the very same things. It's this tension that art student Jasmine Kay Uy explores in her piece "Art Is Pointless...," which Uy created for a University of Texas at Austin Department of Art and Art History Digital Foundations class that focused on site-specific work — and it will ring true not only for every artist, but also for anyone who has ever stuck with something they care about when everyone else tells them to give it up.
The piece initially appears to be a message typical of every authority figure who tried to get you to go to law school instead of write your novel or paint your masterpiece. On one side of a white, squared column, on display before a stairwell in the UT Austin Art Building, stark black text reads:
"Art is pointless
You have to go out
Get an actual job
And make a living
You can't just let
The rest of your life
Be a joke, a failure
You will end up
A starving artist
Contribute to society
Instead of wasting time
You're worthless."
But turn around the corner, and the message is quite different:
It's a nice reminder that the inner monologue of an artist is always changing, veering wildly from negative to positive — and good inspiration for those times when you're wondering why, exactly, you choose to spend your time writing books or performing monologues or making installations or whatever it is you do instead of being an accountant like your cousin. Art is something you can make a living doing, and it does have meaning to people, Uy is saying — no matter what the naysayers say (and, yes, there will be a ton of naysayers if you decide to be an artist, unfortunately).
Uy's other work, which you can see at her online gallery here, are generally mixed media sculptures. According to her Behance bio, Uy is currently a Studio Art major at UT Austin. She's hoping to become a concept artist for animation and video games — proof positive that art, truly, can be a "real job."
Images: eyecmore/Flickr; UT Visual Arts Center/Facebook