8 Hair Tips That All Runners Can Use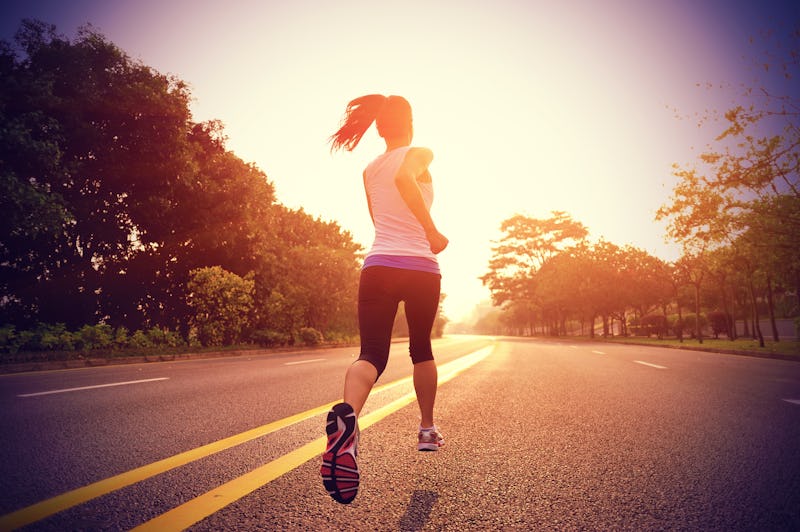 Running and I have a love-hate relationship: It's freeing, but challenging. It's a great workout when you just want to escape, but then again, there are endless distractions — including your hair. There's nothing more annoying than having to push pause on your jog to pull your headband forward again or redo your ponytail, and that itchy feeling of your hair brushing up against your neck with each stride can totally derail your mojo. No need to call it quits, though — here are some important hair tips for runners that will get you through your run, from mile 2 to mile 26.
Fall is the best season to go for a run, IMO — the crisp air and crunchy leaves make for an extra-satisfying journey. Plus, it's marathon season! And if you're actually participating in a race, be it a 5K, a 10K, a half-marathon or the full 26.2 miles (!!!), the last thing you want to be worrying about is your hair. And if you're not running in any organized events, that doesn't mean you should have to deal with an unreliable updo, either.
Here are eight tricks and tips that every runner should know.
Remington Thick Black Elastics, $3, Target
If you've got heavy, thick hair, one hair tie doesn't always ensure your go-to ponytail will stay put. Give it more support by using two.
BIC Bands Two Pack, $22, Bic Bands
Not all headbands are created equally, and different headbands work differently on different people (who knew we all had different head shapes?) For some, skinny bands do the trick, and others (myself included) have better luck with wide headbands. Members of the Runner's World community boards give a resounding yes to BIC Bands and Sweaty Bands.
Avoid Heavy Products
"Avoid any products with a high alcohol or salt content ([like] heavy-hold hairsprays, dry shampoos, [and] texturizing "beachy" hair products)," Says Redken Brand Ambassador (and marathon runner) Rodney Cutler. "Once you start breaking a sweat, these products can run down into your face and cause major discomfort, taking your eye off the prize, literally." Plus, you'll be better off if it rains.
Conair Curved Bobby Pins, $2, Bed Bath & Beyond
If you find your bobby pins slipping loose halfway through your run, try spritzing them with hairspray before putting them in to increase their hold (And, hey, this isn't just a trick for runners!)
Fashion Work 12 Versatile Hairspray, $19, Ulta
Even though you should steer clear of any product that's too heavy-duty, "If you need to tame any pesky flyaways, use a lightweight hairspray such as Redken's Fashion Work 12 Versatile Working Spray," says Cutler.
Embrace Your Hair's Natural Scent
"Don't use products with a heavy fragrance! Over-scented products will drive you crazy by the fifth mile, and you've got a lot further to go," recommends Cutler.
Embrace Braids
A braid is a great way to get your hair out of the way and look cute at the same time. Since braids are a "woven" style, they're great at staying put. Just make sure you make 'em tight. "Use Redken's braid aid 03 defining braid lotion for extra grip and hold that will last throughout the race," says Cutler. For bangs, try French braiding them into a headband to get them out of your eyes.
Try Two Ponytails
If you've got layers that don't all fit into the same ponytail (the struggle is so real), start by tying the top section of your hair into a high ponytail. Then, create a second ponytail in the middle of your head, just like the photo — just add the higher one when you tie the lower one for a low-maintenance running style. Problem solved.
Images: Fotolia; Francesco Gallarotti/Unsplash; LuckyMagazine, salon58arvada/Twitter; Courtesy of brands