Celebs Are Freaking Out Over Adele's "Hello"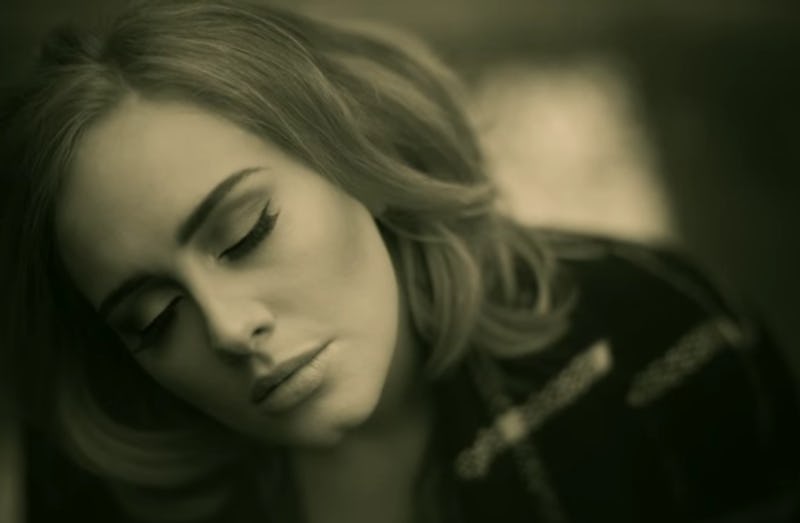 Step aside Lionel Richie, because there's a new "Hello" stealing the hearts of the world. On Friday, Adele released her new song, "Hello," and it's blowing up the Internet. Once again, the singer is showing why she is a powerhouse and a force to be reckoned with. Admittedly, I have the song on repeat, because it's just that good. I'm not the only freaking out it, either. Across Twitter, celebrities are celebrating Adele and "Hello" in a spectacular way.
A bunch of famous faces are expressing exactly how they feel about the powerful song: they love it, can't get enough of it, and need more Adele, stat. It's been three years (three years!) since the British singer released a new song, so it's understandable why her fans are welcoming "Hello" with open arms. Plus, she never disappoints when it comes to expressing the exact emotions anyone feels when it comes to different parts of life and love. With "Hello," it's about a breakup and who hasn't felt the rawness that comes with that?
If you've yet to watch it, here's the video for your viewing pleasure. Warning: You will feel a ton of emotions and watch it at least five times in a row.
Do you need a tissue? How about a hug? Maybe these tweets from celebs will console you.
Katy Perry Was Brought To Tears
I feel you, Katy.
Sam Smith Screamed Pure Joy
Ditto, my friend.
Chloë Grace Moretz Is Filled With Love
Same.
Russell Crowe Called The Song "Huge"
Totally.
Glee Stars Praise The Powerhouse Singer
They speak the truth.
E.L. James Can't Get Enough
Hmm... maybe she'll use it in the next Fifty Shades of Grey movie?
DWTS' Mark Ballas Didn't Go To Sleep
He's like a kid on Christmas.
Rosie O'Donnell Is Stunned
Does this mean Kate Winslet will play Adele in the biopic?
Lena Dunham Kept It Simple
She's right!
Congrats to Adele on her new song that's already a hit.
Image: Adele/VEVO