How To Dye Brown Hair Pink, Like Kendall Jenner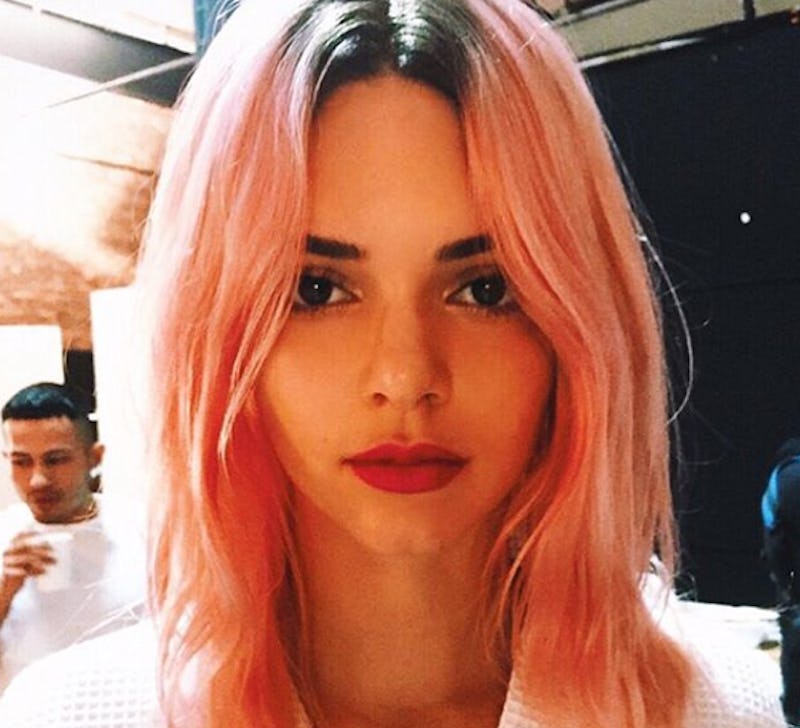 Pink hair remains the hair color trend of 2015. Now that Kendall Jenner has gone pink with her hair, swapping out her signature straight and glossy brown locks in favor of soft, pastel strands, the trend feels even more legit. It was already a hot and popular celeb hue, with Julianne Hough, Hilary Duff, Kaley Cuoco, and Cara Delevingne playing with pink, temporarily so!
But the model's endorsement of pink hair gave it more substance, since she doesn't ever play around with wild coif colors like her baby sister Kylie does, like, every other day.
How do fellow brown haired girls get Kendall's pink hair?
Pastel pink hair is more wearable, relatively speaking, than a hot pink burst of color. But there are ways to get it and you can play around with any shade that you want, depending on your job, your school, your personal preference, and your color base. It's all about what you can get away with and how much you want to commit to pink.
But let's be honest. Kendall Jenner's baby pink hair is likely a wig but she is owning it.
Kendall's mastery of pink is enough to make you consider going pink, isn't it? If so, you are in luck, since there are several options for brunettes to get pink hair in both temporary and semi-permanent capacities.
She looks gorge as a pink lady, doesn't she?
On the temporary front, I have two killer options.
Splat Hair Chalk in Dusty Rose, $6, Splat
Splat's Hair Chalk in Pink Hearts or Dusty Rose is a fast and easy option. You pretty much spray a strand with some hairspray and then run the color compact up and down the length of your follicle. Or you can just focus on your tips. It lasts pretty much all day and the added benefit is that the chalky products gives you hair some added texture and bulk. Place color wherever you want to creatively craft a pink 'do.
Splat Hair Chalk in Sugar Plum ,$6, Ulta
You can also try the Sugar Plum shade, which is a purply-pink color. You can dial the intensity up or down, depending on how much of the product you use and where.
Another option is High Beams Intense Temporary Spray-On Hair Color in Popstar Pink. It's essentially a spray pant that covers your hair with rich, bright pink color.
High Beams Intense Temporary Color in Popstar Pink, $9, Amazon
Want proof of how well this spray works?
Here's me and my brown hair, with pink bangs! I am totally rocking two-toned hair and bangs. An added bonus? The color mist got on the top of my glasses, adding a cool pink cast. I didn't mind, since it wiped off and these are my nighttime specs that I toss on my face after I yank out my contacts.
So what about more permanent options?
Cutler Senior Colorist and pastel hair expert Rachel Bodt offered some tips on how to achieve a pink punch with your hair. There are a few things to consider, especially when you are a brunette, like Kendall.
Bodt noted that soft pink hair fits all skin tones. You just have to find the right concentration of pink that works.
Alchemic Conditioner Red, $30, Davines
For a more realistic and at-home semi-permanent pink, Bodt suggests a color-depositing conditioner, like Davines Alchemic Conditioner in Red. It will temporarily color hair pink. It lasts approximately five to six washes.
If you want to make a deeper commitment to pink, you should seek the services of a pro. "There are a few ways to do this," Bodt said in an email to Bustle. "Either by doing a full double process, where you bleach the whole head to white and then tone with pastels. Or you can do heavy highlights and then gloss with a pink tone."
The highlight process is a lesser commitment, so you can easily return to your natural base. Bodt also suggest grabbing a color conditioner from a salon so you can avoid rinsing out color every time you shampoo.
So there are options for brunettes who want to be pink ladies. Plus, you can always don a wig, a la Nicki Minaj.
If Kendall Jenner has you thinking pink, try any of these temporary or semi-permanent options. Personally, I love the hair chalk and spray-on options. They really do drench dark hair in color, you can get really creative, you don't break the bank, and it only lasts through a wash or two.
Images: Kendall Jenner/Instagram (1); Amy Sciarretto (1); Courtesy Brands (4)