15 Beauty Products Perfect For Fighting Acne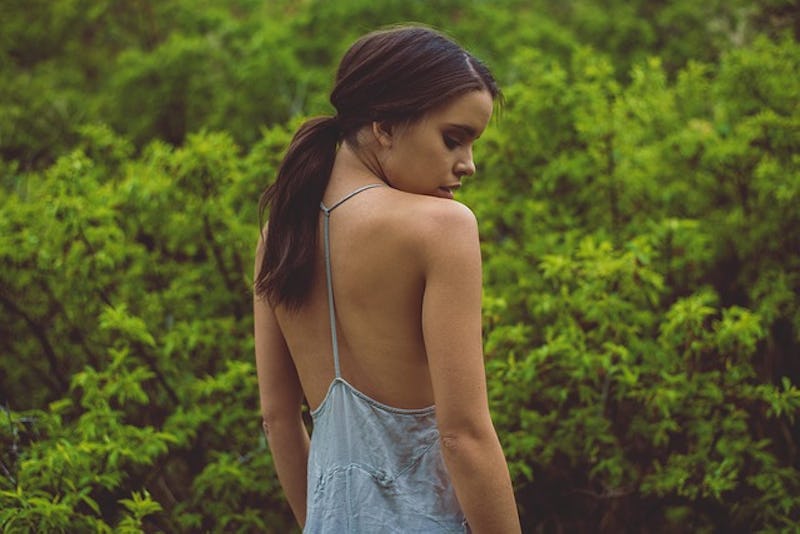 If you suffer with frustrating and stubborn acne, then you know that makeup can sometimes make your complexion look even worse. Don't let your beauty routine be the root of your acne problem. Use beauty products that help to fight acne and ward off zits and blemishes instead. If your makeup and daily beauty routine isn't working to help perfect your skin when it actually could be, then why is it on your face in the first place? Makeup doesn't have to damage your skin if you find the right products for your complexion.
Face products and cosmetic items with artificial chemicals only worsen any existing acne problems over time. These chemicals can sink deep down into your pores, and irritate the skin causing further blemishes. Who needs that? Stop playing the acne guessing game, and reach only for beauty products that are beneficial to your skin. It can only help your skin in the long run. This doesn't mean purchasing exclusively high-end products, either. There are tons of drugstore beauty buys out there that are perfect for erasing your acne. So, kick your zits to the curb, and look great while doing it. Here are a few of my favorite acne-fighting beauty products.
Primer
MAC Prep & Prime Blemish Control Gel, $23, Macys
Before applying your makeup, smooth and soothe away any imperfections by applying a primer with salicylic acid. This powerful ingredient helps to clear away blemishes, and cleanse your skin.
MAC Prep & Prime Blemish Control Gel, $23, Macys
Achieve camera-ready skin by applying an oil-free, silicone-based primer. This Smashbox primer contains two percent salicylic acid to combat oil and blemishes.
Photo Finish More Than Primer , $36, Amazon
This luminous primer contains hyaluronic acid (soothing and calming), peony root (a firming active ingredient), and aloe vera (hydrates and conditions). These powerful ingredients work together to fight off acne, and prep the skin for makeup.
Honest Beauty Everything Primer , $27, Honest Beauty
Foundation
Lorac Natural Performance Foundation, $36, Amazon
Formulated with SMART sal10, this tinted acne control gel does wonders for the skin. With ingredients like salicylic acid and anti-microbial peptide-10, your skin will be glowing in no time.
Miracle Skin Transformer, $48, Ulta Beauty
A full coverage foundation that fights off acne sounds too good to be true. However, e.l.f. has cracked the code with this sensational foundation. Salicylic acid, witch hazel, and tea tree oil work together to reduce inflammation and kill bacteria, while camphor and aloe work to calm and heal the skin.
e.l.f. Acne Fighting Foundation, $6, Amazon
If you're looking for a great drugstore foundation that will help combat your acne, reach for Almay's Clear Complexion Liquid Makeup. This foundation is formulated with meadowsweet and licorice extract, which work to treat redness and calm any irritation.
Almay Clear Complexion Foundation, $10, Amazon
Rated by Glamour as one of the best acne-fighting makeup products, this Clinique foundation lives up to it's reputation. The foundation contains salicylic acid to remove any excess oil, hydroxydecanoic acid to control the spread of blemishes, and caffeine to reduce redness in the skin.
Clinique Acne Solutions Liquid Makeup, $27, Macys
Nothing like natural ingredients to perk up your skin. This Lorac foundation is loaded with healthy ingredients such as oleanolic acid and vitamin A that are great for fighting off any nasty acne spots.
Lorac Natural Performance Foundation, $36, Amazon
Concealer
Murad Acne Treatment Concealer, $21, Nordstrom
Nothing like powerful, natural ingredients to put acne in it's place. This Murad concealer is formulated with salicylic acid, vitamin A, and green tea extract to give you skin a healthy boost. It's definitely not your average concealer.
Murad Acne Treatment Concealer, $21, Nordstrom
If you're looking to cover up any raised bumps or spots, reach for a blemish fighting concealer. This stick concealer by Jouer contains a plethora of antioxidants that are perfect for healing your skin, and clearing up any spots.
Jouer Anti-Blemish Treatment Concealer, $23, Dermstore
This concealer is great for those who want to nourish and hydrate their skin, while still covering up any spots. Infused with carrot and calendula extract, this all-natural concealer is amazing at shrinking any acne.
Dr. Hauschka Concealer, $27, Amazon
Cheeks
100 Percent Pure Luminizer, $35, 100 Percent Pure
While this bronzer may not specifically be just for acne control, it does contain a host of ingredients that are beneficial to acne-prone skin. For instance, this bronzer is formulated with pure water, and vitamins A, E, and C to fight off free radical damage. These ingredients also work to retain moisture, and brighten the skin.
Tarte Amazonian Clay Bronzer, $30, Sephora
This product may be marketed as a luminizer, but it actually works more as a blush. This product is great for those suffering with acne as it is made with 100 percent all natural ingredients that nourish and heal the skin.
100 Percent Pure Luminizer, $35, 100 Percent Pure
Struggling with an oily T-zone? Apply a bit of blemish clearing powder. This one by Juice Beauty contains healing ingredients such as bamboo, aloe, and cranberry that help with perking up the skin, and clearing away acne.
Juice Beauty Blemish Clearing Powder, $29, Amazon
Don't let makeup be the root of your acne problem. Help clear up any pesky spots by using products with helpful, skin-clearing ingredients.
Images: Pixabay (1); Courtesy Brands