7 Ways To Get Soft, Manageable Hair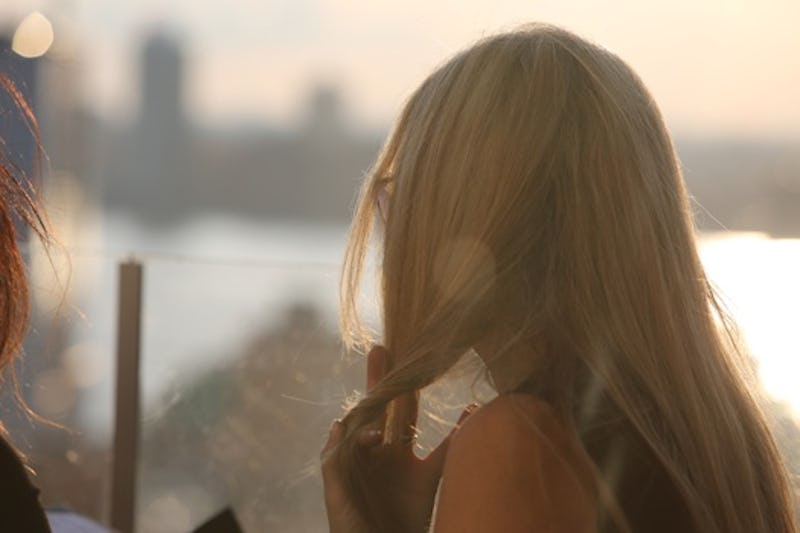 Consider changing up your typical hair routine if you're looking for ways to get soft, manageable hair. Creating healthy hair habits is the first step to achieving luscious, smooth hair. No matter what anyone tells you, there is no one product or treatment that will give you soft, incredible hair overnight. It takes time and daily upkeep to truly transform your hair. But don't get discouraged — the results are totally worth the lifestyle change. Don't hide behind your unruly hair. Let it become your new favorite accessory.
Dry hair doesn't discriminate. No matter what your normal hair texture is, there is a reason that it isn't looking it's best. Whether it's extremely brittle, unmanageable, or both, it's time to add a bit of life back into your locks. Moisture and maintenance are key for achieving silky, healthy hair. By giving your strands a little TLC, you'll be on your way to perfect hair in no time. However, before you make any drastic changes to your hair, it's always best to consult an expert. A stylist will be able to tell you exactly what challenges your hair is facing, and how to overcome them. In the meantime, you can get started on your own journey to creating soft, manageable hair. Here are a few of my favorite tips for restoring your hair's health.
1. Get A Trim
The first step in achieving soft, manageable hair is to cut off any dead ends. These split ends weigh down your hair, and cause it to be brittle and hard to work with. Regular trims allow your hair to not only grow longer, but to grow faster. Healthy hair grows much more easily once the damaged hair has been removed, according to Fringe Hair Design Salon.
Redken All Soft Shampoo, $13, Amazon
Damaged hair needs an intense amount of love. Soften your unruly hair by adding moisture aka life back into it. By hydrating your strands, you're giving your hair a fighting chance against the elements. According to WebMD, look for hair care products that include ingredients such as natural oils (coconut, olive, argan, etc.), glycerin, or shea butter to keep your hair feeling truly moisturized.
100% Silk Pillowcase, $19, Amazon
Sleep in style by changing out your regular cotton pillowcases for silk ones. These silky sheets do wonders for dry, brittle hair. Silk causes less breakage and knotting of the hair due to it's smooth texture. Basically, Disney princesses have that hair for a reason.
When it comes to hair softening DIYs, be sure to take a look at the ingredients. While an ingredient may seem moisturizing due to it's thick consistency, it may just be weighing down your strands instead. Many oils and butters sit on the outside of the hair strand instead of actually penetrating it. Avoid putting baby oil, petroleum jelly, or artificial hair oils onto dry hair, according to WebMD.
Tresemme Heat Tamer Spray, $8, Amazon
Heat styling can be absolutely brutal on your hair. Protect your hair from further damage by applying a heat protectant before using any hot tools. According to NewBeauty.com, these sprays guard your hair against heat and friction, which allow your strands to become more manageable and soft.
Too many chemical treatments can leave your hair brittle and damaged. When it comes to maintaining your hair health, keep any chemical processing to a minimum. However, if you are a fan of dying your hair, there are a few solutions. According to Matrix stylists, it's best to stick to ammonia-free dyes or Balayage hair color if your looking to dye your hair. These two options cause the least amount of damage to your delicate strands.
Denman Paddle Ball-Tip Brush , $15, Amazon
According to Matrix stylists, you need to get to know your hair brush. Brushes that are either low quality or made with metal can cause dry hair to tear or damage the hair cuticle. For those with dry hair, it's worth investing in a quality hair brush.
Heavenly hair isn't out of reach. By changing up a few of your everyday hair habits, you can completely transform the look and feel of your hair.
Images: Pexels; Courtesy Brands