Adele's "Hello" Video Has Broken A Record Already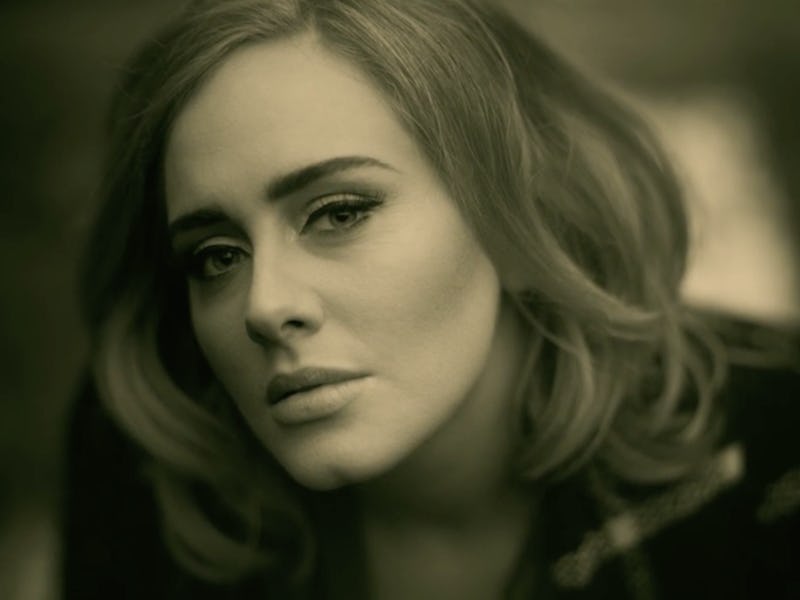 Now that we've had a few hours to process things, how are we all doing after this morning's Big Event? I'm referring, of course, to the release of Adele's first new single and music video in three years, "Hello". To say that it's beautiful is probably the understatement of the century, and everyone — even her fellow celebrities — are totally obsessed, and for good reason. While the video was only released about 12 hours ago, it already has nearly four million views (as of 2 PM EST) — a number that's sure to continue to skyrocket over the coming hours. To say that "Hello" is a flawless ballad is true enough, but when you realize that the video, which was directed by Xavier Dolan, is just as phenomenal, things get a little overwhelming. If all that wasn't enough excitement from your Friday already, there's something else to be impressed by: Adele's "Hello" video is the first to be partially shot with IMAX cameras.
If you've been living under a rock (or, I don't know, you're at work and your boss is a killjoy who doesn't allow you to partake in massive cultural events) and haven't watched the "Hello" video yet, it features Adele at what seems to be a country estate on a blustery fall day. She has no cell service and the whole place is dusty and full of memories, but she soon puts the kettle on and sits down for a good old nostalgia session, remembering how many wonderful times she had with an old love who's long gone from her life. It's sad, but it's also poignant and tugs at the heart strings in ways that only Adele can.
Dolan, the French-Canadian director behind "Hello," is said to have met Adele in summer 2014, when they immediately clicked and she allowed him to be one of the first people to hear her new song (imagine having that honor!). "It was a privilege to direct the music video for Adele's beautiful, heartbreaking song 'Hello,'" Dolan said in a statement. "When I first heard it, all the images appeared clearly in my head – and her trust and generosity allowed me to work with abandon artistically and emotionally, like she always does. It made me extremely proud."
He should indeed be proud, as should Adele. The IMAX camera, which uses 70 millimeter film, which is "twice as wide as what's used in ordinary cameras" as well as "special, custom lenses to capture a unique IMAX image" that produces negatives that are "brilliantly sharp, with a wider, more subtle color 'gamut' and the richness many directors say only comes from film." You can certainly see the brilliant quality in "Hello," and it's amazing to know that Adele is setting yet another trend in music. I'm sure plenty of other artists will follow suit in using IMAX for their videos in the near future.
In the meantime, let's watch "Hello" again and cry together, shall we?
Image: AdeleVEVO/YouTube