Adele's "Hello" Just Broke Another Amazing Record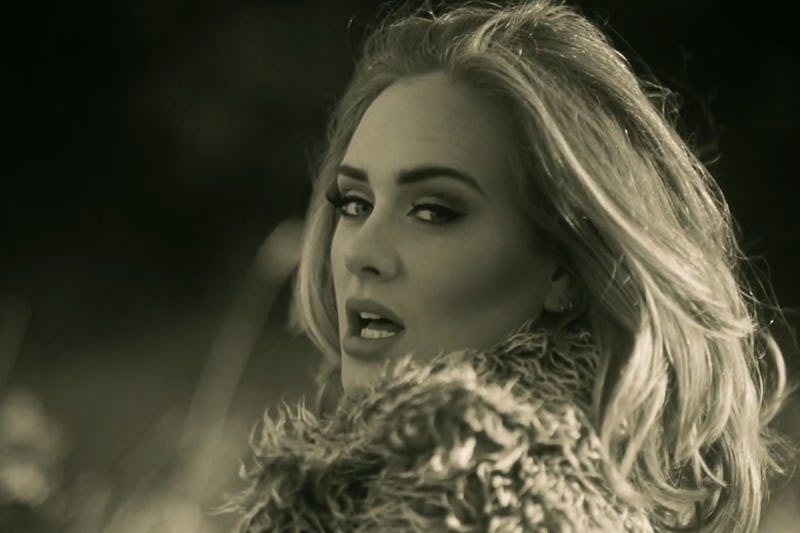 It's crazy to think that it's only been about 24 hours since the premiere of "Hello," Adele's first new single in over three years. Maybe it's just because I've listened to it about 900 times since then, but I feel like it's a song I've known and loved for ages, and I can't imagine what life was like before I heard it. Sad? Perhaps, but totally true, and I'm sure I'm not the only one who feels that way. Millions of people around the world have been in total meltdown mode since Friday morning, when "Hello" first hit the Internet and the airwaves. In fact, Adele has actually broken the 24-Hour Vevo Record as "Hello" received 23.2 million views in a single day. If that's not amazing, I don't know what is.
Of course, it's no surprise that Adele is dominating the music world already. She may have taken a few years off, but she's still on top of her game, so every other artist had better watch out. The "Hello" video currently has 28.7 million views as of 11 a.m. EST Saturday morning, and that number is rising more quickly than anyone can keep track of. It's an honor that's totally deserved, and one previously held by some amazing musicians.
Here are the Top 5 (well, Top 6, including Adele) 24-Hour Vevo Record holders. Needless to say, fans are totally dedicated:
#2 Taylor Swift — "Bad Blood" (20.1 million)
The "Bad Blood" video was one of the most highly anticipated music videos ever, and given the large scale of the production and the insane amount of cameos from Swift's celebrity squad, it's no surprise that it did so well. After all, 20 million views in 24 hours is far from shabby!
#3 Nicki Minaj — "Anaconda" (19.6 million)
I'll basically watch anything that Nicki Minaj does, so you'd better believe I was on board for the "Anaconda" video from the moment it premiered. So were 19.6 million other people in the first 24 hours (or like, me and one other person, since I watched it so many times), and that's amazing.
#4 Miley Cyrus — "Wrecking Ball" (19.3 million)
I don't know anyone who didn't hit YouTube ASAP when they found out that Miley Cyrus was swinging naked on a giant wrecking ball while singing. Who wouldn't? The shock factor paid off, for sure — over 19 million views in 24 hours? She's doing something right! (Fun fact: It now has over 807 million views!)
#5 One Direction — "Best Song Ever" (10.9 million)
To be honest, I'm shocked that One Direction isn't higher on the list, as Directioners are known as one of the most passionate and active fandoms online. Still, nearly 11 million views in less than 24 hours is still incredibly impressive.
#6 Miley Cyrus — "We Can't Stop" (10.7 million)
Yes, it's Miley Cyrus again. The fact that she's got two spots in the Top 10 is saying something, and "We Can't Stop" was killing it pretty much immediately after its release, racking up 10.7 million views in one day. Fellow pop stars could take a note from Miley's book.