Halloween Costumes Built Around A Black Dress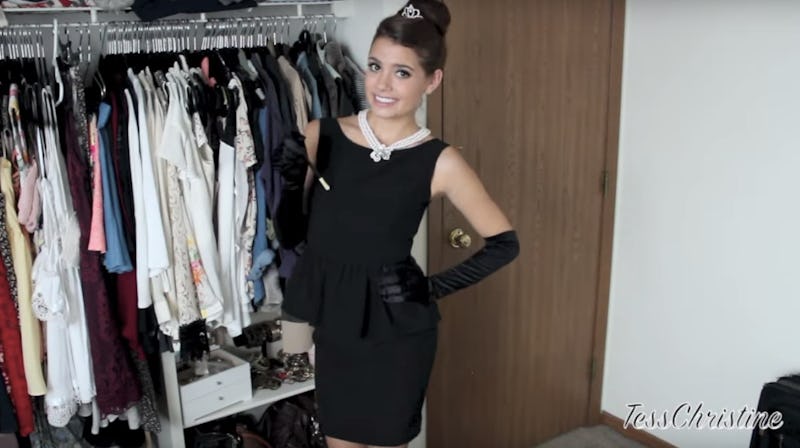 How many times has your little black dress saved the day? Party. Job interview. Funeral. It's been there like a loyal companion through your life's biggest ups and downs. And now it's going to come through for you again by serving as the base of your Halloween costume. There re so many costumes you can build around a black dress. Short, maxi, peplum, it doesn't really matter. The dress, no matter how fabulous, is just the cake. The icing is the accessories. Oh, and let's call the hair and makeup your sprinkles.
Some of these costume ideas are old classics. You know, costumes like the cat or witch, that have stood the test of time. That doesn't mean they have to be boring. You'll add your own original flair to them to bring them into the modern era and do it with sass and style.
The accessories for these looks can largely be made yourself with simple components, such as felt and headbands. If you're not in the DIY spirit, I've also included links to inexpensive places to purchase your cat ears or Audrey gloves. As far as the makeup goes, feel free to go buck wild with your fanciest gear or favorite drugstore dupes. It doesn't really matter how much your makeup costs, just how much attitude lies behind it.
1. Minnie Mouse
To update Ms. Mouse's look while still keeping it recognizable, pair your LBD with white gloves and a red bow with white polka dots. This video has a tutorial on how to make easy, inexpensive DIY ears and bow, or you can check out the video below to make Minnie Mouse ear buns!
I'd wear that hair any day of the week. You can also buy ears if you're so inclined.
Minnie Mouse Ears With Bow, $6, Amazon
2. Cat
The cat is a classic costume. Someone will go dressed as a cat for Halloween every year from now until the end of time. Over done? Sure, maybe. But you're no ordinary cat. Everyone knows that. Pair your black dress with ears and cat makeup for one of the simplest but cutest costumes possible.
You don't even need to buy cat ears if you have long hair.
Halloween Black Lace Cat Ears Headband, $9, Amazon
3. Wednesday Addams
You know you're dying to revisit that goth phase you went through in high school. To make this dress into a full-on Wednesday Addams costume, you'll need to wear a white shirt with a collar underneath or cut out a Peter Pan collar shape from felt and attach it to your neckline.
You just need two braids to pull off that hair look, but here's a tutorial just in case.
Use these to complete your costume (and keep warm).
Striped Thigh High Socks, $6, Amazon
4. Witch
I mean, witches pretty much originated the black dress thing, right? This makeup is a step above your standard kid Halloween witch. That eye glitter alone is the stuff of your eight year-old daydreams. Once you have the makeup down, you just need to add a hat and broom to your black dress and voila.
The pink ribbon makes this hat super adorbs.
If you want to take things one step further, get big, fierce witch hair.
Chic Various Design Halloween Witch Hat For Women, $6, Rosegal
5. Audrey Hepburn
Are you super classy? Of course you are. This costume is probably the uniform of your spirit animal. The black dress fits perfectly but you can't pull off the look without her signature hair and makeup. Add some pearls and gloves, too, because you're not playing around.
This tutorial lets you keep your hair but still pull off something similar to her iconic bangs.
Try a modern adaptation of her long black gloves.
Pair of Chic See-Through Lace Matching Knitted Fingerless Gloves For Women, $8.32, Rosegal
6. Your Favorite Kardashian Jenner
This is maybe the best excuse ever to play with your makeup, get really bold with it and see how the world reacts to your full-on glam. Pair your black dress with some spiky heels to complete the costume.
Here's your Kylie look, which is slightly less heavy than the above Kim look.
Boom. Khloe. The sassiest Kardashian at your service.
A little makeup and a few accessories and your little black dress come through again. What would you do without it?
Want more Halloween? Check out the video below, and be sure to subscribe to Bustle's YouTube page for more hacks and tricks!
Image: Screengrab/YouTube