'MasterChef Junior' Mashup Is Next Level Hilarious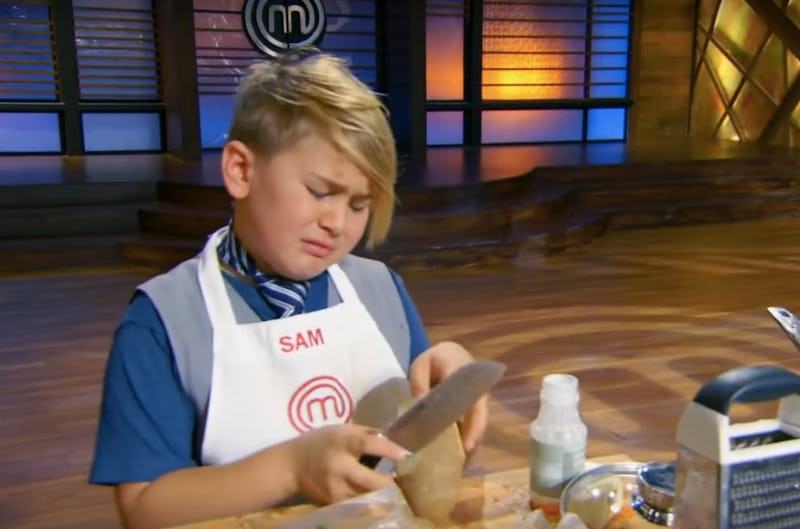 Today on hilariously terrible things you should not be laughing at yet will anyway: someone mashed Gordon Ramsay's Hell's Kitchen lines with MasterChef Junior. The result is exactly what you'd imagine, but more hilarious than you'd ever guess: Ramsey shouting in blood-curdling screams, "This is f#&king painful!" as little kids cry and scramble around trying to get their dishes right. (We told you, awful, but also, LOL.)
The man behind the namesake of one of the most brutal kitchens in London may have risen to fame (notoriety?) for the remarkably harsh scare tactics he uses to get chefs working up to every ounce of their potential, but we've found it nothing but entertaining from the get-go. (It won an Emmy at the most recent awards for Outstanding Reality Series — Food Competition!) Yet with his spinoff show, the adorable (and impressive) MasterChef Junior, he takes on a far different demeanor (contain your multitudes, dude).
All in all, it's kind of a bold move to even tease these kids at all: most twentysomethings I know can't cook what these eight-year-olds can, nor can they cope with so much as an "let's have a meeting to go over some goals and objectives" email from their boss, let alone Gordon freaking Ramsay judging their culinary skills. Why we enjoy this brutality at all is a phenomena of our masochistic humanity, but let's put that unsettling thought on the back-burner for a moment for some equally awful clips!
We open with a small boy mixing his dish
He's making the same expression as a person putting together IKEA furniture (and the background screaming: "WHAT IS SO F*#KING COMPLICATED" sounds appropriate for this analogy as well).
Us, again, every day around 3 p.m.:
And some encouraging words:
Watch the rest of the video here, it's the weird catharsis you need to get through your day. (I promise.)
Images: YouTube/MasterChef Junior; (4)