10 Books Every Athletic Person Should Read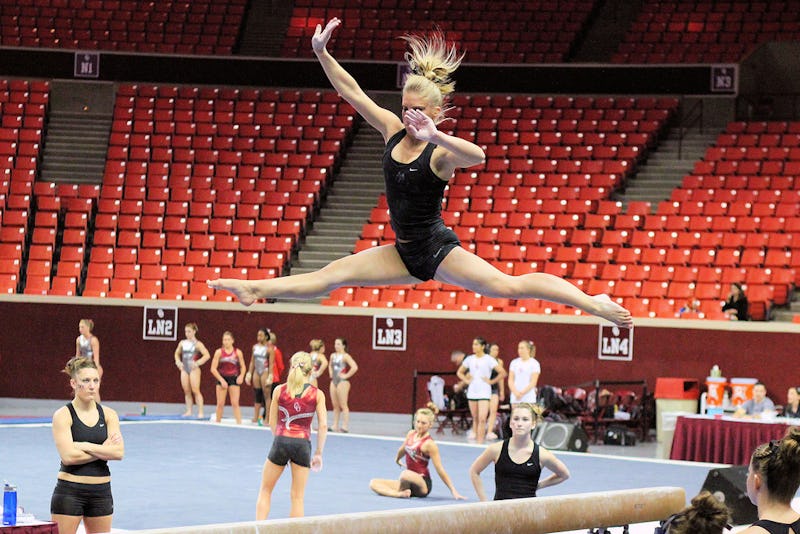 I might be able to vinyāsa flow with the best of 'em, and I've never met a woodland trail that I wasn't eager to conquer, but when it comes to hardcore athleticism (see: marathons, triathlons, and any other feat of strength and endurance one might have found in, say, ancient Rome) lately I'm much more likely to hop on a low-intensity elliptical with a good book than I am to throw on a pair of cross-trainers and join a 7-minute mile group — but that doesn't mean I don't like my sweat sesh read to be totally inspiring. After all, if anything is going to push me into that 7-minute mile group, it's going to be reading books about amazing athletes who have defied physical limitations, conquered challenges they were told they couldn't, and learned to honor the strength and artistry of their bodies.
You might not automatically connect reading and athleticism — admittedly one is a sedentary activity while the other is, decidedly, not — but there are a ton of great memoirs, novels, and works of reportage that celebrate the marvel that is the human body, and detail what exactly it takes to persevere to the top of your physical game.
Here are 10 books every athletic person should read, to inspire you to run harder, jump further, dance stronger, or just workup a really great endorphin-releasing sweat in whatever your chosen feat of physical prowess may be.
Life in Motion by Misty Copeland
Misty Copeland is best known as the first African American soloist dancing with the prestigious American Ballet Theatre (and now that amazing Under Armour commercial too.) Adding to her impressive resume is the memoir Life in Motion: An Unlikely Ballerina , the true story of her prodigal rise to fame and talent in the ballet world, and the amount of heart and perseverance it took to dance her way past all those who said her personal life and identity didn't mesh with the image of a professional ballet dancer. Beautiful inside and out, Copeland is seriously inspiring.
A Life Without Limits by Chrissie Wellington
If you love overnight success, underdog defeating all odds narratives, A Life Without Limits: A World Champion's Journey is definitely the book for you. In 2007, triathlon newbie Chrissie Wellington won the Ironman World Championships in Hawaii, surprising fellow triathletes and sports reporters worldwide. But success didn't come easy to Wellington, whose memoir chronicles her struggles with an eating disorder, the intense training required to compete in the Ironman, and how she learned to honor her body and inspire fellow athletes everywhere.
The Blind Side by Michael Lewis
The movie adaptation you love is even better in print, I promise. When the 13-year-old son of a single-mother and crack addict Michael Oher is informally adopted by a family who couldn't be more different from his own, he takes up the sport of football — a decision that will change his life forever. Entrusted with protecting his quarterback's "blind side" Michael learns some important lessons that will carry him far beyond the football field. The Blind Side tells the coming-of-age story that even those lacking football enthusiasm won't be able to resist.
Yoga Girl by Rachel Brathen
Are you obsessed with the yogi turned Instagram star Rachel Brathen yet? If not, you seriously don't know what you're missing. In her memoir/self-help book Yoga Girl Brathen shares the true story of her own journey from self-destruction to peace — one that will inspire you to pose your way to a healthier you too. (And if anyone tries to tell you yoga isn't a sport, challenge them with a Pungu Mayurasana.)
To Reach the Clouds by Philippe Petit
In 1974 high wire walker Philippe Petit walked between the World Trade Towers, nearly a quarter-mile above the 100,000 people watching him below. To Reach the Clouds is the story of that memorable walk — from Petit's initial dream through his planning and execution of his lofty (no pun intended) goal. Few physical feats will seem unachievable after reading this gorgeous and unforgettable memoir.
However Tall the Mountain by Awista Ayub
After the September 11th terrorist attacks on the United States, Afghanistan-born American immigrant Awista Ayub founded the Afghan Youth Sports Exchange, a soccer club exclusively for girls in Afghanistan, designed to unite and empower the girls in the face of political suppression and violence. Since Taliban-ruled Afghanistan made it illegal for girls to not only play soccer, but to play outside the home at all, Ayub brought her team to the United States for training in the sport, before returning to Afghanistan where they would be entrusted with teaching other girls. However Tall the Mountain tells the true story of how athleticism can lead to personal empowerment and social revolution.
Fever Pitch by Nick Hornby
For anyone who has ever gotten caught up in the "fever" of sports fandom, Nick Hornby's Fever Pitch is the book for you. Combining personal anecdotes of Hornby's own obsessive fandom and research on the role sports fanaticism plays in communities worldwide, all told with Hornby's well-known wit and dry humor, Fever Pitch is an equal parts fascinating and fun read.
Against Football: A Reluctant Manifesto by Steve Almond
A lifelong fan of football, one season author Steven Almond gave up watching the sport altogether. After considering the role football plays in American culture, the values it teaches both players and spectators, and the legacy he hopes the men of his generation will leave to the generations of men to come, he decided his fandom bore too great a cost. In the controversial Against Football , Almond explores not only these cultural consequences, but the individual consequences — both medical and personal — to the players as well. Love it or hate it, this book will definitely give you a lot to think about.
What I Talk About When I Talk About Running by Haruki Murakami
"Writing a novel is like running a marathon" is the central metaphor of Haruki Murakami's memoir What I Talk About When I Talk About Running . Murakami digs deeply into both running and writing, personalizing the discussion with reflections on his own experiences of both. He talks about his origins as a writer — the moment when he realized this is what he wanted to be — and takes the reader through his marathon journey of persistence, resilience, failure and success.
Drawn to the Rhythm by Sara Hall
Faced with a failing marriage and a desire for great personal transformation, some women take to the trail and some venture around the world; but if you're a woman like Sara Hall, you take to the water. When Hall observes a solo-rower on the harbor near her home, she clings to that image like a life raft. In Drawn to the Rhythm Hall details the feelings that drew her to the sport of rowing, the training required to become a solo-rower, and the path to not only winning a world championship gold medal, but renewing her sense of empowerment and agency over her life.
Image: Erin Costa/flickr