Raf Simons FINALLY Casts Black Models at Dior Couture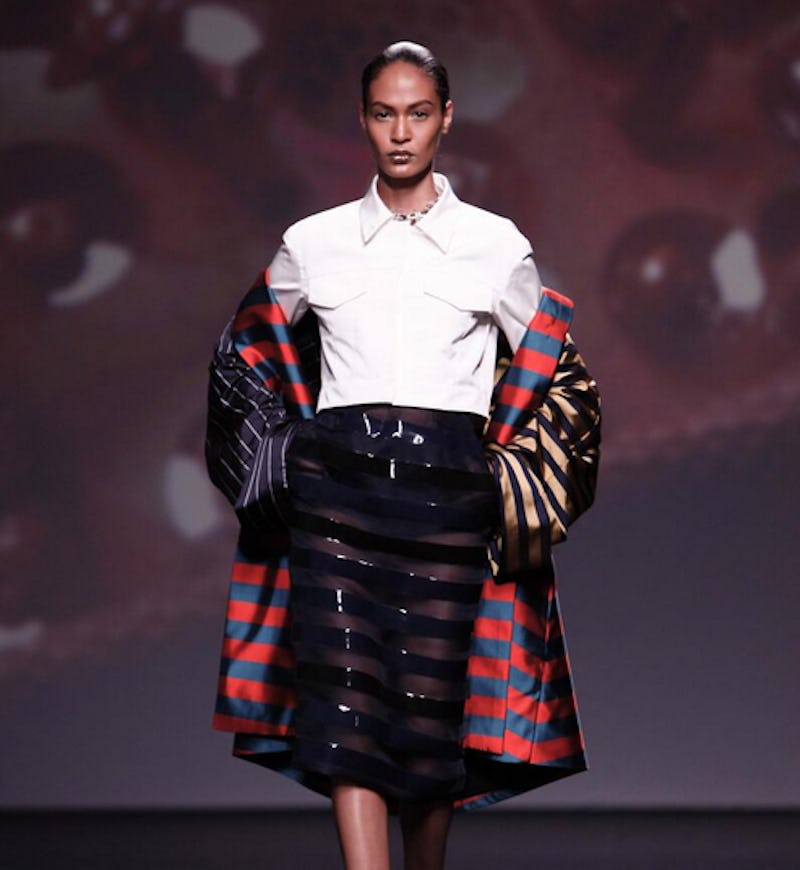 What shouldn't be news at all unfortunately is, today. Raf Simons showed his couture collection for Christian Dior today in Paris, and to the surprise of many in the industry, the casting included six black models—for the first time in Simons' seven season tenure.
Model Jourdan Dunn was not among those cast. She tweeted about her cut from the lineup yesterday:
Body issues aside, the veteran model appears to perceive this as an improvement over the normal reason she's told she's been dropped.
Casting Director James Scully (who did not cast the Dior show) recently vented his industry frustrations on BuzzFeed, particularly calling out the casting directors responsible for the Dior lineups of the past for casting only white girls. This season included a more global reach: the themes of the collection spanned the continent of Africa and included a Japanese motif. Specifically casting an Asian girl to sport a geisha-inspired dress feels kitschy, no?
A few years ago I spent a few seasons assisting a stylist as she prepared the looks for the show, and gave input on the models. James Scully was the casting director. Scully, the stylist, and the designer were in agreement that they wanted a different "black girl" for a certain look (it included a head wrap). Perhaps I was too sensitive, but the shock I felt at the models being so casually categorized and qualified based on what I personally deemed insignificant felt crass.
Shouldn't the color of a model's skin not necessarily matter? Don't designers want the clothes to fit well, the face to hold the desired makeup? Isn't the idea that the model can embody what's being sold? For a runway model, the ability to walk well, wear the clothes well, and project the mood that the designer and stylists have instructed is above all, the point. Shouldn't the color of a girl's skin or her ethnicity matter least? Did Dior cast the models to be politically correct, to reference the African inspiration, or were the best girls for the job actually hired?
A few years ago marked an influx of Asian models; the powers that be were bent on appeasing the Asian markets, which, at the time, held a lot of the spending ability (and still do). While, positively, it meant more work for a smattering of models who weren't previously being booked, it still feels silly. Fashion seems to have a lot of catching up to do when the models are predominantly white, and the customer necessarily isn't.
Image: @Dior on Twitter