Is 'Scouts Guide To The Zombie Apocalypse' Scary?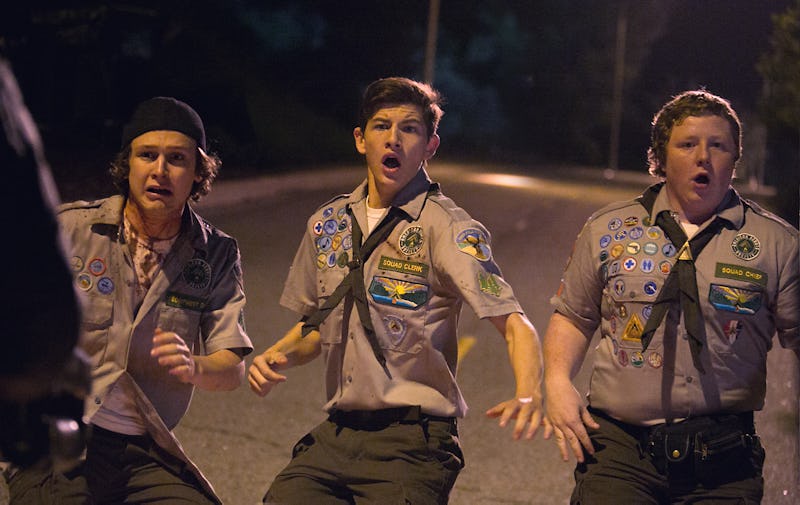 Director Christopher Landon isn't a stranger when it comes to making horror movies. He's written almost all of the Paranormal Activity movies and sat in the director's chair for one of them. But Landon is trading in demonic entities for the undead in his new movie, Scouts Guide to the Zombie Apocalypse. He certainly has a knack for the horror, but does he have the skills to create a movie in the rare, culty genre known as the comedy horror? That being said, is Scouts Guide To The Zombie Apocalypse scary? Based on the trailer alone, it looks like it's going to be more gory and funny and less scary and menacing.
Scouts Guide follows in the footsteps of movies like Shaun of the Dead, Tucker & Dale vs. Evil, and Army of Darkness, where it blurs genre lines and gives who something scary, but at the same time realizes its ridiculous premise by injecting the perfect amount of comedy to balance out the scares. I like to call it the "horroromedy." In this case, it's a movie about a bunch of boy scouts fighting zombies. It's a cinematic mashup that satisfies two parts of our brain. Then again, nearly all horrors have some sort of comedy in them — whether intentional or not. But can the guy who scared the crap out of us with the Paranormal Activity movies deliver the goods when it comes to a "horroromedy"?
Without a doubt, Landon definitely knows what he is doing when it comes to horror, but Scouts Guide seems like a totally different creature from the world that we know Landon from. As the writer of Paranormal Activity 2 through 5 he comes from ghostly world of spirits, demons and scary found footage. He eventually had the opportunity to direct the fifth movie of the franchise, Paranormal Activity: The Marked Ones, which would be considered the most standalone of the the franchise. The sequel had a connection to the other films, it still felt like a different movie, which probably gave Landon an opportunity to flesh out his ideas and techniques of storytelling as a horror director. It was a good stepping stone that led to Scouts Guide.
The Paranormal movies are very dense with terror so he had the horror angle of Scouts Guide handled. For more of the funny and lighter stuff, he had some people helping out. Emi Mochizuki and Carrie Evans, who co-wrote Disney's family comedy College Road Trip starring Martin Lawrence and Raven-Symoné helped with the script. In addition, Lona Williams, the genius writer behind the cult dark comedy Drop Dead Gorgeous also put her two cents in. It's a bizarre combination of writers that seem like a perfect fit for a movie about a group of boy scouts and a cocktail waitress defending their small town from a zombie invasion.
Scouts Guide was probably a cathartic movie to let go of all of that pent up comedy Landon had in him since he wrote the second Paranormal Activity. I would imagine that after writing all that demon stuff, you would want a laugh or two.
Comedy and horror have some similarities. Both take us by surprise and cause an immediate physical reaction. We laugh when something is funny and scream when something is scary. With Scouts Guide to the Zombie Apocalypse, you'll get both — and that's pretty awesome.
Image: Jaimie Trueblood/Paramount Pictures