Missy Elliot Has Always Been A Great Feminist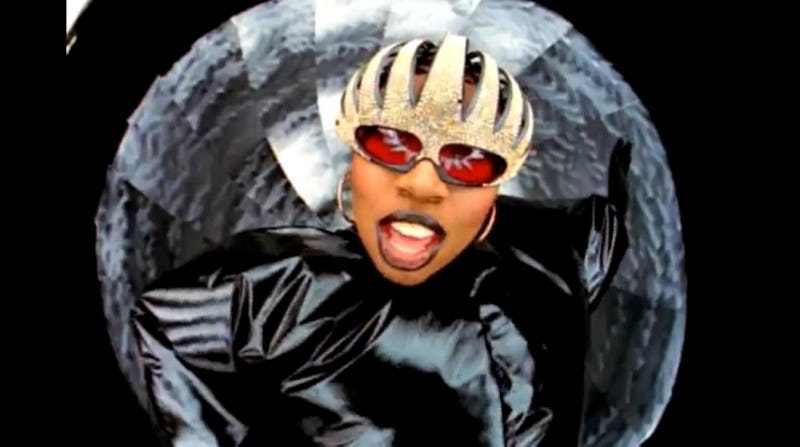 Now is a great time to be a Missy Elliott fan. With new Missy Elliot tracks being teased, including "WTF feat. Pharrell" (30 fabulous seconds of which were aired during a Monday Night Football commercial break) and a collaboration with Janet Jackson having recently been released, right now couldn't be more exciting. But, of course, this is no surprise — being a Missy fan has always been great. Growing up, Missy Elliott was one of my absolute favorite artists, in large part thanks to her music videos and her vivacious and jumping tunes. But, she was also tremendously inspiring, and proved that female musicians didn't need to pander to industry standards of size or to become overtly-sexualized versions of themselves in order to be a success.
While there were other female artists who fought various aspects of genderized industry pressures and indiscretions — notably Salt N'Pepa and Queen Latifah, for example — Missy Elliott was the loudest and the brightest, and she celebrated her idiosyncrasies through a kaleidoscopic spectrum of awe.
We're all waiting with baited breath for her new album to drop, but now it's time to take a look at the moments which made us celebrate Missy Elliott as the powerful feminist icon that she truly is.
That Time She Celebrated Female Sexuality
I'm still utterly floored by the fact that "Work It," a song so fabulously upfront with it's celebration of female sexuality and dripping with proudly dominant come hither lyrics, was such a massive radio hit in 2002. Educate those masses, Missy! There's no messing around with "Work It;" Missy Elliott flaunts her sexual demands and pleasure with a rightful air of confidence that all women can take inspiration from. Every time I hear her spit the rhyme, "Phone before you come/ I need to shave my c**cha/ you do or you don't or you will or won't ya/ go downtown and eat it like a vulture," I can't help but howl with irrepressible delight.
That Time She Refused To Be A Gossip Victim
Gossip is tough on all of us, but, in 2002, when Missy had well and truly launched herself into the Lion's Pit of the mainstream public eye, the "gossip" she spoke about in "Gossip Folks (feat. Ludicrous)" was framed by the sickly glare of tabloid attentions. Eager to diminish her newly found presence amongst scandal rags across the country, "Gossip Folks" became a direct attack on salacious news pieces which strived to judge her without knowing even half of the story. For the rest of us, "Gossip Folks" is a terrific anthem against allowing yourself to become the victim of idle rumors, including woefully outdated slut shaming. As she so beautifully puts it: 'How you studying these h*es?/ Need to talk what you know/ And stop talking 'bout who I'm sticking and licking/ just mad it ain't yours."
That Time She Flaunted The Right To Choose Sex Toys Over Men
"Toyz" from 2003's "This Is Not A Test" is, quite frankly, a modern marvel of feminist song writing. The lyrics are proud in their support for self-pleasure, reaffirming the idea that a woman doesn't need a man in order to enjoy herself sexually. In the song, Missy celebrates all the ways in which sex toys have revolutionized pleasure for women, providing them with a vital independence that removes any dependency on a man who is maybe not completely pulling his weight in the relationship department. The lyrics are also funny as hell, with a final line asking that her man doesn't slam the door on his way out because it'll ruin her "concentration" from the err, job at hand.
That Time She Reinforced The Power Of Female Friendship
Truth be known, Missy spent the majority of her career reinforcing the idea of the importance of female friendships. She wasn't shy about giving her friends (such as Ciara, Eve, Lil Kim or Da Brat) spots on her songs or roles in her videos, but it's the adorably named "Best Friends (feat. Aaliyah)" from her debut album Supa Dupa Fly which really flies the flag of how vital having a BFF is to the female experience. The song outlines the value of respecting yourself, particularly when it comes to a romantic relationship where your special someone is treating you a lot less than special, and how having a best friend who knows exactly how much your worth and isn't afraid to show it is one of the greatest things in the world. Go on, throw your bestie a message to tell her how much you love her right this second. Because that's true love, right there.
That Time She Reclaimed The Word B*tch
As Lil Kim states in "Throw Your Hands Up" (a song which basically acts as an intro for "She's A B*tch"): "If you can't wear the name, don't try to use it." Taking ownership of a genderized slur is a formidable reclaiming of power against those dudes who try to belittle you through language. In "She's A B*tch," Missy proudly reps her skills, smoothly teasing back an insult which practically bounces off her talented armor, boasting: "Get on down whilst I shoot my flow/ She's a b*tch/ When I do my thing/ Got the place on fire/ Burn it down to flame."
Those Times She Reminded Us To Be Body Positive
I don't think I'm being audacious in the slightest bit when I describe Missy as being a visionary, because that's exactly what she is. Superbly creative with her styling in a way that references everything from popular culture to street trends, Missy wasn't afraid to experiment, and, what's more, she didn't give a single damn about whether any of her looks were being considered as flattering to her body shape. That's a subversive act for any artist to undertake within an industry where any size that showcases even the slightest of natural curve is considered "plus size," and where outfits are often tailored primarily to engage with the visual pleasures of the male audience.
From the Mega Man style costume she wore with Da Brat in the video for "Sock It 2 Me" to the to the infamous inflated black body sack, shades and helmet combo she wore in "The Rain (Supa Dupa Fly)," Missy was a troubadour of invention, reminding us all to be totally body positive and not tailor our style to whatever society is dictating us is appropriate.
After 10 years of silence, it's terrific to be able to welcome Missy Elliott back to the forefront of music, particularly in a time when feminism feels as though it's thriving in a lot of respects and receiving unnecessary backlash in a lot of other respects. One thing's for sure: with Missy back behind the mic, feminism is going to be the loudest and the brightest it's been for at least a decade.
Images: AtlanticVideos/Youtube; Giphy