Blue Bell Is Back And They're Delivering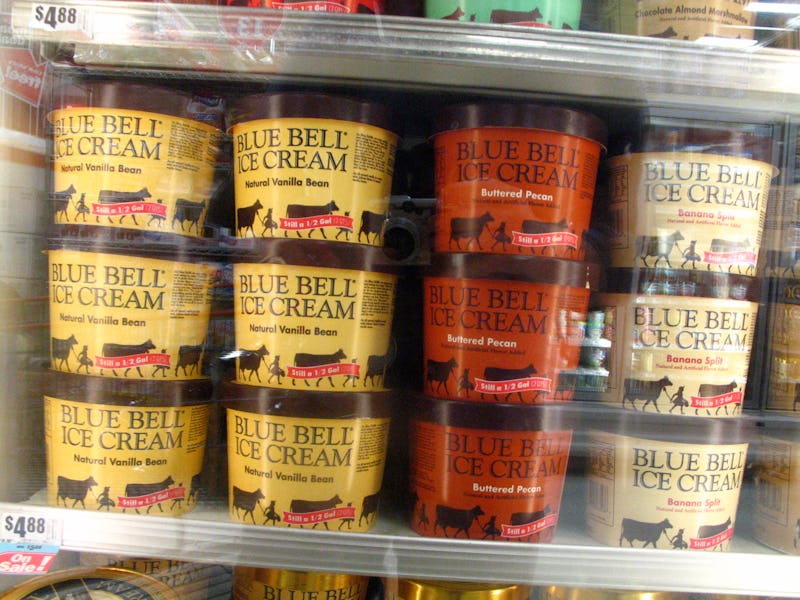 Texas' most popular ice cream is back in a big way: Blue Bell Ice Cream now delivers! After a short production break that was nearly unbearable for fans of the Texas-made ice cream, the frozen goodness is back with five of their most popular flavors available for delivery. Buttered Pecan, Cookies 'n Cream, Dutch Chocolate, Homemade Vanilla, and The Great Divide are eligible for order on the Blue Bell website, with guaranteed next day shipping. For only $129, you can get four half gallon cartons of the best ice cream on the planet dropped off at your front door (though if you live in Hawaii or Alaska, your shipping price will be a little bit higher). Who cares if that's your whole food budget for the month? Totally worth it.
Unsurprisingly, people are really, really, really excited. People who love Blue Bell are unashamed in their devotion to this particular ice cream brand. The classic ice cream maker has 30,000 Twitter followers and 223,000 likes on Facebook — the numbers don't lie about how much people love their Blue Bell. And since the announcement of the new delivery service, there's been a flurry of activity and excitement about the ice cream's return.
Texans in particular are rejoicing for the return of their beloved Blue Bell. The company's factory has been located in Brenham, Texas (about an hour outside Houston) since 1907, and it's just as much a part of the cultural fabric of Texas as high school football and the Lone Star. But the Blue Bell tradition was drastically disrupted after the company announced recalls due to listeria outbreaks at their Brenham, Broken Arrow, Oklahoma, and Sylacauga, Alabama factories. #TexasBlueBellFamine popped up across various social media sites as Texans took to social media to mourn the temporary loss of their unofficial state ice cream.
Finally, however, the famine is coming to a close. Lucky citizens of Houston and Austin, Texas were part of phase one of Blue Bell reintegration — the five flavors available for delivery have been in metropolitan grocery stores for a couple weeks now. Phase two starts Nov. 2, when shipments to Texas stores in Dallas, Forth Worth, and Waco, as well as stores in Tulsa, Oklahoma, and Oklahoma City begin again. It's uncertain when shipment to other parts of the country will begin, but the Blue Bell website cites a "five phase market re-entry plan" that seems to be going along swimmingly. For those of us living elsewhere, be patient: Blue Bell has not forgotten about us. But if you really can't wait, you can throw down for delivery. Hit me up if anybody wants to split.
Image: Jonny Hunter/Flickr