7 Life-Changing Hacks For Saving Money On Shoes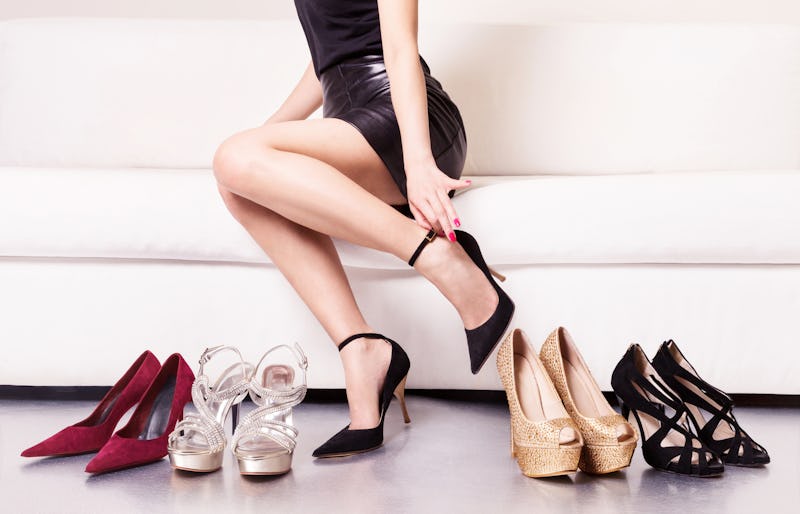 I'm a shoe girl and definitely understand how Carrie Bradshaw could drop $40,000 on pairs, but somehow not afford rent. Since I sadly can't swing that amount on shoes (or like, anything at all), learning these life-changing hacks for saving money on shoes allowed me to change up my look without going broke. If you're a girl after Bradshaw's heart, too, read on!
The hacks below include a mix of advice for both hitting the shoe store, as well as working a little crafty DIY magic and maintenance to keep pairs you already have looking lovely and new. And seriously, don't be intimidated by the DIY ones. If I can do it, you obviously can, too!
With winter coming up, it's especially important to remember to treat and care for your boots and shoes correctly, because the slushy conditions can really ruin any pair. Learn how to make your boots last the winter, snow proof your boots, and clean snow salt off shoes!
As Manolo Blahnik says, shoes are "gestures" and a way to express yourself. Don't let your lack of budget for expensive shoes deprive you of sharing your stylish self with the world. Good luck and have fun rocking these simple hacks!
1. Mix It Up
Eileen Lewis, director of fashion strategy for Zappos, told Real Simple that perspiration in shoes can take up to 24 hours to dry, and constantly re-wearing the same pair means bacteria from sweat can build up and start to damage shoes — especially leather. Make every pair of shoes last longer by giving each of them a break sometimes.
2. Outlet Stores
If you're patient enough to wait for the pair of expensive shoes you want to go out of season, you can score big and save big buying them at an outlet store. I always see tons of designer brands when I'm outlet mall shopping!
3. The Occasional Splurge
The cheapest shoes are not always the best shoes! In fact, the occasional shoe splurge can save you money in the long run since you're getting a well-made pair. Just make sure to take care of them!
4. Keep It Classic
About Style made a great point that sometimes it's better to pass up on trends in favor of shoes you'll want for years like gorgeous fall boots, cute snow boots, and classic stunner heels.
5. Tweak Your Heels
If you've got a pair of sky heels you love but think you'd wear more if they were a little shorter, a cobbler can totally shorten your heel up to almost two inches without wrecking the structural integrity of the shoe. Yelp around for someone in your area to see what prices are like!
6. Dye Your Suede
That's right, you can totally change your shoe color all by yourself without needing to buy a new pair. If you 100 percent know you want a new color, go for it! I've followed glamzontay's easy vid above and made a pair this really fun maroon shade. All you need is acrylic paint!
7. Keep An Eye On Sales
Real Simple rounded up some epic shoe sales suggestions. You can even get your couture fix on the cheap at places like Bergdorf Goodman and Saks if you time it right!
Image Credit: Fotolia; Mike Mozart, Mark Hillary/Flickr;