'Othello' Goes All-Female For An Important Cause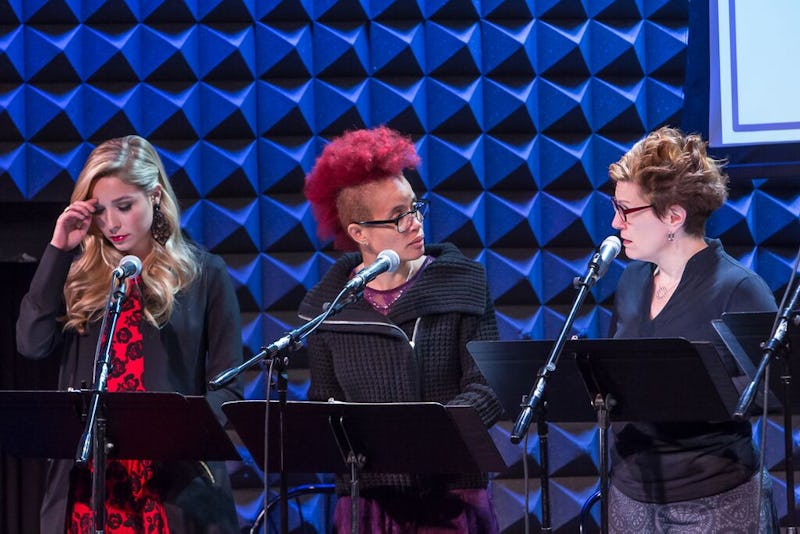 As any high school English teacher will tell you, back in the day, the cast for one of Shakespeare's plays would have been comprised of men, and men only. Thankfully, we're currently living in this day and age, and one organization has decided to pointedly flipped the switch. Safe Horizon, "the nation's leading domestic violence and victims service agency," and Public Forum put together an all-female performance of Othello, titled, "An Evening with Desdemona and Emilia." And their reason for doing so is an important one: raising awareness for domestic violence by emphasizing the domestic violence in the play.
It was an event that American Horror Story's Lily Rabe, who played Desdemona, was excited to be a part of. "It wasn't a hard sell," she explains to reporters after the reading of the choice to go all-female. When asked what in particular drew her to participate, she says, "I think it's a wonderful thing and The Public is the best theater in the country, to me, in terms of raising awareness... Having something like this was right up my alley," She adds that she wanted to do, "Anything that I could do to contribute or help in any small way."
So, what's it like to watch Othello performed by a wonderfully diverse and talented group of women, ranging from actresses such as Rabe to activists like Miss America 2015, Kira Kazantsev? To me, it was a revelation in that it's both unsettling and not. Seeing women embrace these menacing roles with not only traditionally masculine, but also misogynistic attributes, seems odd at first. But then, you realize that the feeling of absurdity is indicative of a greater social construct — the idea that something can even be "traditionally" feminine or masculine. It was as moving and heartbreaking as it was thought provoking.
But perhaps the significance of the gender swap is best summarized by LGBT activist Staceyann Chin, who played the infamous Iago. She explains that it is representative of just how far we come and how far we still have to go:
There's a long history of struggle having to do with women's rights that started a really, really long time ago. There's the suffrage movement... In the 1970s, when women got the right to decide about their reproductive rights... When [women] stopped needing permission from their husbands to travel... I think it was in the '70s and '80s when they changed — sexual assault was now a crime. You could charge a man with raping his wife. It's been a long, slow crawl... We're along a trajectory that began long before any of us were born, and we just kind of want to do our part in this time now and pass it on to the next generation. Women's rights, and freedom of women's bodies, and safety of their bodies can be of the past in terms of discussion.
In the simplest way, the mere shifting from the archaic all-men casts to this nuanced all-female one shows that change is possible and can be achieved. But that doesn't mean that things such as misogyny and domestic violence are eradicated. Because of the singularly female perspective of this performance, the mental and physical abuse in Othello put upon both Desdemona and Emilia becomes all the more poignant. The representation is advantageous and necessary.
Images: Ken Arcara/Guest Of A Guest