7 Beauty Products To Celebrate Nat'l Chocolate Day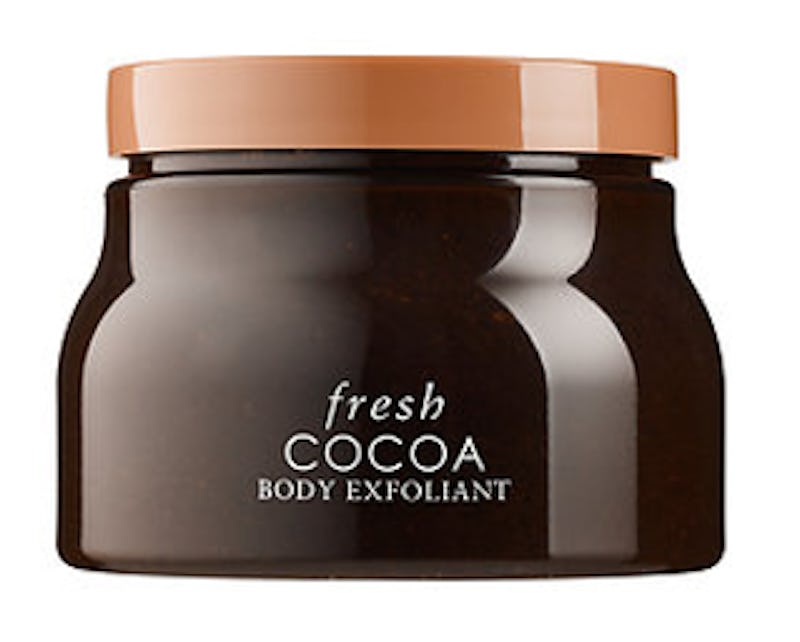 It's National Chocolate Day, and that means you have the perfect excuse not only to eat chocolate, but to wear chocolate. Embrace your inner cocoa-addict with rich beauty products that will have you feeling (and smelling) fabulous. Of course, I do recommend that you eat just as much chocolate as you put on your body, but I'm no health expert.
Whether you're a fan of white chocolate, dark chocolate, or anything in between, this is the day for you. With so many different chocolatey possibilities, it only makes sense to sneak some into your beauty routine for the day (or everyday) too. Even if you're holding off until Halloween to actually gorge yourself on chocolatey goodness, there are still ways to celebrate this most important holiday.
According to Women's Health magazine, chocolate is considered a superfood in it's lower sugar incarnations. The publication found that cacao contributes to heart heath, reduces stress levels, and even protects your skin from the sun. To make things even better, you can snag some of these benefits by using chocolate-infused beauty ingredients, meaning that you don't have to eat a bite (but please don't let that stop you if you're a cocoa fan).
So sit back, relax, and draw a bath, because this holiday calls for a night of chocolate-y celebration and relaxation. Here are some of the best products to help you get your chocolate on.
1. Lush's Chocolate Face Mask
If you thought that rubbing chocolate all over your face was a waste of time, think again. This mint, vanilla, and chocolate face mask is perfect for any girl's night in.
(Cupcake Fresh Face Mask, Lush, $7.95)
2. Booty Parlor's Body Fondue
Don't stop at your face — cover your entire body with the stuff! This edible body paint comes with a tiny little brush so you can spread it all over "strawberries, ice cream, or bare skin," according to the product description on Ulta. Time to get creative!
(Melt Chocolate Body Fondue, Booty Parlor, $18)
3. Essie's Lady Godiva
Celebrate the holiday by painting your nails a rich dark color that is perfect for fall.
(Lady Godiva, Essie, $8.50)
4. Fresh's Cocoa Body Exfoliant
Infused with cocoa butter and coconut oil, this is all you need for soft skin. The brand recommends applying with a body spatula.
(Cocoa Body Exfoliant, Fresh, $45)
5. Too Faced's Chocolate Bronzer
This product comes in three shade to match a variety of skin tones. What better way to add some color to your face?
(Chocolate Soleil Matte Bronzer, Too Faced, $30)
6. Bobbi Brown's Chocolate Lip Gloss
Have your chocolate and wear it too! Kylie Jenner made brown lips a thing, and this is just one of the many rich hues to choose from.
(Chocolate Raspberry Lipgloss, Bobbi Brown, $26)
7. Hershey's Bath Set
Go all out this holiday with an entire bath set from the company that's known for doing chocolate right. A warm bath of Hershey's never sounded so good.
(Cocoa Bath Set, Hershey's, $20)
It can now be National Chocolate Day all year 'round!
Want more beauty tips? Check out the video below, and be sure to subscribe to Bustle's YouTube page for more hacks and tricks!
Images: Courtesy Brands