Cozy Sweaters For People Who Are Always Cold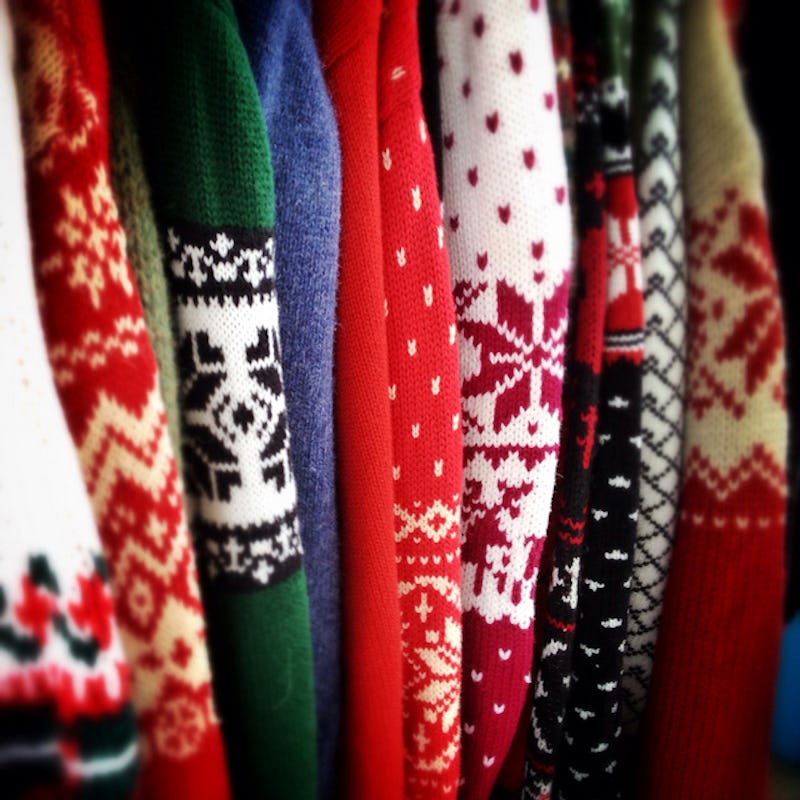 Sweaters may a timeless seasonal staple, but there are times when you're in need of a go-to piece, even when you're not actually outdoors. If you're perpetually chilly, a warm, cozy sweater (or 12) is a wardrobe must-have. Freezing air conditioned offices and restaurants definitely call for a handy go-to sweater, and while there are tons of styles to choose from, it's best to choose pieces that offering longstanding warmth.
For better sweater purchases, try opting for natural fabrics like alpaca, as style expert and author Constance Dunn tells me over email. "Alpaca fibers hold more warmth, are stronger and are virtually water repellent," says Dunn. "As a bonus, the feel of alpaca-fiber garments are lightweight and definitely luxurious."
But if pullovers really aren't your thing, Dunn also recommends looking for wraps or a belted cardigans, as they'll keep you equally warm, without sacrificing your style.
"A wrap visually transmits a look of cosmopolitan stylishness, and it can be flung off easily once you step into a warm environment," says Dunn. "Belted cardigans also keep you warm, and can be quickly adjusted to expose both your outfit, and a bit of your figure."
Ready to find your go-to sweater? Here's 10 styles sure to keep you perfectly bundled up.
Confetti Boucle Sweater, $100, Coldwatercreek
Dressing up your jeans, skirts or leggings, this colorful boucle keeps your style on point, while keeping your body from freezing. And if you like to layer up once the temperatures drop, this classic piece fits well under blazers and coats.
Cozy Chat Knit Turtleneck Sweater , $47, Gojane
For chunky knits that won't make you continuously itch, this warming yet ultra cozy sweater looks sharp with mini skirts and knee-high boots.
Bonfire Season Sweater in Ash, $60, Modcloth
If you like your sweaters over-sized, this chunky piece can definitely come handy in your office.
Rebel Knit, $140, LookLive
Classic turtleneck styles always make a style splash this time of year, so trust this over-sized jumper to keep you cozy and prepared for just about anything.
Spirit Owl Graphic Sweatshirt, $18, Amazon
This thick yet lightweight sweatshirt keeps you toasty post-workout, but still allows some breathability thanks to the cotton fabric.
Emmanuel Sweater, $149, Korarae
Never matronly or frumpy, this well-fitted piece can be layered over tanks or camisoles.
Dayton Double Slit Poncho, $39, Fashiontofigure
This is basically like wearing a blanket as clothes. What more could you want in winter apparel?
Cute Charcoal Gold Quarter Sleeve Diamond Pattern Sweater, $25, Amiclubwear
Perfect for all your weekend adventures, this hooded sweater keeps your neck and ears warm while outdoors.
Sweater by Mr. Lacroix, $130, Desigual
Equally bold and comfortable, this stunning printed sweater provides gorgeous style, while warding off the chills fast.
Fringe Poncho In Cream, $99, Karenkane
Ponchos give your outfits instant grace and elegance, so don't be afraid to show off your dapper side with this creamy white piece.
Lena Rib Knit Side Split Jumper, $26, Boohoo
Looking sultry over jeans, tights or leggings, this easy to layer knit sweater makes fall and winter dressing fun and easy.
ASOS Curve Mohair Cardigan, $69, Asos
The looser fit of this cozy piece makes it perfect for layering.
Stay cozy, my friends.
Images: TheUglySweaterShop.com/Flickr (1)