How To Properly Apply Conditioner To Your Hair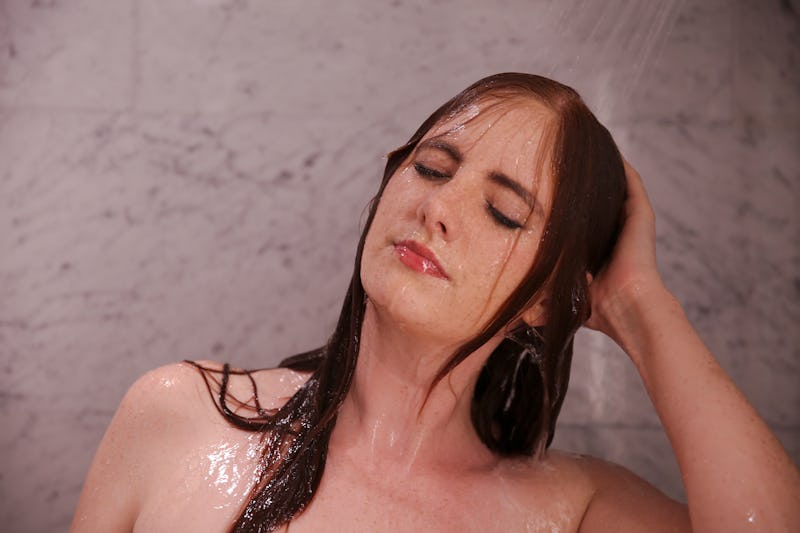 When it comes wintertime hair essentials, conditioner tops the list. It can help you keep frizz, dry scalp, and damaged strands at bay during the colder, harsher months. Yet, conditioner can do real damage if you aren't using it properly. That's why knowing where to apply conditioner on hair is super duper important.
Shampooing and conditioning your hair sounds like the most straightforward beauty routine in your regimen. "Lather, rinse, repeat...As needed." Even Pheobe from Friends was confident she knew what she was doing. But sometimes, it's the simple stuff that we don't think about and can easily mess up. Conditioner is no different. While shampoo is designed to clean your scalp, conditioner is meant to smooth and repair the strand's cuticle. So applying conditioner to your scalp is simply a waste of product and time, not to mention it can potentially turn naturally oily scalps worse. For best results, apply conditioner to the lower half of your strands, where the hair is at it's driest.
This is especially true in the winter. You can limit washing your hair to two or three times a week. That doesn't mean you have to skip conditioning: If all you do is rinse and condition, you'll be doing your hair a favor. If your hair feels dry and damaged, condition every day, but skip the shampoo, which can cause split ends if you overuse it. Just be sure to let your hair dry fully from a rinse and condition before going out — the cold winter air can cause wet strands to turn brittle and dry.
Another alternative to using conditioner is to condition before you shampoo. Why? According to Nina Dimachki, artistic director for Kérastase, "conditioning before you shampoo is great for adding nourishment to fine hair without weighing it down ... It also promotes a longer lasting blow dry and primes the hair before cleansing, allowing shampoo to distribute easier and more evenly."
(Shea Moisture Restorative Conditioner, $9.99, target.com)
Bottom line: You should definitely be conditioning your hair with every wash, and focusing on putting the product away from your scalp for optimal moisture.
Image: Bustle