7 Moisturizing Lipsticks To Hydrate Chapped Lips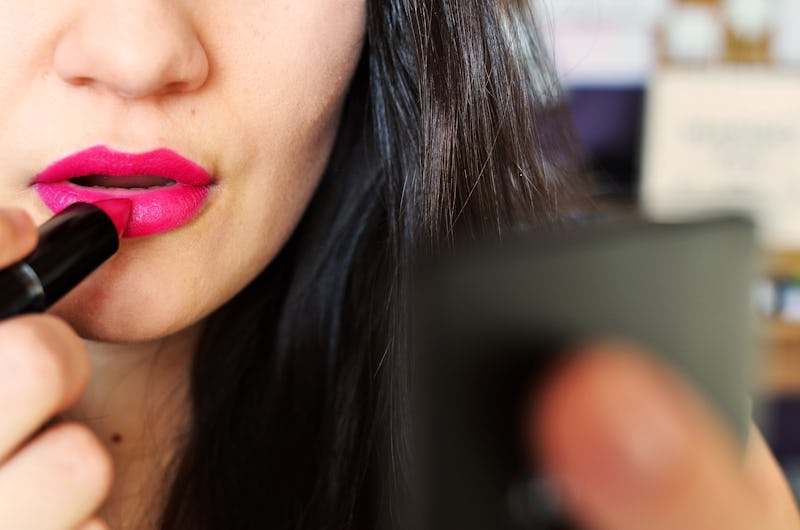 Every winter, you'll find me slathering on lip balm like my life depends on it. If you struggle with chapped lips, you know the feeling. There is truly nothing worse than being stranded somewhere without your favorite stick of salve, and trying to remedy the situation with a dry lipstick that looks horrible and feels even worse. Here are the best moisturizing lipsticks, because the chapped lips struggle is real.
When you're picking out a lip color and want to ensure it will moisturize while looking beautiful, it's important to pay attention to the label. First, you want to stay away from liquid lipsticks and anything labeled matte. These formulas are designed to dry quickly and stick to your skin, which can be irritating to already hurting lips. Plus, they can cause drying and flaking. Yuck.
As far as terms you want to look for on the label, make sure that the following are on there: satin, dewy, crème, balm, sheer, and of course moisturizing. Ingredients to look for include shea butter and omega fatty acids. When in doubt, always read the label and try a swatch on your hand. Something that says "soothing" or "hydrating" is right up your alley.
If you're struggling with chapped lips, you don't have to sacrifice a pretty pout. Here are the best moisturizing lipsticks so your lips can feel great and look even better.
Clinique Almost Lipstick, $20, Amazon
This formula is sheer and moisturizing, almost like a nourishing gloss.
Bite Beauty Luminous Creme Lipstick, $44, Amazon
This formula has an antioxidant called resveratrol, which fights free radicals with potent long-term antiaging benefits. Every tube has enough as five glasses of red wine, keeping your lips young and plump.
Bare Minerals Marvelous Moxie Lipstick, $26, Amazon
This formula has omega fatty acids, which keeps it buttery. It has long lasting color that's full coverage.
CoverGirl Lip Perfection Lipstick, $5, Amazon
This is an incredible lipstick on it's own, and the price is impossible to beat. It has full coverage but doesn't dry matte.
These lipsticks feel more like an intense lip creme, so you'll have a hard time committing to anything else. Plus, they come in a wide range of wearable shades.
Urban Decay Revolution Lipstick, $33, Amazon
MAC Huggable Lip Color, $31, Amazon
This is a great, mid-price point for a solid lipstick you can rock anywhere (and anytime — even with chapped lips). MAC has a huge range of color in this formula, so you can go wild with it.
Chanel Rouge Coco Shine, $40, Amazon
This one is made to moisturize, and this soft pinky color is girlie and fresh.
Image: Fotolia; Courtesy of Brands