7 Easy DIY Halloween Costumes With Black Leggings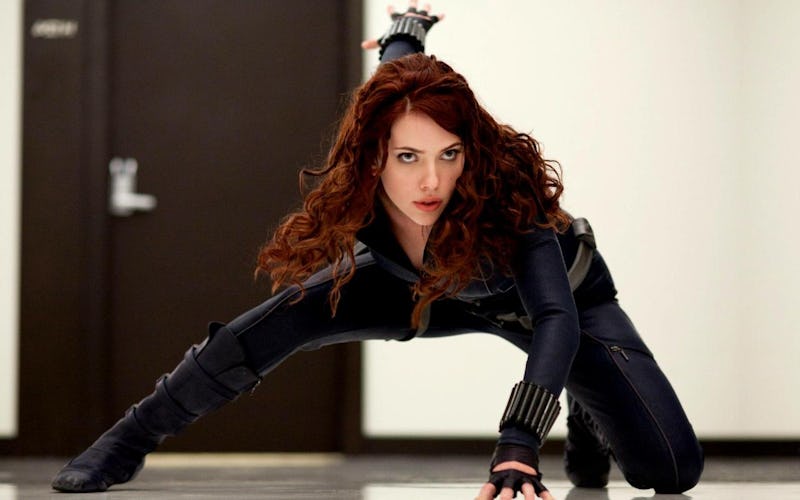 Putting together a Halloween costume should be easy — it's just an official excuse to play dress up as an adult — but sometimes, it can be really stressful to come up with something that is not only easy and cheap, but also comfortable. This is when you have to dig through your closet and hope that you can find something that can easily be transformed into a killer Halloween costume, while also not psyching yourself out about the fact that your wardrobe might be too costumey. But if you have black leggings, you have several Halloween costume options just waiting to be discovered.
Obviously, black leggings aren't going to instantly give you a Halloween costume, but with a few additions from your closet, your friend's closet, or a quick trip to Target, you can come up with a costume that is easy, affordable and, most importantly, comfortable. You can go classic and simple, or you can put together a costume that is in-tune with pop culture, but it doesn't really matter, because at the end of the evening, you will be prancing around in black leggings while your friends are stuck in itchy, weird costumes that keep riding up. Sometimes it pays to be lazy.
Here are seven costumes you can quickly throw together if you have a pair of black leggings.
1. A Ballerina
Pair your black leggings with a leotard, some leg warmers, a pair of ballet flats and a carefully crafted bun and you can tell everyone that you're a ballerina. It's an excuse to dance and you don't have to spend any time putting it together.
2. Black Widow
Being Black Widow from the Avengers is basically just an excuse to dress up like Scarlett Johansson, and who doesn't want to do that? Put on a black half-zip jacket, like this one from Athleta, and a pair of black boots, and you are instantly a sexy superhero.
3. Mickey Mouse
Keep it cute this Halloween and be Mickey Mouse! Put on a pair of red shorts over your black leggings, wear a plain black shit and a pair of mouse ears, and voila! You're Disney's most famous character, and you look adorable.
4. A Mime
This might be one of the easiest costumes of all time. Black leggings, a black and white striped shirt, and some face paint are all you need. Bonus: You have a great excuse not to talk to people.
5. Sandy from Grease
Sandy from Grease is a such a perfect and easy costume, assuming you have access to hair rollers. Big hair, tight black clothing, and sexy red heels are the only requirements for this costume.
6. Karl Lagerfeld
This one might require you to borrow some pieces from your male BFF's wardrobe, but how great would it be to show up to a party as Karl Lagerfeld? Throw a suit jacket over your black leggings, add a pair of sunglasses and give off an IDGAF attitude for a flawless Lagerfeld costume.
7. Taylor Swift in Bad Blood
Love it or hate it, Taylor Swift and her squad look pretty cool in her music video for "Bad Blood." Grab a group of friends, wear all black and walk into any party like you own the place. Watch the music video again if you need to feel inspired.
Want more Halloween fun? Check out the video below and subscribe to Bustle's YouTube channel!
Image: Avengers/Paramount (2)