I Tried A Pumpkin Spice Hair Mask & This Happened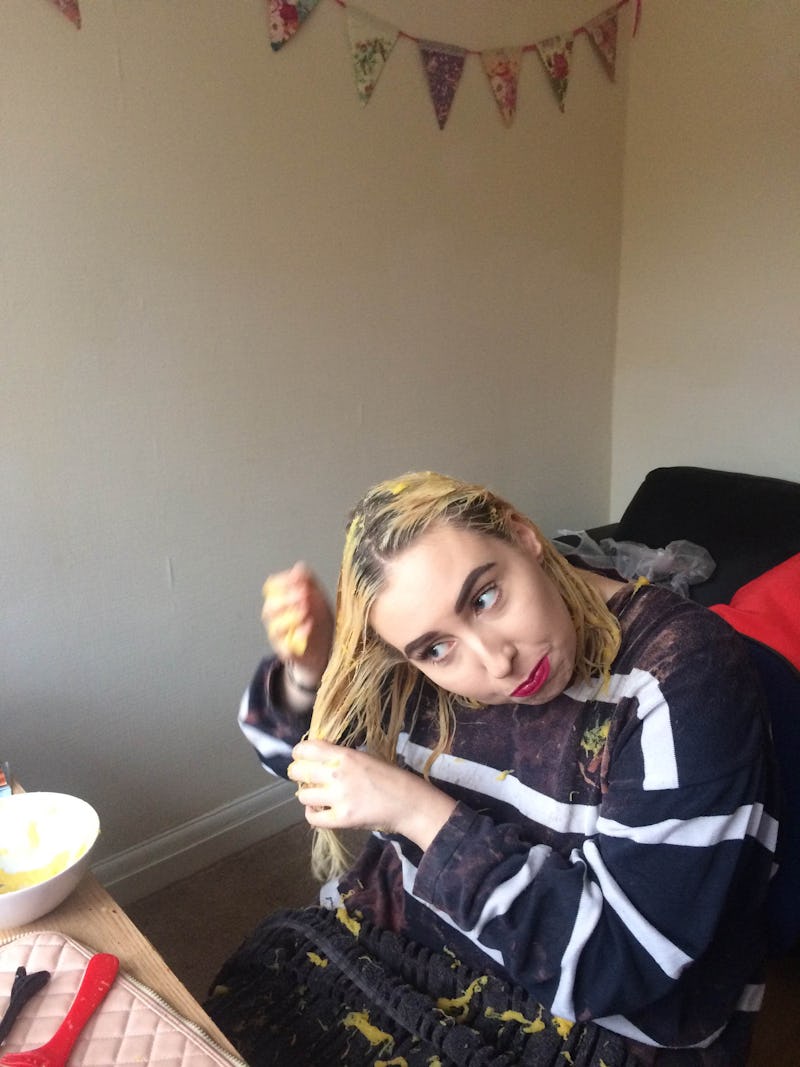 Have you ever wondered what it's like to be gooped on, like in '90s Nickelodeon shows? Well, wonder no longer, because this pumpkin spice hair mask will recreate that exact feeling for you. Firstly, I'd like to make it clear that I embarked on this little experiment with skepticism. Although I love hair masks — because my hair is fried AF, thanks to years of bleaching — I am not a fan of pumpkin spice anything.
You're likely shouting, "How could anyone hate pumpkin spice?!" from behind your Starbucks cup, and the answer comes in two parts. Mainly, it's because gingerbread is the best Starbucks latte flavor and you're all fools for not devoting yourselves to those delicious Christmas-flavored beverages with as much ferocity as your PSLs. Secondly, I'm British. Before my recent holiday to New York, I had assumed all this pumpkin spice propaganda was an exaggeration and a joke. But now that I've seen it for myself, I have to say that y'all are cray (though I do appreciate the dedication to themed food).
So when my editor asked me, "How easily can you get ahold of a pumpkin?" I was filled with intrigue. As much as I hoped she was inquiring because of some kind of pumpkin carving competition, the conversation led to this hair mask. I love cooking, challenges, and pampering myself, so of course I went all-in. What happened next traumatized me, which gives this hair mask an added spook factor for Halloween.
1. The Ingredients
Do you know how hard it is to acquire pumpkin puree in the UK? Seeing as I live at least five miles from a speciality American foods store, I took it upon myself to make my own. How hard could it be? Ridiculously difficult, actually. It probably didn't help that I don't own a food processor, but I'm not one to let minor (or major) things stop me in the creative process. I just used an onlinerecipe for pumpkin puree, this recipe for the rest of it, and my own imagination.
The rest of the ingredients — coconut oil, natural yogurt, and honey — caused me a million times less hassle. If I'm honest, I have no idea where the spice part of this hair mask is meant to be. Is honey considered a spice now? Is that the level of white girl this hair mask is trying to reach? As tempted as I was to throw in some cinnamon, I stayed true to the recipe and brought the bowl of baby sick-lookalike upstairs for my housemate and me to throw on our hair.
In the two hours it took me to make my pumpkin puree, I carved my spare pumpkin into David Bowie — proving my skills for that future pumpkin carving competition.
2. The Process
I co-opted my flatmate Eden into trying this hair mask with me for scientific reasons, obviously. While I'm suffering from chronically thirsty hair, Eden is usually applying dry shampoo twice a day to fight off grease. Our wildly different hair types would make this experiment that little bit more interesting. Who would it help? Who would it make curse the day some other fashion and beauty writer came up with the novel idea of a pumpkin spice hair mask? In the grand battle of dry hair versus greasy hair, it would appear that we were both losers.
The feeling of putting this stringy disaster on my head is kind of indescribable, but I'll try anyway.
Imagine you're being gooped on Nickelodeon-style, but instead of having someone pour it on you, you have to do it yourself while your best friend takes pictures. Instead of it just being goop, the mixture is the texture of baby food. On top of the disaster happening on your head — due to your hair's natural inability to hold onto solids — the entire floor of your apartment is now covered in pumpkin goo.
After cling-filming the mess in place, we washed our hands and laughed. Alright, it was disgusting to touch. But if it works, it works! In all honesty, it also smelled really good. (Warning: It tasted gross, but I'm the fool who thought it was worth a try despite my suspicion that it would be.)
3. The Results
After a long shower, a long unblocking of the drain to release the pumpkin string, and a long styling process, did my hair feel any different? Nope. I think I'll stick to my coconut oil shampoo and conditioner, which fulfill a lot of my hair moisturizing needs without the mess.
What was Eden's verdict? Her hair felt softer, sure. But a day later, it got greasier a hell of a lot quicker. Basically, this hair mask was a pain in my ass from start to finish and I'm still finding pumpkin bits hiding in parts of my house. As a hair mask connoisseur of sorts, I know that the coconut oil, yogurt, and honey probably would have made a gorgeous conditioning mask, while the pumpkin feels like more of a gimmick.
It's a thumbs down from me, it's a thumbs down from Eden, and it's just fueled my distaste for pumpkin spice that little bit more. At least we got one good thing out of this process.
For now, perhaps your best bet in the pumpkin spice department is the fried kind.
Images: Georgina Jones