How To Do Thanksgiving In A Super Small Space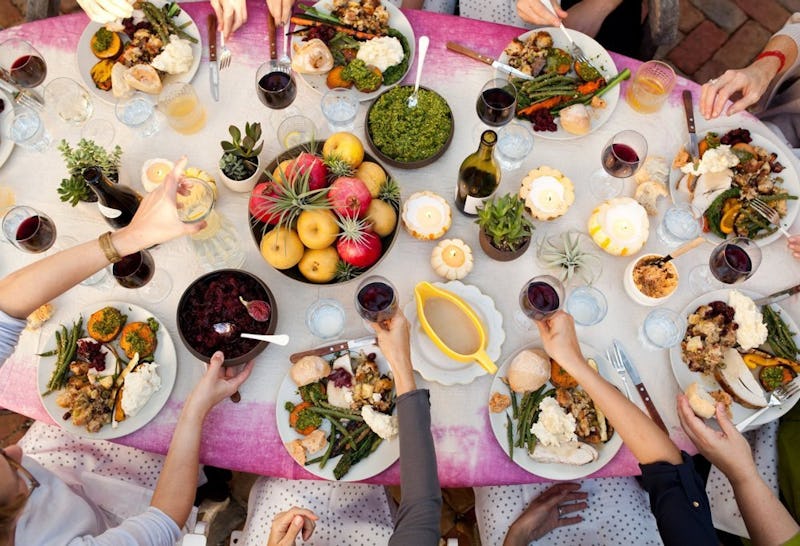 The idea of accommodating a dinner party in tiny living quarters can be daunting enough, without the added treachery that comes with the multiple side dish and turkey territory of Thanksgiving. So if you've taken on the task of playing host this year, here's a lineup of stress-relieving tips for how to do Thanksgiving in a small space.
Your guests aren't expecting a page out of a lifestyle magazine, or even a more showy arrangement they might encounter at a relative's function at an actual freestanding house. They know your studio space is small, and that you're doing your best to work with it. They're happy and grateful to be fed and to be experiencing the ultimate Friendsgiving. If anything, the close quarters and makeshift approach make for a more memorable setting for the evening's festivities.
It may seem cliché, but your best bet for not driving yourself crazy while playing host this Thanksgiving is simply this: keep it simple. The holiday is about gathering with loved ones and appreciating your time together. While you'll want to impress, the best environment for these heartwarming feelings is cozy and casual, and definitely low-stress. Keep the execution fun and true to you. Work with the limited space to make the most of it.
The recipe for success is a hefty dose of resourcefulness, flexibility, some creativity, and a dash of patience. Be open to remodeling the space, at least for the night. There will be some necessary rearranging and your nightstand might make for a mini-bar, but as long as you're open to novel ways to repurpose the objects in your apartment into functional party props, you'll transform your cramped space into a cozy backdrop to an intimate dinner party.
So get to planning, and good luck!
1. Plan ahead
There's a lot to take on when hosting a Thanksgiving dinner, so map out the event from the get-go — from guests to recipes to any and all errands — and save yourself the last-minute hiccups that could ruin the evening. With thorough planning, you'll know in advance if you need to pick up a new thermometer or ask your best friend if she could bring a few more forks. If you have your recipes laid out days before, you can avoid a last-minute grocery run when all Thanksgiving-related goods have been cleared off the shelves.
Make a to-do list and a timeline
A long list of preparative tasks go into hosting Thanksgiving, so make sure you plan out your time accordingly and allow yourself some breathing room if not everything goes as expected. This especially goes for day-of responsibilities, when you'll be managing a ton on a tight timeline, specifically in the kitchen where the timing really counts.
Be realistic about your guest list
Figure out just how many guests you can accommodate in your space before making your list. How many bodies can actually fit comfortably in your apartment once you've rearranged the furniture and created ad-hoc seating? How many servings do you feel comfortable cooking? Once you've done your invites, stick to your list. While you'd love to meet your friend's second cousin, or your coworker's latest Tinder match, you simply can't be expected to play host to more individuals than you originally accounted for.
Ready your kitchen
Days before the big day, conduct a thorough audit of your kitchen. Make sure you have the right cooking gear for the dishes you plan to prepare. Clean out your fridge and freezer, making room for all the make ahead options you'll want to stow away and for any bottles of white wine you'll need to chill. Once you've created your guest list, make sure you actually have enough dishes, flatware, and glassware on hand to serve them. If you're short, you still have time to pick up some cheap stand-ins, or better yet, ask friends to bring a few things of their own.
2. Rearrange furniture
During its day-to-day use, your apartment isn't arranged to entertain a large group of guests. Don't be shy to rearrange your furniture to accommodate more bodies in the space, and make the layout more friendly for mingling in groups and lounging with drinks. This doesn't necessarily require pushing all large furniture aside to the walls (unless you plan on having a post-Thanksgiving feast dance party), but it does mean situating what you have so that it maximizes space.
Remove clutter
Move to the side large objects that aren't being put to use for the evening. If your laundry hamper doesn't serve a purpose at your party, hide it away in another room or in a corner where it will be out of guests' way, and open up flow of space. Clear off flat surfaces, and top them off with tablecloths and coasters so guests know they can use them to set down their plates and drinks.
Encourage conversation
Arrange seating in a way that encourages conversation. Have seating options gather around flat surfaces where guests can rest their drinks, or have taller surface options in open spaces so guests can easily gather around while standing.
Try diagonal dining
If you plan on having a dining table, try arranging it at a diagonal with the room. This approach will maximize the floor space of your tight quarters and allow for more seating. The off-set arrangement will also make for a more dynamic use of space, and give an exciting nontraditional vibe to your party.
3. Repurpose furniture
Think out of the box when it comes to making use of what you have. If you rearrange strategically, you really shouldn't need to buy anything big specifically for the party.
Rethink the dining table
For most with small apartments, a dining table is not a practical piece of furniture. So when one becomes necessary (though not necessarily necessary — read below under serving options) for Thanksgiving dinner, the majority of us are at a loss. With a little imagination and creativity, we can construct a table for the evening, combining the various flat surfaces together — kitchen island, desk, dresser. If they're of varying heights they can be leveled with books, or keep them as they are, and use separate table cloths (more potential for fun decor).
Get creative with seating
Just as the dining table can be conjured up in a makeshift manner, seating options can arise from unexpected places. Clearly there are the go-tos of the couch, chairs, stools, and even ottomans. Don't worry about anything matching, and the more it's mixed up, the more purposeful the collective ensemble will seem. You can get creative and double the number of seating options by utilizing deep window ledges, the bed if it's a studio, and even the floor (with pillows, poufs, and stacked blankets to guarantee comfort). As long as you make sure seating arrangements don't encumber traffic flow, anything is fair game. If you're dead set on having more classically constructed chairs, ask a friendly neighbor if you could borrow a few for the night.
Let surfaces pull double duty
A lot of flat surfaces that typically serve other purposes (an ironing board, for example) can be covered with a tablecloth and made into a place for plates and platters. Arrange your Thanksgiving spread buffet style atop your coffee table, or better yet, save your coffee table for eating and set out your buffet on your stove top. This keeps the possible mess of serving in the kitchen, and is ideal if you have dishes that need to be kept warm.
4. Craft a menu that's feasible in the space
As much as you may want to experiment with some Instagram-worthy new recipes you found online, stick to what you know will be doable in your kitchen with the tools you own and the space you have. Nothing will taste more delicious than the recipes you're comfortable with.
Make food ahead as much as possible
Avoid a day-of meltdown by cooking as much as possible before the big day. Your recently emptied fridge and freezer will be able to stock a great amount of sides that taste just as delicious when made the day or two before. Cranberry sauce, gravy, potatoes, turkey stock, and even rolls can all be taken care of ahead of Thanksgiving day, saving you avoidable stress, and freeing up kitchen space when you really need it.
Ask guests to bring food — and be specific!
Don't be afraid to ask guests to bring a side or a dessert. Not only will it make for a more diverse and delicious feast, it will save you an enormous headache in the kitchen. When asking guests, be specific. Make sure you're getting a range of dishes that not only complement what you're planning on cooking, but also don't overlap with other guests' contributions. The last thing you want for Thanksgiving dinner is four potato salads and no pumpkin pie.
5. Consider your serving options
Determine what serving style will best function in your space. Whatever method you choose should maximize comfort and minimize spillage.
Forgo the dining table
In some apartments, even the best creativity won't make a dining table setup work in the space. You can forgo the dining table altogether, and have guests serve themselves buffet style. Once they've filled their plate they can sit down at any of the various places to perch around the apartment. Utilize desks and side tables topped with tablecloths for guests to gather round. This scattered seating approach actually encourages mixing and mingling more than a long table could.
Use trays
If you don't have a spare surface to lay out an appetizer spread, pass around trays that have all the fixings ready for nibbling. If you've forgone the dining table route, you can also allot trays to willing guests if there aren't enough surfaces to accommodate.
Go vertical
Maximize your space by using cake stands and tiered plate holders for your buffet. It will allow you to present more dishes with less surface area, and also give tons of visual appeal.
6. Decorations
While your biggest hosting priority will probably be the cooking, and rightly so, decorations are also a part of the deal, but should be a fun and low-stress. As with the rest of the evening, keep it simple. It doesn't take much in a small space to have a big impact with little touches. If you're feeling overwhelmed with decoration duty, recruit a friend to help.
Write the menu on the wall
Ensure that you get appetites rumbling with a visual teaser of what your guests can expect for dinner. A handwritten menu on large poster board, or better yet a chalkboard if you have one, makes for a painless decor item that's decidedly on-theme. You'll hear the stomachs rumbling when they read of the savory cornbread pudding or the candied yams that are on the agenda.
Mix, don't match
Don't be afraid of mixing everything from seats to silverware to stemware. No guest will mind that their flatware doesn't match their neighbor's. The full effect will deliver a Mad Hatter's tea party vibe.
Autumn floral arrangements
Your local groceries and corner stores are well-stocked in harvest-colored bouquets this time of year. Craft a centerpiece for the dining table or autumn flower arrangements for around the apartment. The latter is quite simple, requiring only a few floral purchases and some mason jars. Decorate easily with accents of winter squash and dried wheat.
Mood lighting
Turn off overhead lights, and keep your party aglow with lamps and candles. Not only does this make for a more intimate, cozy mood, but it keeps any unkempt details of your home out of sight.
Music
Music can subtly transform the space. Keep it just quiet enough that it enhances the atmosphere, but guests can still carry on conversations.
For more fall ideas, check out Bustle on YouTube.
Images: The Kitchn (6), Pexels (5), Unsplash, A Cozy Kitchen, A Beautiful Mess (2)