A Flask For Everyone On Your Gift List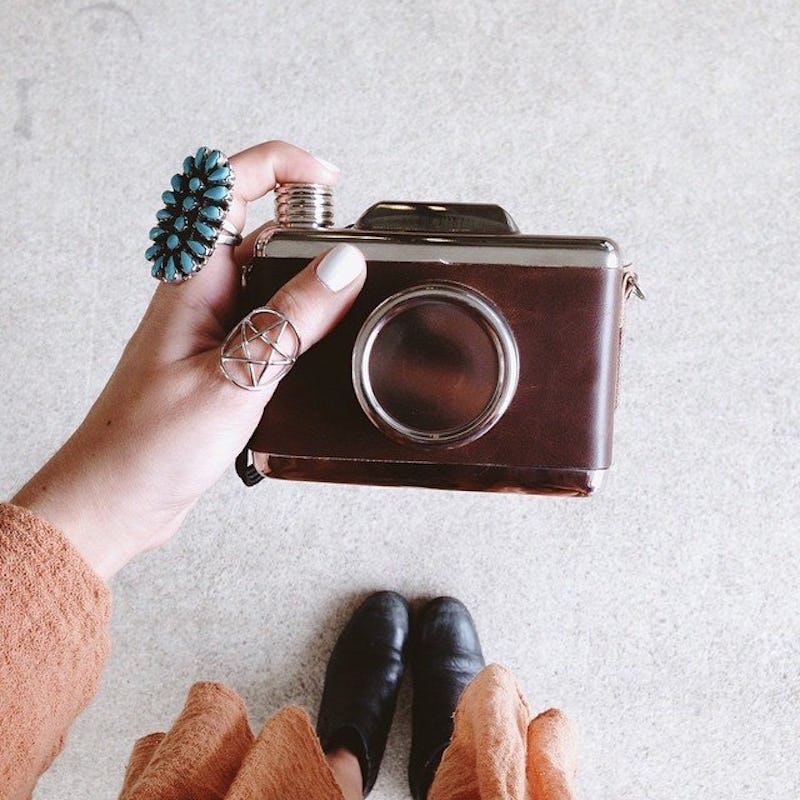 Streamline your gift-giving approach this year without compromising on personality: stick to an overarching theme that satisfies everyone's common interest (read: drinking), while catering to individual fancies and particular predilections (golfing, literature, video games). You guessed it — I'm telling you to keep it simple by getting flasks for everyone on your gift list this holiday season. The loaded lineup includes impeccable options for all persuasions, the common denominator being a love for alcohol. Who can complain about a cute contraption to carry their booze? And when it's personalized to their specific interest? Even better.
There's a flask for everyone on your list. Your friend whose Instagram posts collectively adhere to a color gradient and whose studio looks like a Design Within Reach showroom? There's a flask for him. Your great aunt Judy, the self-professed ornithologist? There's a flask for her. Your banker buddies you've seen twice since graduation and who regularly text you back two weeks late, if ever? There's a flask for them. Your ex-boyfriend who held his game controller more than he held you? There's a flask for him — but you're not buying that deadbeat anything. In sum, amid the overabundance of freshly unwrapped socks, fragrance sets, and scented candles your loved ones will be inundated with this holiday season, they'll be thanking you for giving them something they can really use. Pro tip: Really demonstrate your gift-giving skills by pairing their adorable new flask with a bottle of their favorite booze.
1. The Book Lover
Book Flask, $15, Bed Bath & Beyond
For the friend or family member who knocks out a double digit count of books per year, this hidden book flask from Bed Bath & Beyond is a welcome addition to their bookshelf. Your favorite bookworm can crack open this hardcover any time they're in need of some hard liquor. No need to read between the lines to see the real story here.
2. The Music Lover
Turn up the nostalgia for the music lover in your life with this throwback tape cassette from Gag Gifts. The "Drinkman" is pure '80s perfection, repurposing a technology that has become obsolete. While it won't play your favorite old-school tracks, it will deliver something smooth.
3. The Gamer
Gameboy Flask, $19, Etsy
For that cousin whose hands are glued to the game controller and eyes are glued to the screen, this classic Nintendo Game Boy flask by Etsy might be just the thing to advert his attention. A spirit-filled stand-in for his usual controller, the retro device doesn't take cartridges but still has a round of something nice when they're in need of a break from the screen.
4. The Golfer
This gift will be a hole in one for your favorite golfer. The high-tech cooler club from Home Wet Bar is completely insulated, and holds up to 48 ounces of their beverage of choice. All it takes is a few taps on the keg-like dispenser and the liquid courage flows, guaranteeing to up their game — or at least make them feel like a winner. They can take it out on the fairway for a discreet pick-me-up between puts.
5. The Photographer
Camera Flask, $21, Fancy
This picture-perfect flask will become your favorite photographer's favorite new accessory. Instead of rolls of film, this apparatus from Fancy holds rum, gin, whiskey, or any other poison they thirst for.
6. The Bird Watcher
Binocular Flask, $17, Home Wet Bar
Your bird-watching relative will love this spare set of binoculars from Home Wet Bar. Perhaps a quick swig of firewater will up their chances of finding fowls, or at least ease the disappointment of ending the day without seeing Kirtland's Warbler. Also appropriate for your uncle who frequents baseball games in the nosebleed seats.
7. The Doctor or Medical Student
Prescribe just the thing for your medically minded friends and family members. This prescription flask from Fancy is the remedy to many an ailment, and isn't strict about dosage. They won't be able to wait until their next refill.
8. The Friend Who's Always Cold
Do the practical thing, and give a pair of fleece-lined mittens to your perpetually cold friend this winter. Except your special pair from Urban Outfitters doubles in warmth with the added bonus of a built-in flask for booze. The spout is accessible through the thumb, for easy — and discreet — consumption.
9. The Friend Who's Always On Their Phone
Cell Phone Flask, $19, A Gift Personalized
Give your serial texter one more phone to never put down. While the original circa 1998 device would have only come equipped with Snake, this upgrade from A Gift Personalized offers a whole lot more.
10. The Friend Who Insists On Shots Not Swigs
Swigging is not for everyone, so for the friend who can't drink straight from the flask, give them this nifty contraption with a built-in collapsible shot glass. The functional flask from Urban Outfitters doesn't compromise on design, with sleek stainless steal construction and a genuine leather finish.
11. The Design Type
This sexy, modern, shatter-proof plastic flask from Home Wet Bar will look perfect next to your designy friend's Alessi fruit basket. Its minimalistic approach will be agreeable to the most unimpressed critical eye.
12. The Beauty Queen
Give your beauty queen BFF something exciting to add to her makeup bag. Not only is this little number from Treasure Gurus the perfect shade of red, it holds up to three shots of her favorite booze.
13. The Banker
Tie Flask, $30, Wear Your Beer
Give your analyst buddy a little something to get through the long hours and late nights. This flask by Wear Your Beer is an answered prayer for the finance set. The Excel spreadsheet's going to start blurring around 2 a.m. anyway.
14. The Vacationer
Suncreen Bottle Flask, $8, Home Wet Bar
Your friend will appreciate this discreet maneuver to sneaking their spirits to the beach and beyond. This deceptive device from Home Wet Bar makes sure all their vacation needs are satiated. "With an inconspicuous print, no one will second guess why you're having so much fun in the sun!" Great for cruises, sports games, and resorts with overpriced drinks (or bad bartenders).
15. The Car Lover
Jerry Can Stainless Steel Flask, $36, Fancy
Give your self-made mechanic a boozy break while wrenching on their ride. This Jerry can flask from Fancy sits comfortably on the hip, so even while they're splayed out beneath the underside of their whip, their liquor lubrication is always in arm's reach.
16. The Fur Lover
Furry Flask, $24, Etsy
For the fur-loving friend, this cocktail-friendly critter from Etsy is a lovely addition to their collection. The shaggy faux fur exterior is a definite fashion statement, and what's inside is all the rage.
17. The Friend with Long Hair Don't Care
Paddle Brush Flask, $35, Fancy
Their other paddle brush will become obsolete once they have this version from Fancy that doubles as a dispenser for their inebriant of choice.
18. The Super Discreet
For the friend who under no circumstances will allow themselves to be caught smuggling booze, these preposterous "booze tubes" from Urban Outfitters are the answer. Effective any time of the month.
19. The Gentleman or Gentlewoman
Stainless Steel Flask and Cigar Holder, $36, Fancy
This stainless steel contraption from Fancy exudes sophistication and class. Pairing the classic combo of cigars with an aged hard liquor, this gift aims to please the gentleman — or gentlewoman — in your life. Because when done right, every 12 year Scotch should be followed by a Cuban.
20. The Big Drinker
Giant Flask, $25, Home Wet Bar
For that special someone who can drink everyone else under the table, this supersized flask from Home Wet Bar can finally quench their colossal thirst.
Images: Fancy (6), Bed Bath & Beyond, Gag Gifts, Etsy (2), Home Wet Bar (5), Urban Outfitters (3), A Gift Personalized, Treasure Gurus, Wear Your Beer