10 Ways To Keep Cozy At Home This Fall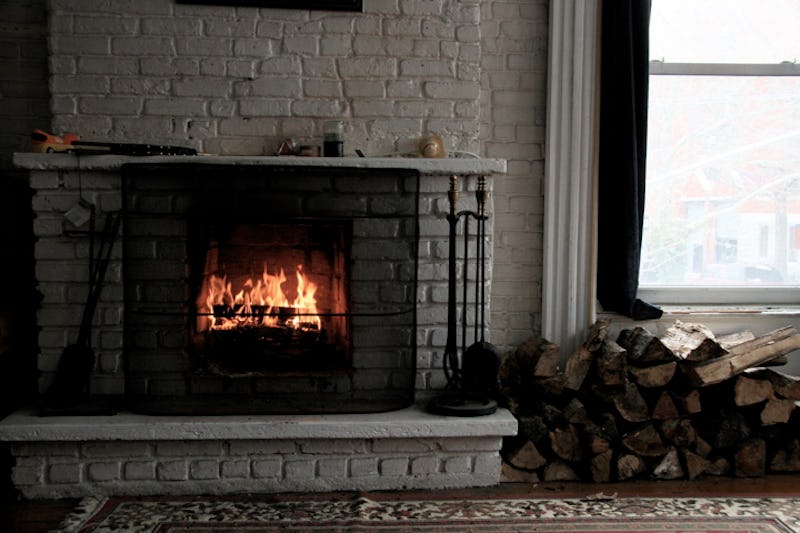 We are officially into the depths of fall, and winter is just around the corner. So as the air starts getting more frigid and you begin spending more and more time indoors, here are a few easy ways to stay warm at home this season. Don't leave everything up to your thermostat, because while it may be able to provide you with some household heat, these solutions will do so a lot more quickly, and for a much lower price. Yup, it's a double win — something that both your body temperature and your wallet will thank you for in the end!
The fall and winter seasons can be absolutely beautiful with foliage and snowflakes making seasonal shows outside the window, but if you're freezing your tail off, you're going to enjoy it a lot less. Don't let that happen to you. There's no reason you can't enjoy the cooler seasons in complete comfort. From baking delicious treats to plugging up your windows and doors with draft stoppers, check out the list below, and get started. It's time to start feeling cozy on a regular basis. No more shivering, no more frozen noses, and no more hiding beneath your covers all morning. You and your home are about to get real toasty, real fast.
1. Bake something
Baking something not only warms up your entire kitchen (thank you, oven!), but it leaves you with something warm to munch on after the fact. If you're looking for a tasty recipe to test out, try A Beautiful Mess' pie crust cookies. You only need four ingredients before baking them for 20 minutes. Once you take them out of the toasty oven, make sure you turn off the oven but leave the door cracked open to instantly heat up your home. (Haven't we all stood over an open oven door with our hands stretched out like it's a campfire?)
2. Have some booze
A little booze is a surefire way to heat up. Skip the chilled beer and iced cocktails, and opt for classic red wine. Want to try something new? HobNob has a nice variety of reds (and a white, for good measure!) that are all worth having a sip of — particularly the Wicked Red bottle, which has a roasted coffee and toasted hazelnut aftertaste to it. Perfect for the fall.
3. Use draft stoppers
Your windows may be shut, but that doesn't stop the cool breeze from seeping in through the cracks. Get yourself some draft stoppers to solve this problem — it will make a world of difference. Etsy has a huge range of handmade goodies, including this black dandelion draft stopper. Or, if you're feeling extra ambitious, you can try making your own draft stopper. All you need is some fabric, some rice, sand, or kitty litter, and some sewing abilities.
4. Embrace the Snuggie
As much as we all want to be Snuggie-haters, come the fall and winter, there's no other blanket I'd rather have wrapped around me all day, every day. You might look ridiculous wearing it, but you can bet you'll be 10 times warmer than anyone who isn't. And really, isn't this plaid red Snuggie kind of the epitome of cozy? I mean, just listen to the name of it... Snuggie. Sorry I'm not sorry.
5. Sip on something hot
Cocoa, coffee, or tea — pick your fave, and heat it on up. Sipping on something hot will literally warm you from the inside to the outside. Not to mention, it's an excuse to buy and use one these insanely cute Baby It's Cold Outside Mugs from Etsy. Hey, it's just speaking the truth!
6. Invest in a space heater
I know, I'm cheap too, but I promise, promise, promise you that shelling out the $20 to $100 bucks on a space heater is so worth it. A building's general heating system can only do so much, and when you've just come in from a ridiculously cold and windy day, nothing can be more of a best friend than one of these guys. Home Depot has a huge selection, including this 1500-Watt Infrared Tower that actually looks like a blazing fireplace!
7. Keep your toes warm
Don't slack on this one, you guys. Putting on a pair of socks can help you feel instantly warmer. Need to up your sock collection after wearing sandals all summer? Subscribe to Foot Cardigan to have a new pair of uniquely designed socks sent to you every month. If that's not a perfect solution for the fall and winter, then nothing really is.
8. Move around
Get your blood flowing! You don't have to go for a jog in the freezing cold to do that. Try out an online yoga video, like this one from Yoga with Adriene. You can start things off easy, and slowly bring up your heart rate and body temperature through this relaxing and harmonizing practice.
9. Bring on the rugs
As lovely as hardwood floors are, when things start to get chillier, you're going to want to cover up those cool floors with some warm rugs. Think thick, fuzzy, and shaggy. This sheepskin white shag rug from Overstock is a great start. So great, in fact, that you'll probably have trouble not keeping your feet on it at all times!
10. Top things off with a beanie
Last but certainly not least, top things off with a beanie. Like covering your toes, covering your head will help trap in some of your natural body heat, keeping you warm and toasty. Hats aren't just for the outdoors, and these awesome pom beanies on Etsy are so cute, you may never even want to take them off.
Images: Karen/Flickr, A Beautiful Mess, HobNob Wines, Cathycustompillows/Etsy, Snuggie, wearebreadandjam/Etsy, Home Depot, Foot Cardigan, Yoga With Adriene, Overstock, MoscatoAndMonograms/Etsy