11 YA Novels For Your Reading Bucket List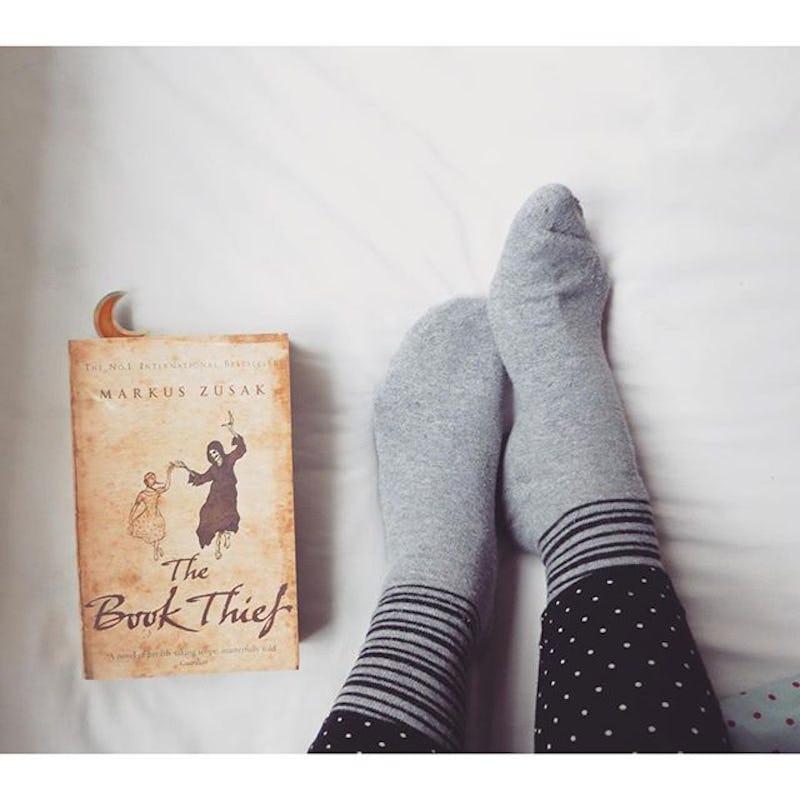 Every reader should have a book bucket list, those books that you absolutely must read before you die. And there are so many ways you can go with it: You can choose the best nonfiction books, the ultimate list of classic novels, or books by iconic women authors. Me, I love young adult novels — and who cares that I'm well beyond the target audience age. My book bucket list contains the best YA novels, both classic and modern.
By now, everyone and their grandmother already knows that the Harry Potter series, The Hunger Games , and even the recent tearjerker The Fault In Our Stars are absolute musts on this YA reading list. But other entries include all kinds of different YA that captures the honest depiction of those teenage feelings, when anything — a kiss, a date to the prom, a new friend — can open the doors to the world. And that doesn't mean this list is just contemporary; YA gets to the heart of those feelings in historical fiction, a little sci-fi, and even fantasy.
To help you get started making your own YA book bucket list, I have nominated 11 titles that I think should be shoo-ins for your reading goals. Once you have the list in place, the best part is you will never be out of ideas for what to read next. Even if you've read them before when you were younger, you never know what you can see when you read them again with adult eyes.
A must-read even for people who don't like YA, The Book Thief will absolutely ruin your day in the best possible ways. Set in Germany during World War II, the tale centers on young Liesel Meminger, a girl living outside of Munich with her foster parents. Times are bleak, but are bleaker still for the man that Liesel's foster parents are hiding in the basement. Narrated by Death (yes, by Death), The Book Thief is a beautiful story about beautiful stories, and it absolutely begs to be read.
Speak by Laurie Halse Anderson
Melinda Sordino has become an outcast in school after calling the cops on a end-of-summer party. Isolated and alone, Melinda is trapped inside her own mind, trying to block out something terrible that happened to her during that party, something that could ruin everything. Speak makes the list due to its raw depiction of rape, and it is an outstanding example how powerful fiction can be.
Before YA was even a category, A Wrinkle in Time captured the imaginations of millions regardless of age. When a mysterious stranger appears at the Murry residence on one particular dark and stormy night, teenager Meg Murry and her genius brother Charles Wallace are sent on a wild journey to face off against the Black Thing and save their missing father. Even if it veers a bit more middle grade than your standard YA of today, it's still an absolute classic and a definite must-read.
Are You There God? It's Me, Margaret is part of the foundation on which contemporary YA has been built. Judy Blume's 12-year-old Margaret Simon's entire life is turned upside-down when she moves from New York City to suburban New Jersey. There she is introduced to Nancy, Gretchen, and Janie, a new group of friends that open Margaret's eyes to a world of boys, bras, and periods. Are You There God? It's Me, Margaret is more than just about puberty, it's a classic coming-of-age story like only Queen Judy Blume could create.
I may be personally biased with this one, given the fact that I rented this out of my school library so many times I practically had the book memorized as a child. In Walk Two Moons, 13-year-old Salamanca Tree Hiddle is on a cross-country road trip with her grandparents in order to find her mother who left her behind. While stuck in the car, Sal tells the story of her strange friend Phoebe Winterbottom, whose mother disappeared suddenly just like Sal's did. Walk Two Moons is a study of the relationship between mothers and daughters, cultural identity, and the pain of loss.
Set in the 14th century, Catherine, Called Birdy tells the story of the feisty daughter of an English landowner, horrified to discover that at the tender age of 14 she is to be married off to whomever her horrible father decides. Written as though it's Birdy's own diary, the clever and witty girl intersperses her crazy tales of getting rid of her suitors alongside descriptive passages of medieval life. Another old-school novel that dances between YA and middle grade fiction, Catherine, Called Birdy is one you're going to remember as an adult for its top-notch feminist protagonist. Lena Dunham is even making the book into a movie.
Go Ask Alice by Beatrice Sparks (as Anonymous)
OK, so this "true diary" turned out to be an anti-drug hoax written not by a 15-year-old but by grown-up Beatrice Sparks. But Go Ask Alice is still a pillar of YA, and so it's a must-read for your bucket list. The "diary" follows teenage Alice as she quickly devolves from doing LSD once at a party to becoming addicted to heroin (basically a week later). It might seem silly now, but preteens and teens couldn't get our hands on Go Ask Alice quickly enough when it came out in the '70s. Now, we can read it as a fascinating portrait of what happens when Mormon youth counselors take on the role of a drug addicted, sex crazed teenager.
Everything changes when 17-year-old Mia is in a car wreck with her parents and little brother. Everyone tragically dies, except Mia, who is trapped between life and death. Mia must choose between continuing to live (without her parents and brother) or dying and leaving behind her loving grandparents and boyfriend. Gayle Forman's heart-wrenching If I Stay has all of the elements to make it a perfect contemporary YA novel: tragic love, paranormal elements, and best of all: so (so, so, so) many feelings.
Of course a John Green novel had to make it to this YA bucket list, and you definitely already have The Fault in Our Stars taking up a spot. Add the lesser known, but still wholly worthy An Abundance of Katherines. The novel centers on Colin Singleton, a man who has been dumped 19 times — all by girls named Katherine. In an effort to prove "The Theorem of Underlying Katherine Predictability" and thus help him foretell the future of any relationship, Colin goes on a road trip with his best friend and learns along the way to reinvent himself. An Abundance of Katherines is an underrated comic hit and well worth the read.
It's February 12, or "Cupid's Day," and popular high school senior Samantha Kingston is reaping the benefits of her own popularity during a celebration full of roses and valentines. That is, until she is tragically killed in an accident that night. Much to her surprise, she wakes up the next morning and lives the last day of her life over again seven times, trying to make small changes to alter her fate. Before I Fall is notable for how Lauren Oliver sends you on a roller-coaster ride of feelings for the "mean girl" Samantha, building her into a three-dimension and truly interesting character.
Lara Jean has had plenty of crushes before, but she's never told any of them. Instead she writes each boy a letter about her feelings, seals it up, and hides it in a box under her bed. But one day, whoops, her secret box mysteriously vanishes and all her private letters are mailed to her crushes. As the boys emerge from her past from her past to confront her, Lara Jean ends up confronting things about herself, and she realizes that what could potentially be a tragedy might just end up being okay after all. Jenny Han's book is a refreshingly fun look at teenage crushes and, perhaps, what they can show about who you are growing up to be.
Image: kkul.reads/Instagram