An All-Natural Beauty Box You Need To Try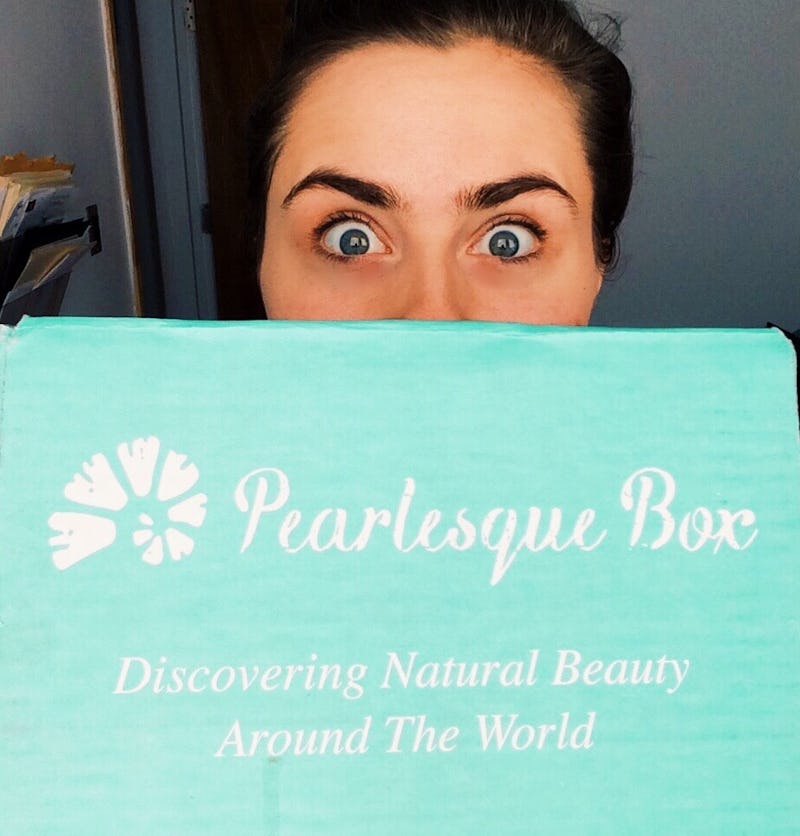 I got the best surprise ever last week in my mailbox. I discovered a package from Pearlesque Box, a monthly skincare subscription box packed with all-natural, sustainable beauty products from around the globe. While it's basically become second nature to me to read through ingredient lists in beauty products (because there's some scary stuff out there!), knowing all of the products in this beautiful aqua blue box had already been "pre-scanned" was such a refreshing treat.
The CEO and founder, Rochelle Truxal, took the time to speak with me about her personal journey that led to the creation of the box, and how she hopes it will encourage Americans to become more aware of what the heck is in their beauty products. Truxal started struggling with Psoriasis in her tween years, not realizing how much the chemicals in mainstream beauty brands were impacting her skin. She told me, "I started traveling to various countries and discovered that the beauty products were natural and didn't contain chemicals. My initial thought was 'why is this not prevalent in the U.S.?' I uncovered that in the UK, over 1,300 ingredients are banned, while only 11 harmful ingredients are banned in the U.S.! This was a shocking reveal."
After switching to an all-natural skincare regimen incorporating products from around the world, her symptoms improved dramatically. "Whether it be to help acne, reverse the signs of aging, [or] create a glowing complexion," she says, "all you need is the natural earth!"
(November Box, $39.95, Pearlesque Box)
Honest to goodness natural (legit natural and not greenwashed!) products are exactly what you'll find in each box.
The November one was packed with an awesome assortment from Bambu Earth, a soap and skincare company out of good old Southern California committed to all natural, sustainable, ethical, fair-trade, and cruelty-free products. My my roomie and I had a blast testing the box out! It featured...
1. pureSOL Konjac Facial Original And Charcoal Sponges
These little sponges are gentle enough to use every day to exfoliate and deep cleanse, and are 100 percent compostable when you're ready for new ones. A beauty product for me and my little garden (aka one succulent in my windowsill)? Heck yes.
2. Pumpkin Seed Serum
Packed with vitamin A and E, zinc, omega 3 and 6 fatty acids, and antioxidants, this serum gives you an undeniable glow without clogging your pores.
After making a poor judgement call and using a harsh pimple spot treatment a week ago, this serum is exactly what my skin needed to rebalance.
3. Dead Sea Mud Mask
My roomie deemed this one his favorite, and I definitely dug it, too. The lavender and tea tree essential oils smell so good, and the mask left our faces feeling hydrated instead of dried out and tight.
In the roomie's words, "I feel... Whoa. It's like I shaved without shaving. But damn, I still have to shave."
4. Pumpkin Oatmeal Glow
I feel like this picture speaks for itself. This was a no-filter, sans-makeup #IWokeUpLikeThis snap taken right after washing my face with the pumpkin oatmeal glow this morning.
You ever get the feeling your body is like, giving you a giant thank you hug after you eat a really nourishing salad or smoothie bowl? That's totally what my face is doing right now thanks to this scrub.
If you've been pondering a beauty subscription box for yourself or a pal, move Pearlesque to the top of your list!
Image Credit: Author's Own