11 Valuable Pieces of Advice from Queen Judy Blume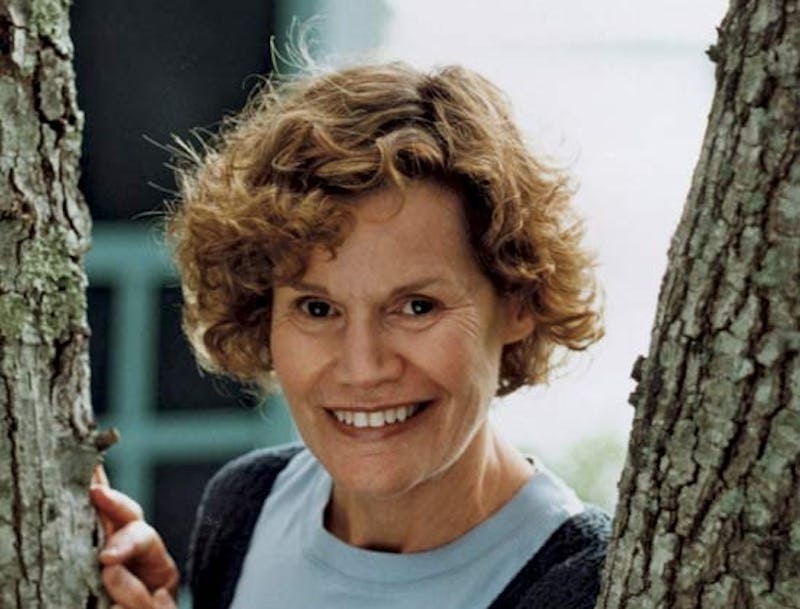 I still remember the first night I spent with a Judy Blume book. I was curled up under a quilt in my bedroom, running from my everyday anxieties with a nightlight to guide my way and a good book in my hands. The hour was late, the light was dim, and the book was Are You There God? It's Me, Margaret. I had spent many a late night curled up under that same quilt, squinting in the semi-darkness over a YA classic, but there was just something different about a Judy Blume book. In the hands of Blume, anxiety receded into the realm of shared experience and honesty lost the blush of shame and became, somehow, both earnest and endearing.
As I've grown, I've learned to confide my problems in parents, friends, therapists, the good people who run WebMD, but before I had had options, I had Blume. And, for a huge chunk of my childhood, I turned to Blume for advice on everything from love and loss to growing up and giving back. Today, if I have a question I'm just as likely to turn to Siri as I am to pick up a book and sift through stories for a nugget of pure wisdom, but every now and then when I find myself in the middle of a particularly dark night, I break out a Blume book and curl up under the covers for old time's sake. In recognition of her wisdom, her sincerity, her candor, and her compassion, here are just a few examples of the many, many times that Blume gave the best possible advice.
1. "I am not scared of you. I am scared of these feelings."
― Judy Blume, Summer Sisters
Blume reminds us that life is not always what you think it should be, and fear often hides its true face. When in doubt of your feelings, look inside yourself rather than laying blame at the feet of friends or family. You're sure to conquer your fear once and for all if you're willing to search your own soul to find it.
2. "Not everything has to have a point. Some things just are"
― Judy Blume, Summer Sisters
As difficult as life can be, we are all searching for meaning. But Blume puts the "Stuff happens" line far more eloquently in Summer Sisters. Sometimes there isn't that meaning you want to find.
3. "Things change…things happen…things you can't even imagine when you're young and full of hope."
― Judy Blume, Summer Sisters
When I was five, I thought I had it all figured out. As it turns out, life is full of lessons, and just when you think learned them all, a new challenge crops up just to prove you were wrong. It's like Blume always said, "things change...things happen," so, you might as well settle in and enjoy twists and turns, because in many ways the journey itself is what makes life interesting in the long run.
4. "It's not so much that I like him as a person, God, but as a boy he's very handsome."
― Judy Blume, Are You There God? It's Me, Margaret
Ahh, Judy Blume, how well you know me. She knows that looks aren't everything, even when the looks are very, very good. It may have taken me a while, but I think I've finally learned to look deep inside before deciding whether or not I like a person, and perhaps I have Blume to thank for that.
5. "A person without curiosity may as well be dead."
― Judy Blume, Summer Sisters
Curiosity gets a bad rap, but Blume knows the truth: without it, all is lost.
6. "It's strange, but when it comes right down to it I never do fall apart — even when I'm sure I will."
― Judy Blume, Forever
Fear, panic, and a gnawing certainty that the world really is going to end this very night are not unique to young adulthood. Crises come and crises go, but life carries on, and Blume is here to help you come to terms with your own ability to weather any storm, be it physical, emotional, or psychological.
7. "Each of us must confront our own fears, must come face to face with them. How we handle our fears will determine where we go with the rest of our lives. To experience adventure or to be limited by the fear of it."
― Judy Blume, Tiger Eyes
In Tiger Eyes, Blume issues a rallying cry for all readers. Face your fears or you'll never live your fullest life.
8. "What's the point of thinking about how it's going to end when it's just the beginning?"
― Judy Blume, Summer Sisters
I picked up an unusual trick from my mother when it comes to reading suspenseful novels — sometimes, I flip to the last page and check in on how it all ends before I get started. Unfortunately, in life you can't flip to the end, you just have to keep on swimming. Live in the moment.
9. "I think it's just that I'm not ready for forever."
― Judy Blume, Forever
These days, even tattoos don't always last a lifetime, and it's OK for a certain passion (or a certain person) to be good for right now, but maybe not the right choice for forever. Bonus, is this is Blume's sex positive message for the teenagers in love in her story.
10. "She wondered if all the firsts in her life would go by so quickly, and be forgotten just as quickly."
― Judy Blume, Summer Sisters
Meditate, keep a diary, and take a lot of photographs — do whatever you have to do to ensure that you'll enjoy your life at every step along the way, and take pleasure in treasured moments when you're looking back on them in your later years. As Blume so astutely pointed out, life is fleeting, so make sure to enjoy it while you can.
11. "I can't let safety and security become the focus of my life."
― Judy Blume, Tiger Eyes
Your life is too short to live in fear, whether that means dropping out of college to pursue your passion for beekeeping or following your heart to a master's degree, even if there are no apparent job opportunities in Eastern philosophy. Follow your heart, and let Judy Blume be your guide.
Image: Ninian Reid / Flickr; Giphy (11)