These Are The Prettiest Perfume Bottles Out There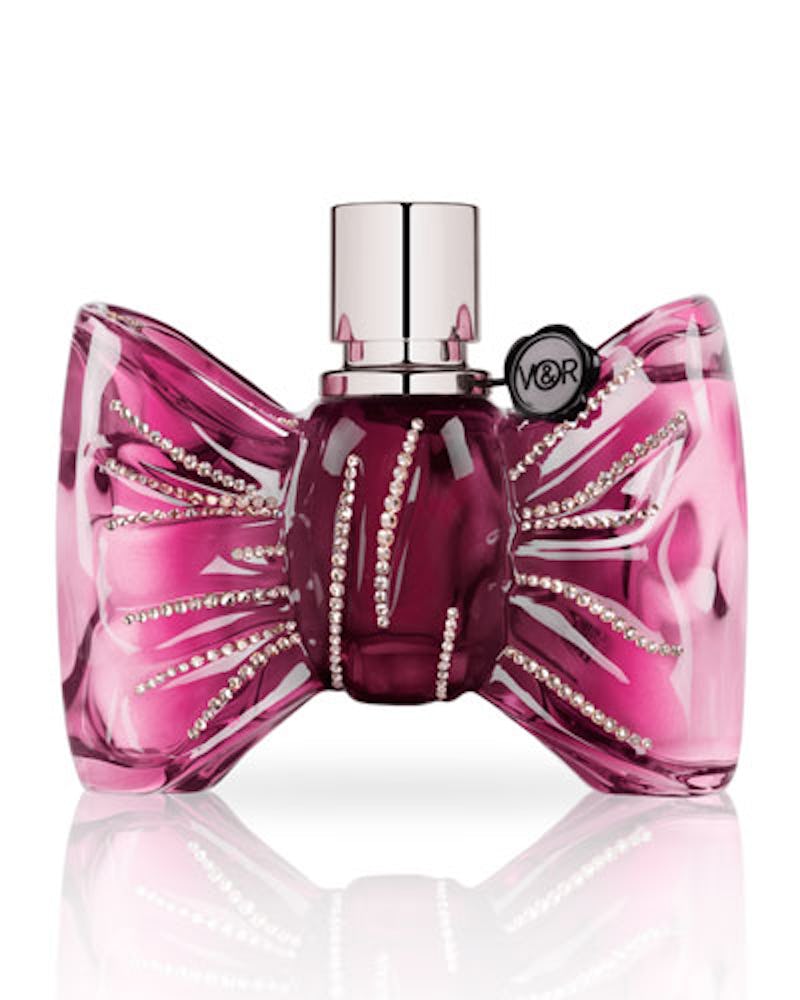 When it comes to designing perfume bottles, there are a few scent makers who have gone above and beyond the call of duty. These designers have crafted very pretty perfume bottles that will dress up your vanity (or tiny bathroom sink) in the most fabulous way. Seriously, they're like tiny pieces of art filled with delicious smelling scents. From edgy shapes to opulent jewels, these eye-catching designs truly set them apart. Whether you're a perfume novice or a scent aficionado, anyone can appreciate just how chic these bottles really are.
When it comes to buying perfume, it's OK to judge a book by its cover (or the scent by its bottle, in this case). The aesthetic of the bottle really does tend to tell the story of the perfume that's inside. Florals have flowers, sweet stuff tends to come in pink, and musky fragrances often have angular shapes. So, don't get suckered into to buying another boring perfume. Reach for something more breathtaking instead. Here are a few gorgeous perfume bottles that will honestly take your breath away.
Blue Sapphire-Pure Perfume, $885, Check It Out
This luxurious perfume has a steep price tag for a reason. The bottle itself is adorned with its signature blue sapphire, plated gold, and is presented to the buyer in a blue satined line box.
Viktor&Rolf Flowerbomb Fireworks Perfume, $120, Check It Out
For the 10th anniversary of the Flowerbomb fragrance, Viktor & Rolf released this gorgeous limited edition bottle. The firework jewel adds such a dramatic flair to this already stunning container.
3. Estee Lauder Golden Pineapple Solid Perfume
Estee Lauder Golden Pineapple Perfume, $250, Check It Out
This is definitely not your average perfume. Covered in Swarovski crystals, this decadent pineapple contains one of Estee Lauder's finest solid scents.
Wildfox Eau de Parfum, $70, Check It Out
Wildfox outdid themselves with the design of their latest perfume. The pink and gold details of this bottle are absolutely stunning, and would look great on any vanity.
5. Juicy Couture "Hollywood Royal"
Juicy Couture Hollywood Royal Perfume, $72-$92, Check It Out
The stars over Hollywood have never looked so bright. Channel your inner Hollywood actress with this show-stopping scent.
House of Sillage Perfume, $1,210, Check It Out
While it may cost more than your monthly rent, this perfume is fit for a queen. This bottle is sure to become your next prized family heirloom.
7. Anna Sui "Flight of Fancy"
Anna Sui Fragrance, $60-$72, Check It Out
This is hands-down one of my favorite perfume bottles on the market. The peacock accents are absolutely stunning, and the scent will leave you wanting to strut your stuff.
8. Jean Paul Gaultier "CLASSIQUE" Eau de Parfum
Jean Paul Gaultier Perfume, $84, Check It Out
Add a little sexiness to your bathroom shelves with this lacy little number.
9. Viktor & Rolf "BONBON"
Viktor & Rolf BONBON-Swarovski Limited Edition, $175, Check It Out
Who said bows weren't for grownups? This enchanting limited edition bottle by Viktor & Rolf is the perfect addition to your perfume collection.
10. La Prairie "Midnight Rain"
La Prairie Midnight Rain, $135, Check It Out
The night sky has never looked so good. This raindrop-shaped bottle is like no other fragrance holder on the market. It will absolutely be a standout piece in your collection.
11. Guerlain "Aqua Allegoria — Pamplelune"
Guerlain Perfume, $68-$93, Check It Out
Any French courtier would be proud to have this rose gold bottle displayed on their royal vanity. Wouldn't you agree?
Marc Jacobs Decadence, $70-$120, Check It Out
This bottle takes a unique twist on putting your perfume in your purse. Marc Jacobs outdid himself with this latest perfume design.
Anna Sui Perfume, $65-$78, Check It Out
How darling is this bottle? Channel your inner fairytale princess with this purple and gold bottle.
Don't mind me. Just adding all of these to my shopping cart.
Images: Courtesy Of Brands