Reinventing Late Night: What Jimmy Fallon and Seth Meyers can learn from Craig Ferguson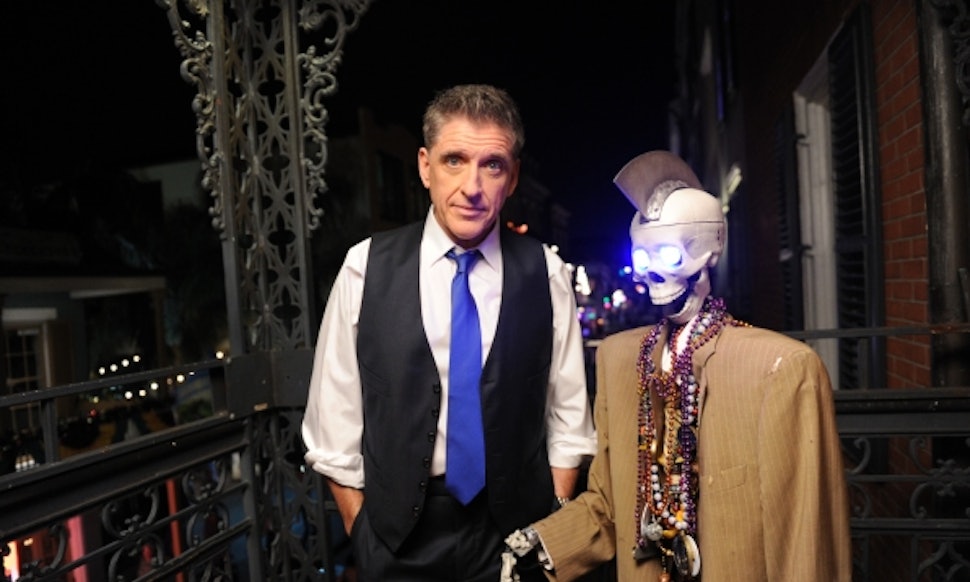 There are plenty of reasons to get excited about NBC's new late night line-up. The Tonight Show has remained far too long in Jay "The Chin" Leno's hands and as for Late Night, I'm just glad we'll get more of Seth Meyers. In the recent promos for the new Tonight Show and Late Night , we can take a peek at Jimmy Fallon and Seth Meyers in their new environments. Though Fallon and Meyers won't be taking over their respective talk shows until February, they are both undoubtedly gearing up for their upcoming reigns already. During the process, they are obviously thinking about how to make the shows their own. While Fallon talked about keeping relatively the same format as his Late Night, Meyers has suggested a typical talk show format with more "serious guests" and recurring characters in his interview with Time magazine.
I think it's time to stir things up. Maybe Leno on The Tonight Show and David Letterman on CBS's The Late Show were great in their early days, but now they're just getting repetitive and frankly, a little rigid.
It's high time late night stopped taking itself so seriously. And no one knows this better than The Late Late Show host, Craig Ferguson. All right, he sort of fits the profile for a traditional late night host of white male in a suit. But he's different, okay? For many nerdy insomniacs around the country, the Scottish American comedian's awkward, absurd, hilarious, and at times shockingly intelligent talk show is the best part of the night. He constantly mocks the unwritten rules of late night. Although he does follow the standard structure sometimes, his stream-of-conscious style keeps it flowing; it's never stiff. Did I mention he has a dancing horse named Secretariat on the show?
Of course, Fallon and Meyers should absolutely do their own thing with their new shows. Fallon already varies things up on Late Night with his amazing musical impersonations and games. Plus, he's taking The Roots with him to The Tonight Show, so who could complain? Nevertheless, there are a few things he and his successor can learn from Ferguson's best moments.
Image: CBS
Improvise the monologue
Teleprompters suck. Many late night hosts stand there and read their opening monologues out loud like amateur thespians. Craig, on the other hand, never reads from a script for his funny intro segments. It provides for a sometimes bizarre, always unpredictable start to the show. According to him, "I don't know now if I'm funny. I just keep talking and hope that I hit something that's funny." Not everyone can pull off improvisation, but if they're up to the challenge, the new hosts should try their hand at it.
Image: Getty Images
Get a robot sidekick
Ferguson's sidekick, a MythBusters creation, is a robot skeleton named Geoff Peterson and is one of the best parts of the show. Geoff's hilarious interjections and awkward arm movements provide for quality entertainment — "in your pants!" Geoff's introduction into the show is more than a silly joke though; it's interesting commentary, whether intentional or not. Banter with the sidekick in late night shows is often uncomfortable, forced, and well…robotic. The new hosts would be wise to avoid the lame repartee and instead only have dialogue when it's natural, genuine. Or, y'know, they could get robots too.
Image: CBS
Vary the structure
Once, Ferguson delivered an opening monologue in the middle of his show. He was going through his rebellious phase. He had his guest, comedian Eddie Izzard, come out at the beginning of the show and later went back and to do a monologue. This was unprecedented in late night and threw the audience out of balance. Change, whoa. Simply altering the order of things once in a while could do wonders for making these shows more interesting.
Image: Getty Images
Make fun of yourself
Ferguson told the New York Times in an interview, "I think comedy comes more from a low sense of self-esteem, and I certainly have that." Aww, Craigy! That's pretty sad. But you know, he's right. Self-deprecation is an acceptable and appreciated form of wit. It's pretty charming (when it's sincere) and Ferguson is a connoisseur of self-inflicted put downs. Fallon and Meyers' SNL experiences give them the ammunition to lampoon celebrities and politicians, but can they turn the spotlight on themselves?
Image: Getty Images
Flout the most important conventions of late night
In February of 2010, Ferguson had Stephen Fry on his show as a guest (this isn't the revolutionary part). He proceeded to talk to him for 40 minutes… without an audience present. That's right. It was literally a "talk show." There was no cued applause. There were no plugs for new movies coming out. There were no gimmicks or baseless jokes. It was completely natural, amusing, and brilliant. I'm sure no one wants to ruin a long-standing tradition like late night talk shows – that's understandable. But how can new traditions ever come about if everyone just sticks with what they're used to?
Image: Getty Images
Put the lotion in the basket
And maybe invest in a ball vacuum cleaner…
Image: Getty Images