Simply Fit Board Will Twist Into 'Shark Tank'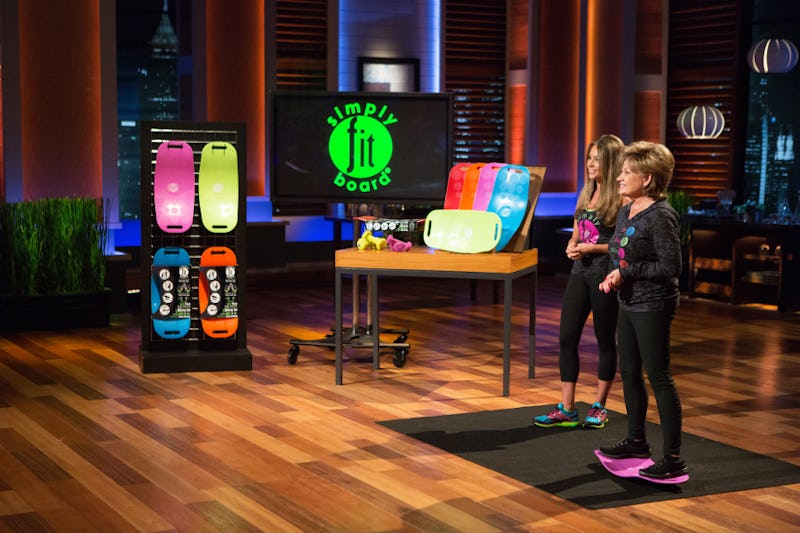 This week, a mother-daughter team is heading to Shark Tank, as Simply Fit Board seeks an investment. Linda Clark and Gloria Hoffman are the family pair behind this invention, and if they want a deal, they'll have to get the Sharks excited about exercise. The Simply Fit Board is a small (and easily portable) fitness aid — basically, it's a curved piece of plastic to be used as a balance board, and it's specially designed to strengthen your core muscles.
It comes in every color from "atomic orange" to "vibrant lime," and it's actually pretty user friendly: You just place it on a flat surface, and get twistin'. The twisting motion is what sets it apart from your standard balance board — it's a simple, yet effective move that targets more muscle groups than you'd expect (Clark and Hoffman recommend pairing the twist with hand weights to really get the full-body workout). If that sounds like an exercise you'd like to try, you can purchase the Simply Fit Board online now for $44.95 on the company's website, as well as in select stores in the mid/southwest.
Simply Fit Board, $61, Amazon
If you do decide to buy it, you might find more uses for it than you originally thought. Twisting is its main purpose, but you can also use the Simply Fit Board for other exercises: Since destabilizing your body's balance causes it to work harder, it's a cool way to up the difficulty level of any of your standard plyometric exercises. You can use it for push-ups (as if push-ups weren't already hard enough), you can do squats on it (ditto squats) — you can even use it for slightly more complex twist-y moves, like the aptly-named Spider-Man planks.
Oh, and get this: Judging by the promo shots from the episode, we're going to be getting a glimpse of the Sharks taking these things out for a spin, fancy suits and all (here's hoping Mr. Wonderful gives Spider-Man planks a try).
Exciting, no? Another cool thing the mother/daughter entrepreneurs have going for them is their YouTube channel. They have several videos to teach you how to best utilize the board, including targeted tutorials (including the Booty Blaster, a short clip set to a certain collaboration between J. Lo and Iggy Azalea — I think you know the one) and 10-minute workout videos.
What do you think? Does the Simply Fit Board have what it takes to strike Shark Tank gold? Between its low production cost (c'mon, it's a curved piece of plastic!) and high marketability, it just might have a shot...
Images: Michael Desmond/ABC (2)