How To Get A Taste Of Wink Frozen Desserts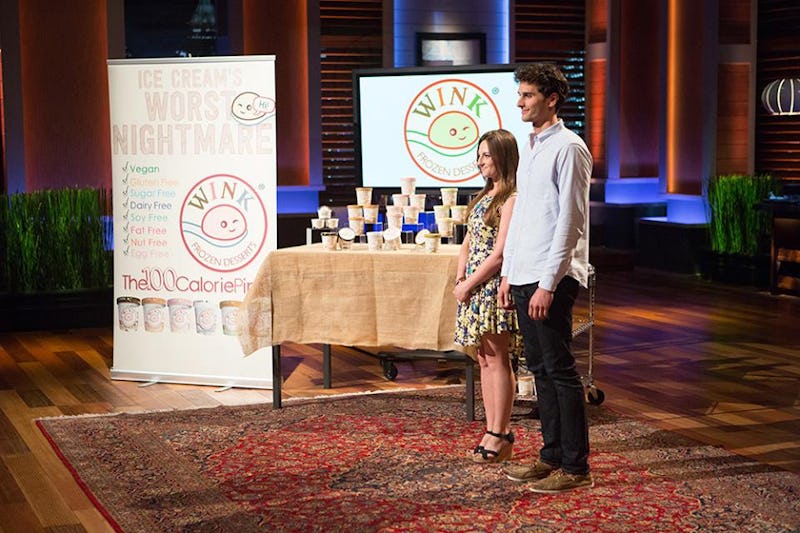 I think we can all agree on one thing: Ice cream is the best — although it's not necessarily the most healthy and accommodating treat. But as viewers will see on Friday night's episode of Shark Tank, Wink Frozen Desserts is hoping to change that with their tasty ice cream alternative. So what makes this ice cream one to scream about?
According to the product's website, Wink Frozen Desserts are vegan, plant-based, sugar-free, diary-free, gluten-free, soy-free, fat-free, egg-free, and nut-free. To top that all off, one pint has about 100 calories. To compare, the average amount of calories in a pint of vanilla ice cream is 546, according to Calorie King. So if you're keeping track of calorie intake or avoiding certain ingredients due to food allergies or diabetes, it sounds like this ice cream is for you. The good news is, you can buy Wink Frozen Desserts at select supermarkets and health food stores across the country — including Whole Foods — but it doesn't seem like they've ventured to the West Coast yet, leaving me Wink-less. Not for long, though, because you will also be able to order a minimum of four pints through their website, and orders will ship starting Nov. 16.
Will all of this satisfy the taste buds of the Sharks? We'll have to see if they'll open their wallets for this one. Make your own investment decision based on the Wink Frozen Desserts info below.
The Founder
Wink CEO and founder Gabe Wolff was diagnosed with celiac disease and a diary allergy at age 17 — that meant he couldn't have conventional ice cream anymore. "I struggled to find a satisfying dairy-free ice cream that didn't do damage to my diet, so I started experimenting in my dorm kitchen," he told Next Accelerator. "For years, I kept tweaking the recipe until it satisfied my sweet tooth and my checklist."
According to his Reddit AMA, Wolff would experiment with recipes at his dorm at Canada's McGill University. "Wink is not only safe for me, but also for people with diabetes and other common food allergies," he wrote. He started out with Splenda and Cool Whip using a Cuisinart Ice Cream Maker, but soon graduated to other ingredients that would become Wink.
Ingredients
OK, so here's what you'll find in Wink Frozen Desserts, according to their website: pea protein, vegetable Glycerin, organic Agave Inulin, organic Tapioca flour, Xanthan gum, Monk fruit extract, Guar gum, organic Stevia extract, baking soda, organic cocoa powder, and organic cinnamon. "I eventually landed on pea protein isolate as the base, since it doesn't have an overwhelming gross taste, like soy and rice proteins," Wolff explained on Reddit. "We use organic stevia and monk fruit extracts to sweeten the ice cream, so that there is no chemical 'sugar-free-but-will-make-you-grow-a-third-eye' sweetener."
Texture
So without sugar or diary, you might be wondering how Wink's ice cream feels. Wolff explained on Reddit: "Wink is definitely not as creamy as gelato, but more creamy than a sorbet. It's closest to a heavy sherbet or light ice cream. The main obstacle that I had to overcome was the fact that sugar acts as an anti-freeze in fat-free ice creams. Without fat, sugar keeps water molecules separated, to prevent ice from forming. This is why most fat-free alternatives to ice cream contain more sugar, and why sugar free ice creams contain fat." Interesting!
Flavors
There are six flavors currently available on the website: Cake Batter, Cocoa-Mint, Cinnamon Bun, Cocoa-Dough, Iced Latte, and Vanilla Bean. "If certain flavors are performing super well in the conventional ice cream space, but has not been done (or has been barely executed) in the 'better for you' ice cream market, then we'll go for it," Wolff told Total Food. "We like to provide those fun flavors people want to eat, but cannot because of all the negatives of traditional ice cream."
Ordering
Each pint costs about $5 in stores and $8 online. You can order a minimum of four pints from the Wink website or go with one of several flavor bundles they offer. Six pints ship for free, but the West Coast gets a surcharge of $3.
Recipes
According to the product website, Wink pints can be used in a number of cool recipes, including one for everyone's favorite fall drink: the Pumpkin Spice Latte. Other recipes that use wink include shakes, protein waffles, and a pumpkin pie shake.
Toppings
Just like regular ice cream, the possibilities are endless.
Image: ABC