Katniss & Peeta Are Giving Us All The Feels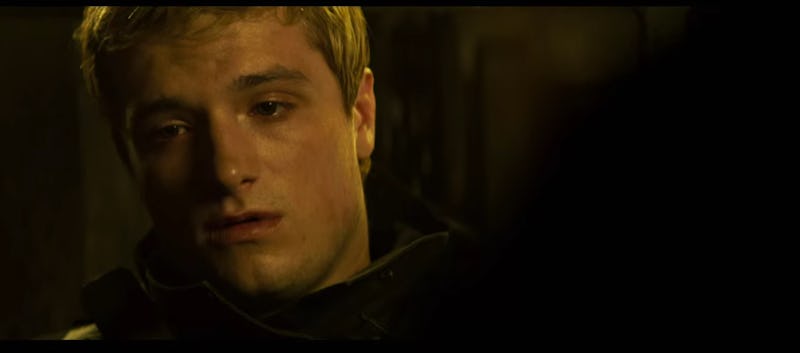 Hunger Games fans, the end is nigh. Cue a sorrowful violin melody. If the series' impending conclusion wasn't already enough to send you on a downward spiral of doom, I think the emotional intensity of the last Hunger Games installment will probably do the trick. Case in point, this gutting clip of Katniss and Peeta from Mockingly — Part 2 below. But it's best to prepare, right? Slowly but surely, with teases like this one, we'll be desensitized enough to be able to sit through the entire premiere without sobbing into the shirt of the poor guy sitting next to us. Maybe. Let's just hope he wears something soft, like cotton or cashmere.
So, what's the clip about? Sadness. It's about sadness. I'm kidding. Sort of. It's a simple scene, both Peeta and Katniss practically whispering to each other in the darkness, looks of pure, pained longing on their faces. As Entertainment Weekly points out, it's focused on the iconic, "Real or not real?" line of questioning that Peeta is forced to ask because of the perplexing mind control that President Snow inflicted upon him. But what this clip really shows us is the impenetrable bond that both Katniss and Peeta share in the face of so much adversity.
Guys, I'm not going to lie to you. When I read The Hunger Games trilogy the first two times, I was rooting for Katniss to choose Gale. I know, I know— blasphemy. Please, put down the pitchforks and snuff out the torches, I'm not done yet. It's because of undeniably heartfelt moments, like the one shown in the clip, that I have effectively changed my mind. Katniss and Peeta have given me all of the feels, and there is simply no going back.
Check out the clip for yourself, below. And, don't say I didn't warn you about the affecting chemistry between them.
It's going to be OK. We'll always have three books and four movies to read and play on loop, won't we?
Image: TheHungerGames/YouTube