7 Ways To Celebrate Thanksgiving By Yourself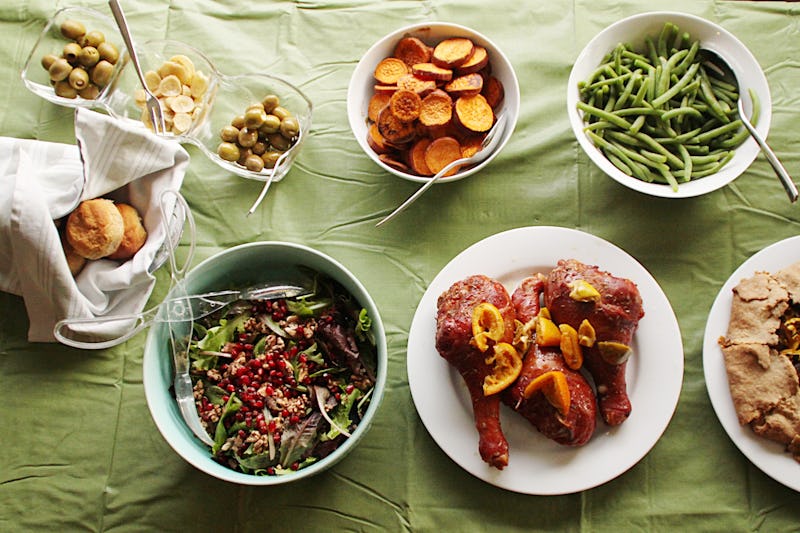 Thanksgiving is normally a holiday spent surrounded by food, family, and friends, which can make it difficult if you have to spend the day alone. There are ways to celebrate Thanksgiving by yourself, however, that are great alternatives to sitting at home pitying yourself all day long.
Pity parties are never a good thing, especially on a holiday. It's 100 percent normal to feel sad or lonely, particularly when you know you're missing out on a get-together that's happening somewhere else in the country. But guess what? How you decide to go about responding to those feelings is completely up to you.
That being said, don't let yourself mope around all day, and realize that just because this one Thanksgiving isn't being spent exactly how you want it to be, it doesn't mean that next Thanksgiving will be the same way. Instead, embrace the day, make yourself productive, and feel good about being alone. Everyone can use a little solitude now and again — it helps root us and remind us of what really is important in life.
These suggestions range from treating yourself to a homemade feast to getting in touch with long-distance friends and family. Take a look through, and see what appeals to you.
1. Go out to eat
You don't have to burden yourself with cooking on Thanksgiving to have a delicious meal. Treat yourself to a table for one at your favorite restaurant, or one that you know will be serving up a special Thanksgiving menu for the evening.
2. Skype with your friends and family
Even if you can't physically be with your friends and family, that doesn't have to stop you from spending time with them. Skype and FaceTime make it possible to see and hear your loved ones from hundreds of miles away. Talking to your closest friends and your family can instantly make you feel less alone, and remind you of how many people love you and are thinking of you on a regular basis.
3. Volunteer at a local food bank
Use your solo Thanksgiving to help give back. As soon as you start pitying yourself on the holiday, stop and realize how much worse it could be. Volunteering at a local food bank will raise your spirits and change the way you look at the holidays.
4. Go for a hike, or go see a movie
It might seem like a simple suggestion, but sometimes simply getting out of the house and into a new environment can help with feeling lonely. Going for a hike will help increase your endorphins, while seeing a movie will surround you with company, even if you don't know anybody in the entire theater.
5. Travel out of town
Just because you can't be with your family and friends on the holiday doesn't mean you can't have a little adventure of your own. Pick a city that's close enough to visit and explore during the holiday weekend. You can pamper yourself at a nice hotel, and keep yourself entertained by checking out new sights.
6. Work on a home project
Keeping yourself busy when you're feel lonely is never a bad idea. You know how you wanted to completely redesign your bedroom? Now's the perfect time to do it. Or, if you enjoy carpentry or painting, perhaps you can do a little googling to find a fun, DIY project for your home. When you keep yourself busy working on something, you're probably going to spend less time feeling sorry for yourself, and more time feeling productive about all you're accomplishing.
7. Make yourself a homemade meal
You may not want to go the 15-pound turkey route, but grocery stores actually make it pretty easy to make a Thanksgiving meal for one (plus some leftovers). Purchase an individual turkey leg (instead of an entire turkey), a couple potatoes (instead of an entire bag), and some ingredients to make a pumpkin pie. Or, if you're not feeling that ambitious, but still want to eat at home, go for the instant potatoes, jarred gravy, and precooked turkey meat. There really is no wrong answer here.
For more fall ideas, check out Bustle on YouTube.
Images: Stacy Spensley/Flickr, Giphy (7)