'The Girlfriend Experience' Trailer Is Creepy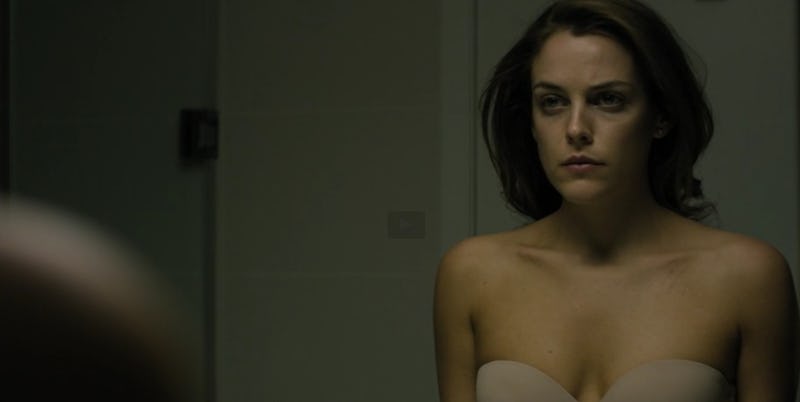 Television as a whole is getting sexier: all it takes is a quick glance at the sex scenes on network series like How To Get Away With Murder to see that boundaries are being pushed even outside of cable. That's why it's slightly surprising that a new television series about sex workers features so little actual sex. Independent film pioneer Steven Soderbergh's new television series The Girlfriend Experience just released a trailer that is more reminiscent of a horror film than Fifty Shades of Grey. There's a dark, haunting quality in the trailer that somehow stands out more than the salacious subject matter of the actual series, and it may be what draws audiences in.
The new anthology series, which will air its first 13-episode-season on Starz in 2016, is based on the 2009 Soderbergh-directed film of the same name. That film starred real-life adult film star Sasha Grey as Chelsea (real name Christine), a high-end escort who offers her clients the "girlfriend experience" in addition to other, not exactly legal activities. In the television series, Riley Keough will also play "Chelsea," but according to Soderbergh's interview with Variety, she will be a "new character on a new trajectory" and therefore not the same character as the one Grey portrayed in the film.
Based off the trailer, tonally, there seems to be a shift from the film to the television series. There is a level of suspense in the trailer for the television version of The Girlfriend Experience that almost feels ominous, which differs from the film's almost blase attitude towards sex work. In the first scene in the TV trailer, Chelsea and "Ashley," another escort, are seen ordering expensive bottles of champagne to a hotel room, but the scene doesn't read as fun: there's a sense of building anxiety, even in that simple action.
There's little sexiness in this trailer, but a great deal of emotional turmoil: we can see it on Chelsea's face as her part-time job leads to trouble with her "real" life as a law student. There's something very frightening about the descent: the trailer seems to hint that something truly awful will happen to Chelsea in the series. The last line of the trailer doesn't bode well for her: when asked by someone if doing the work she does scares her, she says "no." Somehow, though, the trailer suggests that it should scare us.
Check out the trailer below:
Images: Starz (screenshot) (2)