Recap Season 2 Of The Vastly Underrated 'Mom'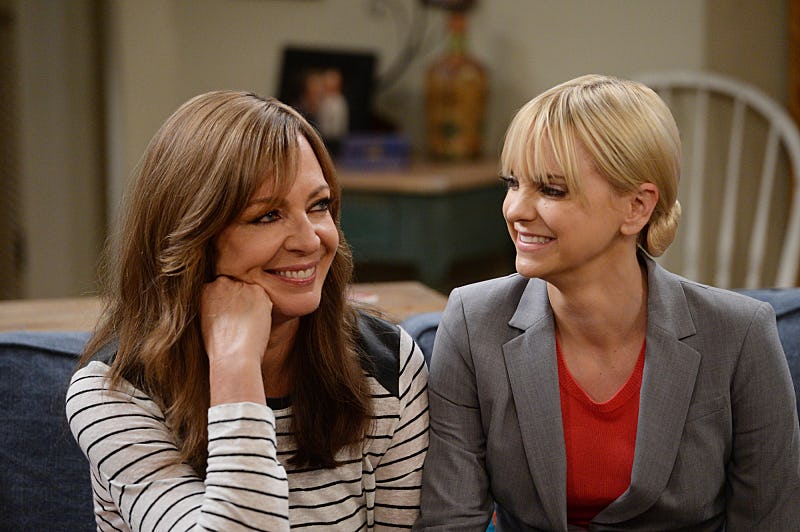 There's so much television out there, a lot of shows can fall through the cracks. But that's no reason to ignore Mom, the quietly very, very good sitcom on CBS that may be a part of the Chuck Lorre family, but actually has much more in common with the more wistful, sometimes even dramatic comedies from the Norman Lear era. And if you want to jump into Season 3, you should first recap Season 2 of Mom , because this show has a surprising amount of continuity — another reason why it shouldn't be overlooked.
As Christy and Bonnie tried to improve their lives throughout the second season of Mom, they make progress, lose out on some things, and ultimately wind up closer than they started out. There are also plenty of times along the way that Allison Janney proves why she keeps winning awards for her performance by combining outlandish comedy with an underpinning of drama.
Sure, there are shows that are more overtly dramatic and more outrageously hilarious than Mom, but it manages to be a really solid sitcom that has never let its characters become complacent or stay in one place for too long. It's underrated, and this Season 2 recap will prove why you should give Season 3 a shot when it premieres on Nov. 5.
Episodes 1 - 3
Christy opens the season struggling with both money and her sobriety — the addiction of gambling her rent money leaves the whole family staying in a motel, then homeless. But the show couldn't let things stay grim forever — Christy manages to get a super-cheap rental house for the family to stay in from a woman at her AA meeting.
Episodes 4 - 8
Things continue to get worse for two of the Plunkett women as Christy tries to keep Violet from regretting the choice to give up her baby and jeopardizing her relationship with Luke. Christy also has to stop herself from getting jealous of other women that have more money than she does. Meanwhile, Bonnie starts to take care of her new romance with Alvin, Christy's father, while at the same time adjusting to a new job (the careers shift often on Mom).
Episodes 9 - 13
Just as things start to turn around for Christy when she gets to enjoy some purely comedic hijinks as a law intern and with a brief romantic fling, Alvin's unexpected death in Episode 11 rocks the whole family. Christy comes to terms with losing her dad, and Allison Janney's dramatic skills shine.
But things turn comedic again real quick, as, of course, Bonnie's grieving process means things like stealing Alvin's ashes from his widow, Lorraine, and refusing to get professional help.
Episodes 14 - 17
But it's back to regular Mom once again as Christy's new managerial position at the restaurant and Violet's relationship with a much-older professor are played for laughs.
Episodes 18 - 20
In the biggest arc of the whole season, Bonnie uses pain medication prescribed by a doctor, thus breaking her sobriety. While the other women of their AA group rally around Bonnie's recovery, Christy has a much harder time forgiving her mother. And while she almost moves away, abandoning Bonnie and starting a whole new life alone, of course they reconcile just before the season ends.
That should set up Season 3 of Mom, which will include the addition of Ellen Burstyn as Bonnie's mother. While its three-camera roots are evident in the humor and pacing, this show managed to work in a death, homelessness, and a drug relapse all in one season. Seriously, Mom is more than it appears.
Images: Darren Michaels/Warner Bros. Entertainment Inc; Giphy (6)