How To Shop The Balmain x H&M Sale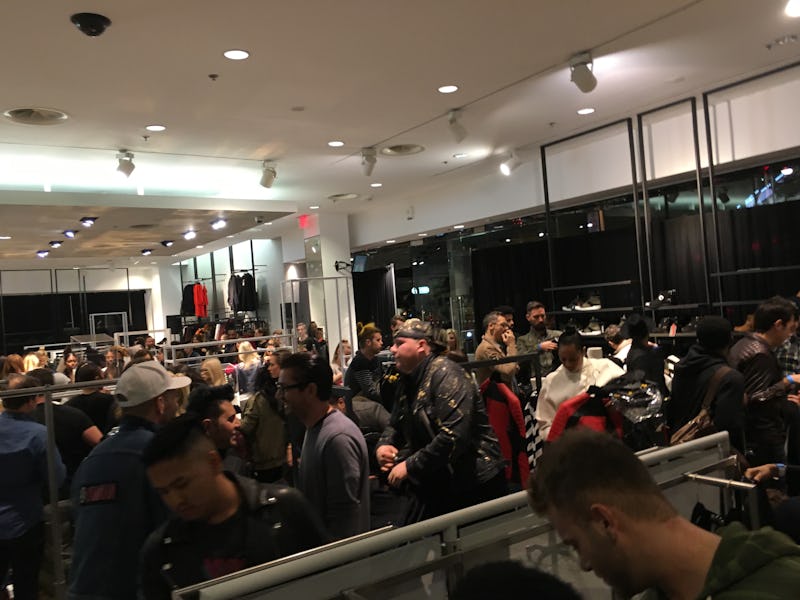 The world gets to shop the Balmain x H&M collection at 8 a.m. ET on Thursday, but I was fortunate enough to attend the highly anticipated collaboration's pre-shop event on Wednesday night. I couldn't believe my eyes when the black and gold invitation to the L.A. launch party arrived in my inbox earlier this week. It felt like winning the Golden Ticket for the year's most talked about fashion collaboration.
The first thing that went through my mind was how lucky I was to shop without waiting in line or dealing with huge crowds. #Blessed! But, that feeling didn't last very long. After all, this is an important fashion moment. Even though this was an invite-only shopping event, there was a line of people waiting outside the West Hollywood H&M store when I arrived. Having shopped at this location before, I had an idea of how I was going to maneuver my way around the store, but all that was basically thrown out the window as soon as the glass doors opened.
Mayhem.
It was awesome. I already had major FOMO regarding the items that are on my Balmain x H&M wish list, but the energy of the crowd was so palpable and intoxicating that I just ran with it and had fun. Everyone was equally as excited as I was to be there to finally see these much-talked about items from the collection in person. There were also moments when I literally stopped in my tracks, overwhelmed by this shopping experience.
See what I mean? Bal-madness. Lucky for you, I've put together a survival guide for the Balmain x H&M sale Thursday. I hope that you use the following tips in order to get your hands on the pieces from the collection.
1. Arrive Early
This should be obvious to anyone who's ever waited in line at a sample sale, but when it comes to these designer collaborations, only a few hundred people get to go inside and shop. The Balmain x H&M line goes on sale at 8 a.m., but only the first 420 shoppers in line will receive a wristband. They will then be let inside the store, 30 groups at a time, and have only 15 minutes to shop.
2. Know What You Want
Even though I blogged about the items that I (hopefully) planned on buying, I still wrote down the items on a Post-it so that I wouldn't forget what I came for. It's easy to get distracted by all the other pieces, but it's best to stick to your game plan and grab the items that you want first before they disappear. Afterwards, check out the other stuff that aren't getting snatched up as quickly.
3. Save The Fitting Room For Later
I know this is just shopping, but there are some huge life-changing decisions to make when you're in a high-pressure environment like a designer sale. Do you try stuff on as you grab them OR do you start picking up the items before waiting in line at the fitting room? I chose the latter and am so glad that I did because that way, I had everything that I wanted with me. The ones that didn't fit or look right, I just returned or handed them to the person eyeing them as I walked out of the fitting room. But also...
4. Look Around The Fitting Room
Another man's "trash" is another man's treasure, amirite? Grab these unwanted items or politely ask the staff if they can give them to you before they put the items back on the shelf (if they even make it there). The shelves looked bare just an hour after they opened the stores, and that's not even the general public sale.
5. Shop Online
Yes, you can shop from home because the collection goes live on hm.com at 8 a.m. EST Thursday. Just remember that the refresh button is your BFF here. Also try shopping from your computer, tablet, and phone at the same time if you're so inclined. If you didn't quite make it to the store or wasn't as lucky with online shopping, don't lose all hope yet. Just...
Come Back In Three Days
H&M has a three-day return policy for this designer collaboration, so if you truly want a piece from the Balmain line, then COME BACK after Nov. 8. Plan a return to the store that carries the collection and check out any items that have been returned or weren't bought at all. It might be slim pickings out there, but this is your second chance to shop!
I think that I made out quite well from Wednesday's pre-shop. I scored a couple of items on my list plus this gorgeous jacket that I didn't even consider buying until I tried it on. Then I fell in love and simply couldn't let it go.
I also ran into some fellow fashionistas at the event, including FabLife co-host Joe Zee...
and celebrity stylist Johnny Wujek.
I hope that you have an equally successful and exciting shopping experience Thursday morning fellow members of #HMBalmaiNation. Until next year!
Images: Marc Cuenco