5 Reasons Why 'Broad City' On Comedy Central Is a Must-Watch For Feminists and Funnywomen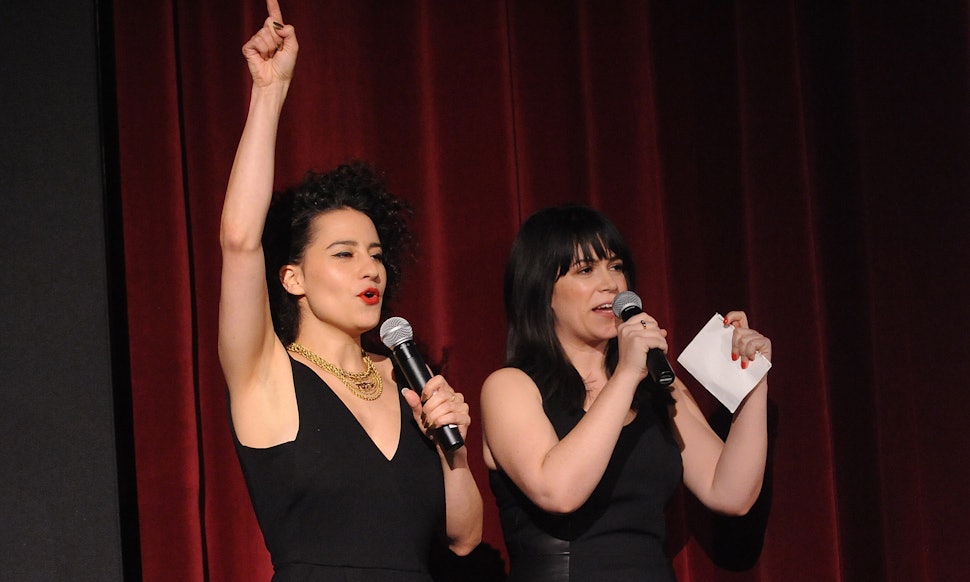 Brad Barket/Getty Images Entertainment/Getty Images
What happens when two UCB alums, Amy Poehler, and Comedy Central collide? You get Broad City , a popular Web series-turned-Comedy Central TV show produced by the Parks and Recreation actress and starring badass funny ladies Abbi Jacobson and Ilana Glazer.
But what is it about, you ask? Well, Broad City — which premieres Wednesday — follows two twentysomethings as they try to make it in the crazy world of NYC. Hilarious hijinks ensue and feminist attacks abide. And no, it's nothing like Girls — it's actually representative of real people. (Well, real funny people, that is.) And if that alone isn't enough to get you to tune in, read on to find out why you need, right now (like, seriously, do it now), to DVR the series. Trust me: You'll want to live in Broad City.
Image: Getty
Abbi and Ilana
Disclaimer: I have the biggest nerd comedy crush on UCB alums Jacobson and Glazer. In fact, I fell in love with them back in the day (well, a whole year ago) while watching Broad City online. Their impeccable comedic timing and provocative intelligence captivates you from episode one. Volunteering, via a Craigslist ad, to clean apartments in their underwear, just so they can by Lil Wayne tickets? Comedic gold, people.
Image: Getty
Amy Poehler Is Producing It
Do I really need to go on? You're in already, aren't you? After all, Amy Poehler is the queen of comedy — whatever she likes, we like.
Image: Getty
Diversity
AMEN.
Broad City, also starring Sasheer Zamata, Hannibal Buress, Farah Bala, and Will Blagrove — just to name a few — actually reflects the lives of twentysomethings in New York City. The girls are not trust fund babies pursuing "art" in Bushwick or Williamsburg, the people of color are not tokens, and Jacobson and Glazer check their privilege in a very natural and hilarious way.
Image: Getty
The Web Series Was Amazing
Has your best friend ever video chatted with you to complain about the sex she just had with the guy who disappointed her lying right next to her? Has your best friend planned a surprise party for you right after getting your mustache and eyebrows waxed? Then you would probably relate to Jacobson and Glazer's Harold and Maude-esque friendship. There is a reason why Amy Poehler is backing the show and why comedy big shots Louis C.K and Kristen Schaal are huge fans.
Image: Getty
Women Are Running The Show
A series that smashes comedic patriarchy in the male-dominated Comedy Central? Yes, please.
Image: Jason Kempin/Getty Images North America