Winnie The Pooh Is Actually A Girl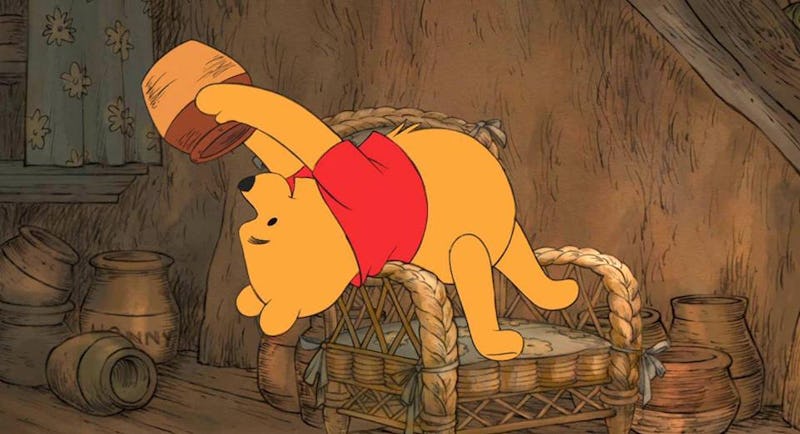 An adorable picture book has just revealed who the real Winnie the Pooh actually is — and he's not just a bumbling British teddy bear: in fact, Winnie the Pooh is a girl. It turns out Christopher Robin's famous friend is named after a black bear from London Zoo called Winnie — as in Winnipeg. Yep, Winnie the Pooh actually comes from Canada.
This whole crazy story is outlined in a new picture book, Finding Winnie, written by the great-granddaughter of the soldier who brought Winnie to England in the first place. Lieutenant Harry Colebourn bought Winnie for just $20 during the First World War, and the pair became firm friends. Winnie was even their regiment's unofficial mascot. But when Colebourn had to go with his unit to France, he left his furry pal at London Zoo. With that in mind, I defy you not to cry the next time you read this heartbreaking Winnie the Pooh quote on friendship: "If there ever comes a day when we can't be together, keep me in your heart, I'll stay there forever."
Finding Winnie: The True Story of the World's Most Famous Bear by Lindsay Mattick, $10.44, Amazon
Harry's great-granddaughter Lindsay Mattick wanted her children to know this special family legacy, and so with the help of illustrator Sophie Blackall, she created a picture book all about her ancestor and his remarkable friend. Mattick discussed Finding Winnie and her family history Wednesday on the radio show Here and Now.
Luckily for Winnie, she didn't have to be lonely for too long after Harry left for Europe, as she soon made a new best friend: a little boy who loved to visit her at the zoo. Can you see where this is going? This little boy was, of course, called Christopher Robin — and he loved Winnie so much that he named his own toy bear after her. Christopher's father was a certain A. A. Milne — and the rest is history.
Finding Winnie: The True Story of the World's Most Famous Bear by Lindsay Mattick, $10.44, Amazon
Image: Disney; Wikimedia Commons