The Best Wines To Drink On Thanksgiving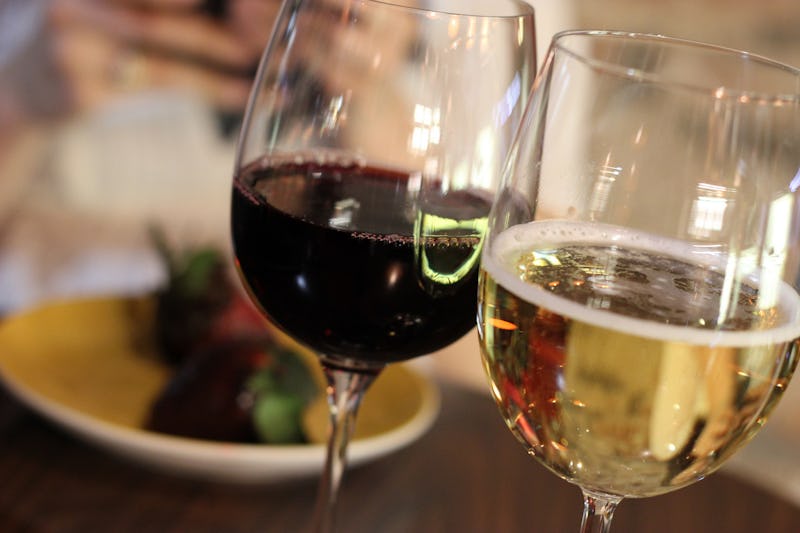 It wasn't until I was 21 that I received my first place setting at the adult table during my family's annual Thanksgiving dinner. It was a celebration, and I marked it by bringing a bottle of wine. It was the "adult" thing to do now that I wasn't sharing the kids' table, but Thanksgiving wine pairings can often be tricky. The array of different flavors usually present in a Thanksgiving meal all pair with wine differently, which is why it's important to bring a wine that is "balanced" in tannin (the pucker you get when tasting wine), acidity, and alcohol content.
We'll begin with a couple of food and wine pairing rules. First, let's talk tannin, which is the astringent taste and dryness you may experience when drinking wine, usually present in red wines. You'll want to keep the tannin levels low this Thanksgiving meal, which means foregoing more fuller-bodied wines such as Cabernet Sauvignon and Merlot (those will also make you feel fuller, faster). Acidity is key, as you'll want the acid to cut through fatty dishes, like fried turkey, buttery mashed potatoes, and stuffing. Unlike Halloween, you'll want to take the drinking low and slow, choosing wines with a low alcohol content. No one wants you to pass out in your mashed potatoes.
Of course, rules are always meant to be broken, and you deserve to drink what you like — be that Cabernet Sauvignon or apple juice. However, if you're like me, and are trying to stay at the adult table, you might want to bring a bottle of one of the wines below for good measure. Each wine pairs nicely with traditional Thanksgiving dishes. But, if all else fails, there's always champagne, which pairs well with everything, in my opinion.
And if you're popping bottles on Thanksgiving, invite me.
White Wines:
Riesling
C'mon, you know about Riesling. It's probably one of your favorite wines to order at restaurants because of its modest price point and drinkability. Slightly sweet and high in acidity, it's a great wine for novices, and pairs nicely with most meats, seafood, roasted veggies, and sweet side dishes such as cornbread and sweet potato casserole. Having a non-traditional Thanksgiving meal with lots of spice? Riesling is your wine. Choose a semi-dry or dry Riesling, which has notes of peach, pineapple, and lychee. Great dry Rieslings are made in Washington, New York, and the Alsace region of France.
Pinot Gris
Never heard of Pinot Gris? I bet you've heard of Pinot Grigio, which is made from the exact same grape. Pinot Grigio is usually attributed to Italy, and is lighter in body than Pinot Gris, which is typically made in the Alsace region of France, Oregon, and New Zealand. I gravitate more towards Pinot Gris, as it has notes of cinnamon, clove, ginger, and pear, and has a more fuller-body than Pinot Grigio. Pinot Gris pairs well with smoked and barbecued turkey, seafood, roasted vegetables, and soft cheeses, such as Gruyere.
Gewürztraminer
You'll gain a couple of cool points this Thanksgiving by bringing a wine nobody but yourself can pronounce (say it with me: Geh-vurts-trah-mee-ner). This highly aromatic wine, with notes of lychee, grapefruit, and peach, is low in acidity, and higher in alcohol than Riesling. The mouthfeel is rich and silky, and will make you believe you're drinking a higher price point wine.
Slightly spicy with hints of ginger, this wine pairs well with vegetables that are naturally sweet such as carrots, eggplant, and squash. Gewurztraminer would also pair well with oyster stuffing and crab cake appetizers. You can find bottles for under $15 from the Alsace region of France.
Red Wines:
Pinot Noir
Bright, juicy, and fruit-forward, Pinot Noir is everyone's favorite go-to red wine, and for good reason — it goes with almost everything, like roasted turkey and chicken, salmon, braised duck, mushrooms, and soft cheeses such as Comte and Gruyere. Moderately high in acid and low in tannin, Pinot Noir is mellow enough for beginning wine drinkers, yet complex enough for self-expressed connoisseurs. Expect flavors of cranberry, cherry, raspberry, and vanilla. Affordable bottles of Pinot Noir can be found from Northern California, Oregon, and New Zealand. Splurging? Save up for Pinot from the Burgundy region of France.
Grenache
A lesser known wine than Pinot Noir, Grenache has notes of cinnamon, orange rinds, grapefruit, and often dried oregano. This wine is highly versatile, and has a balance of acid and tannin. If you're having a non-traditional Thanksgiving full of spice, you'll want to have a bottle of Grenache at your table to complement. France's Rhône Valley is the major producer of Grenache, but you can also find great varieties from Spain, Italy, California, and Washington.
Syrah
If you want to make an impression this Thanksgiving, you'll want to bring a bottle of Syrah. This wine packs a punch with flavors of blackberry, blueberry, and pepper, and will go great with smoky and meaty flavors, such as a smoked or barbecued turkey, and grilled vegetables. Syrahs from cooler climates, like Sonoma Valley, California, the Rhone Valley in France, and Washington, are more fruit-forward (think jammy), and less tannic than warmer climate Syrahs.
But at the end of the day, no matter what wine you end up drinking, you'll still be in good shape. Because... wine.
For more wine ideas, check out Bustle on YouTube.
Images: Kaleb Fulgham/Flickr; Giphy (6)